Samsung is already working on its next big thing, the Galaxy S9, as various reports have claimed over the past few months. Now a pair of leaks indicates the phone's design will see some significant changes next year. Yes, that means the Galaxy S9 may take some design cues from the iPhone, iPhone X included. Obviously, that will surprise exactly no one.
Ice Universe, the Chinese leaker who uses social media including Weibo and Twitter to reveal tiny bits of information about unreleased devices, is a back with a somewhat mysterious tweet:
The back of the Galaxy S9 will change a lot

— Ice universe (@UniverseIce) October 29, 2017
What does that mean? Well, the phone will undoubtedly pack a dual lens camera like the Galaxy Note 8. That's surely happening. But does that mean Samsung will finally fix its fingerprint sensor problem? The sensor has an awkward off-center position on the back, there's no point defending it. Samsung could always place it in a more central location or even under the screen on the front. Recent reports have said an in-display sensor won't happen, however.
This brings us to the less solid Galaxy S9 rumor of the day, originating from a trusted TechDroider source.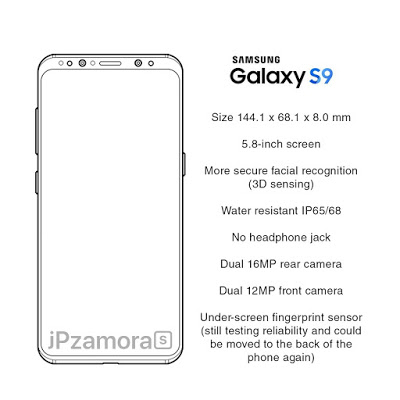 The phone designs in these schematics make some sense, as do some of the features listed next to them. One of the claims says the Galaxy S9 will ditch the 3.5mm headphone jack. But Ice Universe said in a different tweet that he thinks the Galaxy S9 will still have a regular headphone jack.
I think the Galaxy S9 still has a 3.5mm headphone jack

— Ice universe (@UniverseIce) October 31, 2017
TechDroider's source also said the Galaxy S9 phones will feature a 3D facial recognition system like the iPhone X, dual 16-megapixel cameras, dual 12-megapixel and dual 12-megapixel front-facing cameras. The schematics also offer size details for the Galaxy S9 and Galaxy S9+ and says the handsets will feature 5.8-inch and 6.2-inch screens, respectively.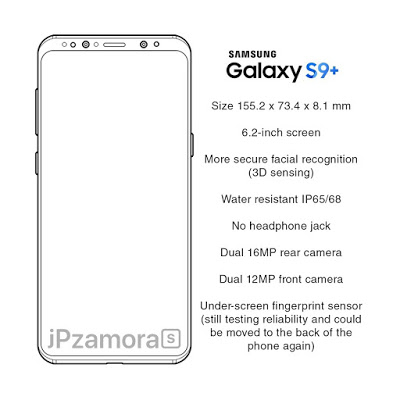 What's interesting about the actual design of the Galaxy S9 in these images is that it features an all-screen display like the iPhone X. There's no bottom bezel this time around. But there's no top notch either. The iPhone X's partial bezel at the top house the 3D facial recognition system, breaking the gorgeous all-screen design in the process. It looks like Samsung might just keep a larger bezel at the top instead of getting creative with its solution.
Finally, the source says the new Galaxy S phones may feature an under-screen fingerprint sensor, but that's not confirmed.