It seems like a lifetime ago at this point but believe it or not, Samsung's flagship smartphones used to be pretty… awful. Samsung's displays were always incredible and its flagship phones always offered the best Android performance money could buy, but the company's designs were not very good at all. And the materials Samsung used for the phones' housings was the worst part. While Apple and other companies were using glass and aluminum for their phones, Samsung insisted on using thin plastic that felt flimsy and cheap. Can you believe this was the back of a $640 smartphone?
Of course, that all feels like a distant memory because Samsung's more recent smartphones have been premium through and through. Galaxy S6 started the trend, and the company's designs have been continuously refined with the Galaxy Note 5, Galaxy S7, Galaxy S7 edge, and the ill-fated Galaxy Note 7. As good as Samsung's designs have gotten, however, even hardcore Android fans were willing to admit that Apple still had the edge. With the Galaxy S8, however, it's probably time to admit that the tide is turning.
As Apple looks to breathe new life into its old iPhone designs by adding new matte black, Jet Black and red color options, Samsung is getting ready to release the sleekest and most stunning smartphone the world has ever seen. Sorry, Apple fans, but it's time to face facts: the iPhone 7 and 7 Plus sport a design that is now almost three years old. Meanwhile, the upcoming Galaxy S8 and Galaxy S8+ sport a design that is flat-out incredible.
We've seen it a number of times now. BGR exclusively published some of the first live shots nearly a month ago, and photos and renders have been flooding the internet ever since. Following a massive rush of leaks this past weekend, graphic designer Benjamin Geskin posted a simple image that does an outstanding job of showing just how far Samsung has come in its smartphone rivalry with Apple.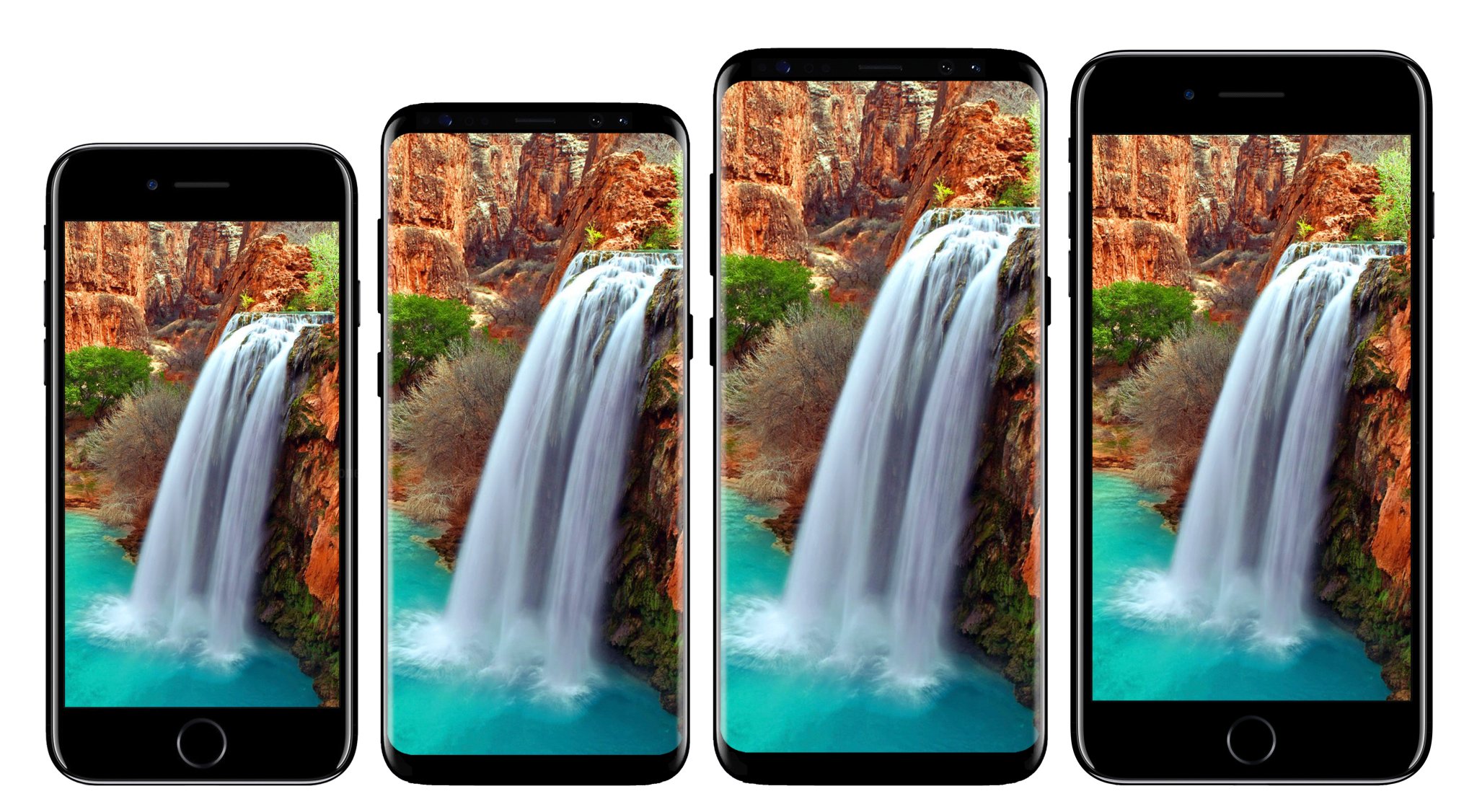 The image above shows leaked Galaxy S8 and S8+ renders sandwiched between renders of the iPhone 7 on the left, and the iPhone 7 Plus on the right. A few important things are immediately apparent.
First, Samsung's stunning Galaxy S8 and S8+ designs get closer than any mass-market smartphone has ever come to achieving the all-screen design smartphone users are clamoring for. Look closely and you can see that the smaller Galaxy S8, which is about the same width but slightly taller than the iPhone 7, has a larger display than the massive iPhone 7 Plus.
Then, you can see that the Galaxy S8+ is roughly the same size as the iPhone 7 Plus, and yet it packs a 6.2-inch Super AMOLED display compared to the 5.5-inch screen on the Apple phablet. That's a 13% larger screen in a phone that's about the same size. Couple that with a sleek design that features curved edges on the front and back of the phones, and you've got handsets that look better and feel better than Apple's latest iPhones.
Samsung is set to unveil the Galaxy S8 and Galaxy S8+ on Wednesday, and both phones are expected to be released on either April 21st or April 28th. Meanwhile, Apple's big iPhone redesign won't hit store shelves until mid-September at the earliest.