Samsung's upcoming Galaxy S8 and Galaxy S8 Plus aren't exactly mysterious devices. Over the past few weeks, it seems that we can't even go a day without coming across newly leaked photos or learning more about each device's respective specs. At this point, there's not much Samsung can announce at its upcoming Unpacked event that would leave us surprised.
That said, a new leak over the weekend from the German-language site WinFuture has provided us with even more details regarding Samsung's 2017 smartphone lineup. As far as leaks go, this is unquestionably the biggest one we've seen yet. What's more, the site even published a few Galaxy S8 and S8 Plus marketing renders that have yet to make the rounds. In short, if you have any questions about the S8 and S8 Plus, we've got the answers for you below.
So without further ado, let's dive right in.
We'll get to the specs in a second, but first off we'll begin with some new marketing renders. As we detailed previously, Samsung's S8 lineup will be reportedly be available in a number of colors, including silver, gold, black, matte black, blue, orchid, and pink. While a few marketing renders hit the web last week, WinFuture is the first to show us what the Blue S8 lineup will look like. Also, note the conspicuous absence of a physical home button.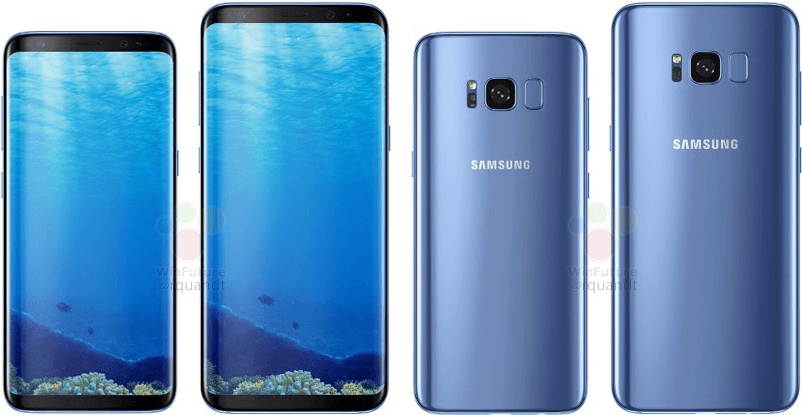 Moving along, one long-standing rumor about Samsung's S8 lineup is that both devices will feature Iris scanning technology, a feature that will likely be used for device authentication and to verify financial transactions. Pictured below is a marketing photo of the Iris scanning feature in action. If you look closely, you can tell that the S8's camera has identified the woman's eyes and has placed two white rings around them, presumably an indication that the verification process is active.
According to WinFuture, the camera utilized for Iris scanning is ultra-sensitive as to "ensure the highest possible level of security." What's more, the report adds that users will be able to lock down sensitive folders such that they can only be accessed once a user verifies his or her identity via the Iris scanner.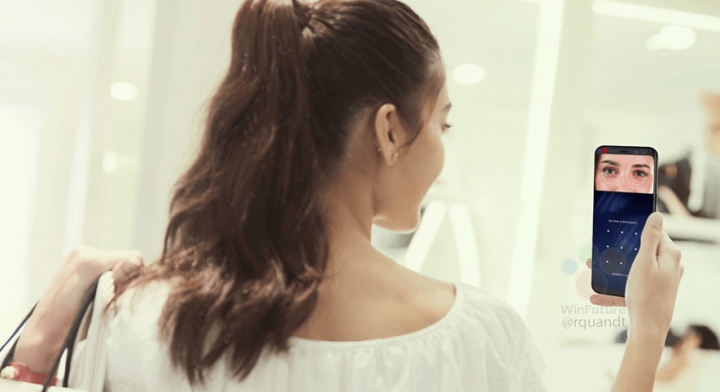 Now it's time to move onto specs. While some of the information below has already been revealed, there are some new details worth paying attention to.
Both devices will feature curved Super AMOLED displays (2960 x 1440 pixels), USB-C support, 64GB of base storage, a microSD card slot with 256GB support, a Snapdragon 835 processor in the U.S. and a Exynos 8895 octa-core SoC globally, 4GB of RAM, dual-band gigabit Wi-Fi, GPS, Bluetooth 4.2, NFC support, and an IP68 rating for water and dust resistance.
As previously rumored, the S8 will sport a 3000 mAh battery while the larger-screened S8 Plus will feature a 3500 mAh battery. Notably, both devices are said to include a fast wireless charging feature.
On the camera front, both cameras will feature 12 megapixel shooters on the back and an 8 megapixel camera on the front. Notably, the 8 megapixel camera on the front comes equipped with an autofocus feature designed to help "capture highly dynamic situations."
With respect to the rear-facing camera, we can expect to see dual pixel autofocus, OIS, and 4K video recording. "The camera also has an F / 1.7 aperture," the report adds, "and combines a phase detection and a laser autofocus…"
Both the Galaxy S8 and S8 Plus will feature a fingerprint recognition scanner. This isn't groundbreaking news, but WinFuture relays that the scanners will also support gesture recognition which can be used to open up and close designated apps.
Audio wise, both devices will reportedly feature stereo speakers, a rumor which we first saw making the rounds this past December but haven't seen much about since. As far as dimensions are concerned, the S8 will reportedly weigh in at 151 grams and will be sized as follows: 148.9 x 68.1 x 8.0 millimeters. As a point of reference, Apple's iPhone 7 weighs in at 138 grams.
Pricing details are similar to what we've seen previously, with the S8 said to retail for 799€ and the S8 Plus for 899€. In U.S. dollars, that comes out to about $857 and $964, respectively.
Lastly, the report details a Samsung Guard S8 warranty program that would allow users in select markets to have their device fixed in just 2 hours. Additionally, the report claims that the program will support "a one-time free replacement of the display" along with the option of receiving 'remote support' via an individual device.
A few more marketing renders can be seen below.