If you were holding out hope for Samsung to announce the Galaxy S8 at Mobile World Congress in Spain later this month, then you're not going to like this news. The company on Monday issued press invites for its usual pre-MWC press event, with a clear hint that the Galaxy S8 won't be the star of the keynote. However, a report says the phone will be briefly shown at the event.
The Galaxy S8 was supposed to launch at MWC just like its two predecessors — the Galaxy S7 and Galaxy S6 — in previous years. But multiple reports have confirmed that Samsung postponed the announcement to focus on ensuring the phone doesn't pose any security risks. To top things off, the CEO of Samsung's mobile division confirmed a few days ago that there's not going to be a Galaxy S8 announcement in Barcelona.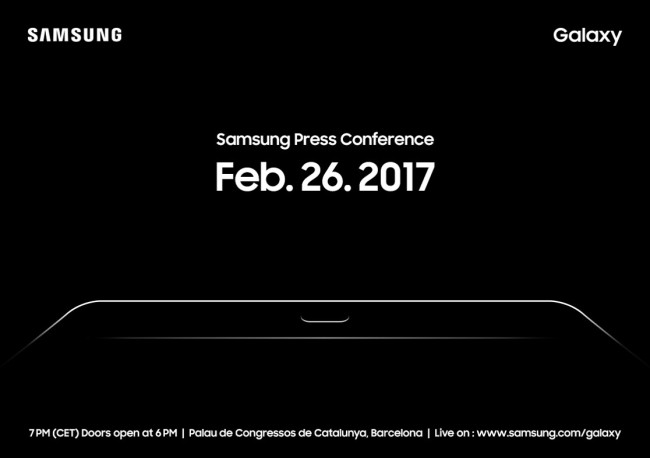 So what will Samsung announce on February 26th? The Korea Herald says that based on the image featured in Samsung's announcement (above), and on information from industry sources, Samsung will showcase a new tablet at the show. The invite teases a device that looks very much like a tablet — we see what looks like the bottom bezel and a home button in the image.
This could be the Galaxy Tab S3, which is expected to be unveiled at the show.
But the Herald also notes that Samsung is expected to give the audience "a glimpse" of the Galaxy S8, which will be shown in a one-minute video clip at the event. The phone is expected to launch in April, the report notes. Other recent reports claim that Samsung will host a major Unpacked media event on March 29th to officially announce the Galaxy S8.