The Galaxy S23, S23 Plus, and Ultra will start shipping this week to buyers who preorder the handset. The phones rock impressive hardware that should deliver great performance. We're looking at a custom Qualcomm Snapdragon 8 Gen 2 chip across the board, plus faster storage and faster RAM. But the Galaxy S23 isn't the fastest phone in town, and it won't outperform the iPhone 14, 13, or 12 in benchmark tests.
Moreover, a recent gaming performance test showed that the Galaxy S23 Ultra can barely match the iPhone SE that Apple launched last year. The mid-range iPhone features the same A15 Bionic chip as the iPhone 13 series and base iPhone 14 models.
YouTube channel Golden Reviewer put the Galaxy S23 Ultra through the same Genshin Impact gaming test it uses for other smartphones.
The best Galaxy S23 model managed to pull ahead of all Samsung phones the YouTuber tested previously. But the Galaxy S23 Ultra wasn't in the top 10 with its performance. The phone reached an average of 55 frames per second during the 10-minute gaming session. It also heated up to a max temperature of 43.6ºC (110.48ºF).
Right below the Galaxy S23 Ultra, we have the iPhone SE 2022. The mid-range handset managed to reach 54 frames per second at a temperature of 45.1ºC (113.18ºF). The iPhone's average power consumption is another big win for the iPhone. Samsung is far from offering the same efficiency as Apple.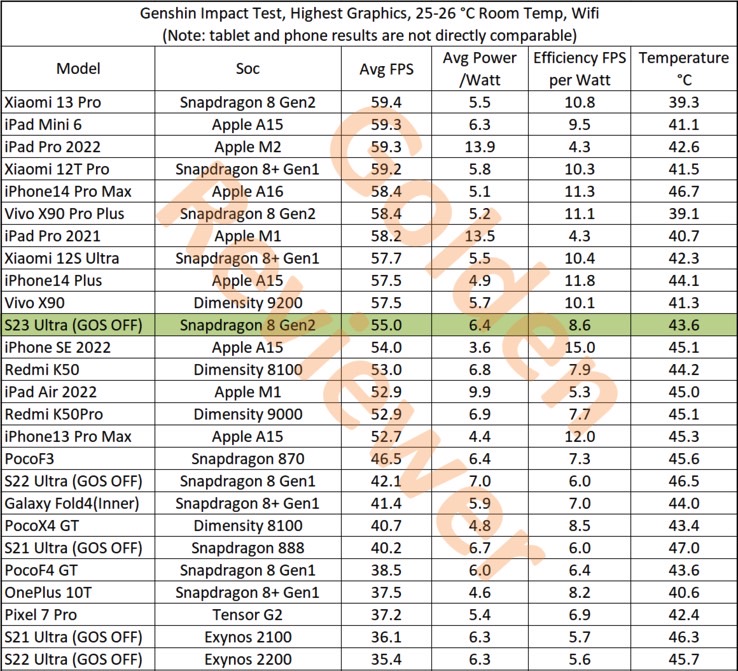 Unsurprisingly, the Galaxy S23 Ultra did worse than the iPhone 14 Pro Max (A16 Bionic) and iPhone 14 Plus (A15 Bionic). As we've explained before, the iPhone 14 and 14 Plus feature a slightly better A15 variant and much better cooling than the iPhone 13.
What's interesting is that other Snapdragon 8 Gen 2-powered devices fared better in the same test. The Xiaomi 13 Pro topped 59.4 frames per second, registering a peak temperature of only 39.3ºC (102.74ºF). Other Xiaomi flagships featuring last year's Snapdragon 8 Gen 1 Plus chip also did better in the real-life gaming test than Samsung's 2023 flagship, as seen above.
As for other Samsung phones, the new handset is a much better gaming device than the Galaxy S22 Ultra. Last year's flagship managed 42.1 frames per second in the gaming test, overheating to 46.5 ºC (115.7ºF) in the process.
The conclusion is on par with previous Galaxy S23 Ultra performance tests we've seen. The new phones feature high-end hardware that's superior to last year's Galaxy S22 series. But the new handsets aren't the most powerful flagships in town. Samsung still has work to do, both when it comes to optimizing the software and cooling the handset.