It might not fold in half like the upcoming "Galaxy F" Samsung teases on stage during its SDC 2018 keynote last month, but there's really no question whatsoever that the Galaxy S10 is shaping up to be Samsung's most exciting smartphone of 2019. In fact, there's a very good chance that the Galaxy S10 ends up being the most exciting smartphone released next year by any smartphone maker. Whereas Samsung's 2018 flagship smartphone lineup has been boring and uninspired, the Galaxy S10 will feature a completely overhauled design and plenty of exciting new tech. The company's mobile division has been dragging down earnings performance and the Galaxy S9 is shaping up to be Samsung's worst-selling Galaxy S phone since 2012. Next year, Samsung is looking to right the ship and then some.
With less than three months to go until Samsung is expected to unveil its new Galaxy S10 lineup, the leaks have really started to flow lately. It seems like we know practically everything there is to know about the flagship phone lineup at this point, and we've even seen a few photos of alleged Galaxy S10 prototypes leak. The subject of this post is not one of those leaked photos. In fact, it's a blatant fake. So why are we covering it? It might be fake, but based on everything we know right now, it likely shows us exactly what Samsung's Galaxy S10 will actually look like when it debuts early next year.
The notch that was first introduced by LG and Essential before being popularized by Apple on the iPhone X has been quite controversial. Well, sort of. Most people don't care about the notch at all and don't even really notice it anymore. But vocal minorities on both sides of the fence continue to argue over whether or not it's ugly. Fortunately for those of use who have to endure these silly arguments, the notch is only a stopgap solution as smartphone makers push ever closer to the all-screen designs of our dreams.
The next stop on that road involves a new technology called HIAA, or "hole in active area." Using this new technology, smartphone makers can cut a hole through a display for sensors like selfie cameras, but the rest of the screen remains intact. This way there's much less wasted space than there is with a traditional notch.
Samsung's version of this new display tech has been named "Infinity-O," and the Galaxy S10 will be among the first phones to make use of it. Want to see what it's going to look like? Here you go: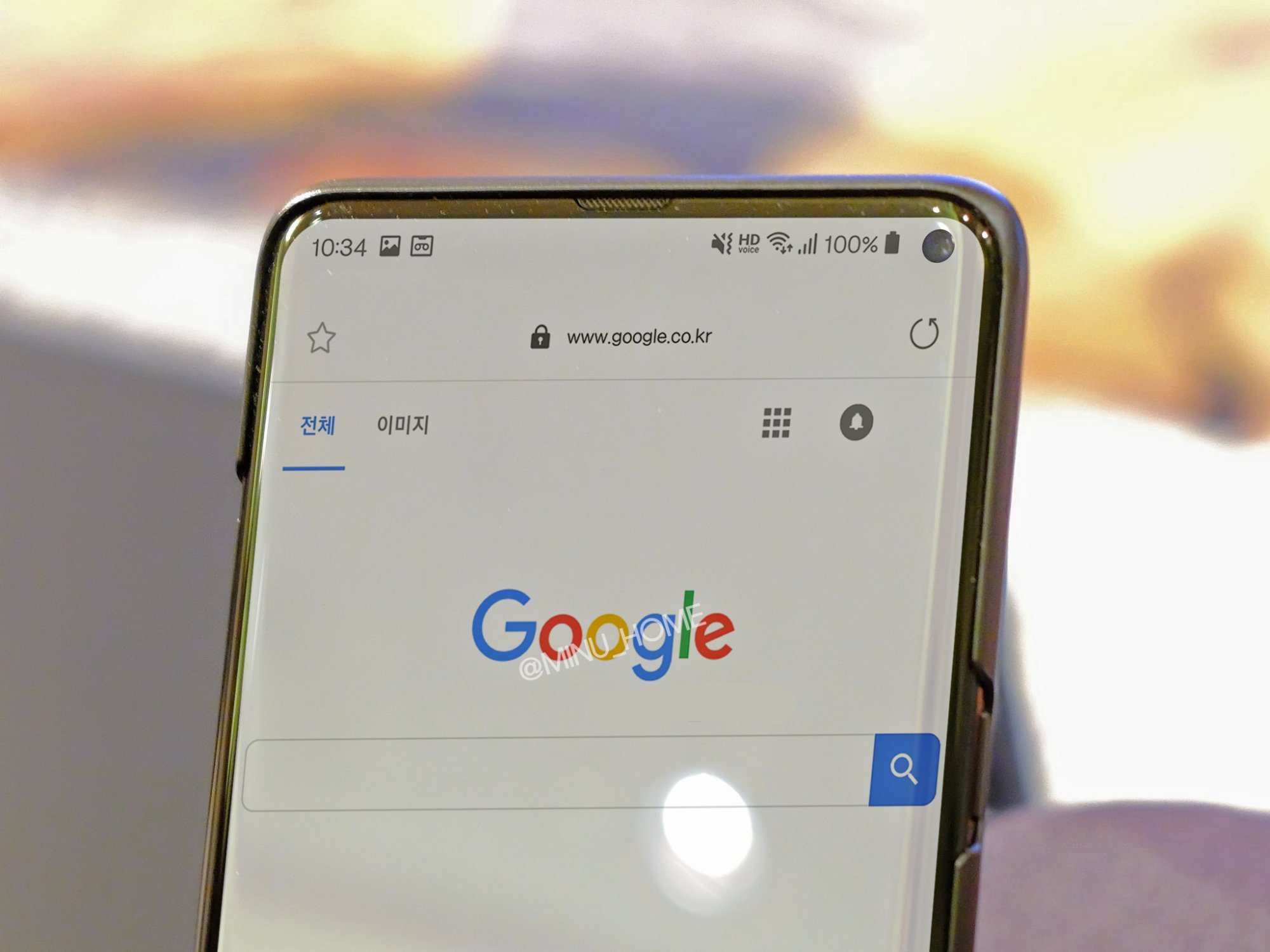 The image above was posted on a message board in South Korea. It's an obvious fake. Someone took a photo of Samsung's prototype 5G phone and Photoshopped it with an all-screen design. Here's the fake next to the actual prototype phone:
Sure 🤣 pic.twitter.com/EXDBiLoTcu

— Bogdan Popa (@bgdftw) December 6, 2018
As we mentioned, it's an obvious fake… but it's also important to see. The prototype Samsung phone on which this Photoshop is based is almost certainly the basis for Samsung's new Galaxy S10 design, at least in part. By filling in the notch area with a display and leaving the hole cut out in the top corner, the person who made this obvious fake likely gave us an inadvertent look at what will turn out to be a spitting image of Samsung's actual Galaxy S10 design.
Samsung's new Galaxy S10 flagship smartphone lineup is expected to be unveiled during a press conference at the end of February. The phones should be released soon after, likely in mid-March.