Samsung fans, we have some good news and some bad news. The good news is that Samsung's upcoming Galaxy Note 8 is going to be an absolute beast. When it's finally released in the coming weeks after months of leaks and rumors, it will be one of the most powerful smartphones the world has ever seen, just as we all had hoped. But the bad news is that Samsung's next-generation Note phone will follow the same trend that we've seen numerous times before with Samsung flagships. The version of the Galaxy Note 8 that Samsung releases in the United States will be one of the fastest smartphones available, but the version launching in the rest of the world will be even faster.
Late last week, benchmark test results were uncovered for the final global version of Samsung's upcoming Galaxy Note 8. This model, which is known as the SM-N950F, contains an octa-core Exynos process made by Samsung, and it crushed the Geekbench 4 test both in single-core tests and in the multi-core benchmark test.
In the United States, Samsung's new Galaxy Note 8 — which sports the model number SM-N950U — will be powered by a Qualcomm Snapdragon processor that's comparable to the Exynos model in the global model. Comparable, yes, but it turns out that it doesn't quite measure up to the chipset that Samsung has produced.
Below you'll see benchmark test results from a Geekbench 4 test run on the US-bound Galaxy Note 8. They were posted over the weekend on Prime Labs' Geekbench website.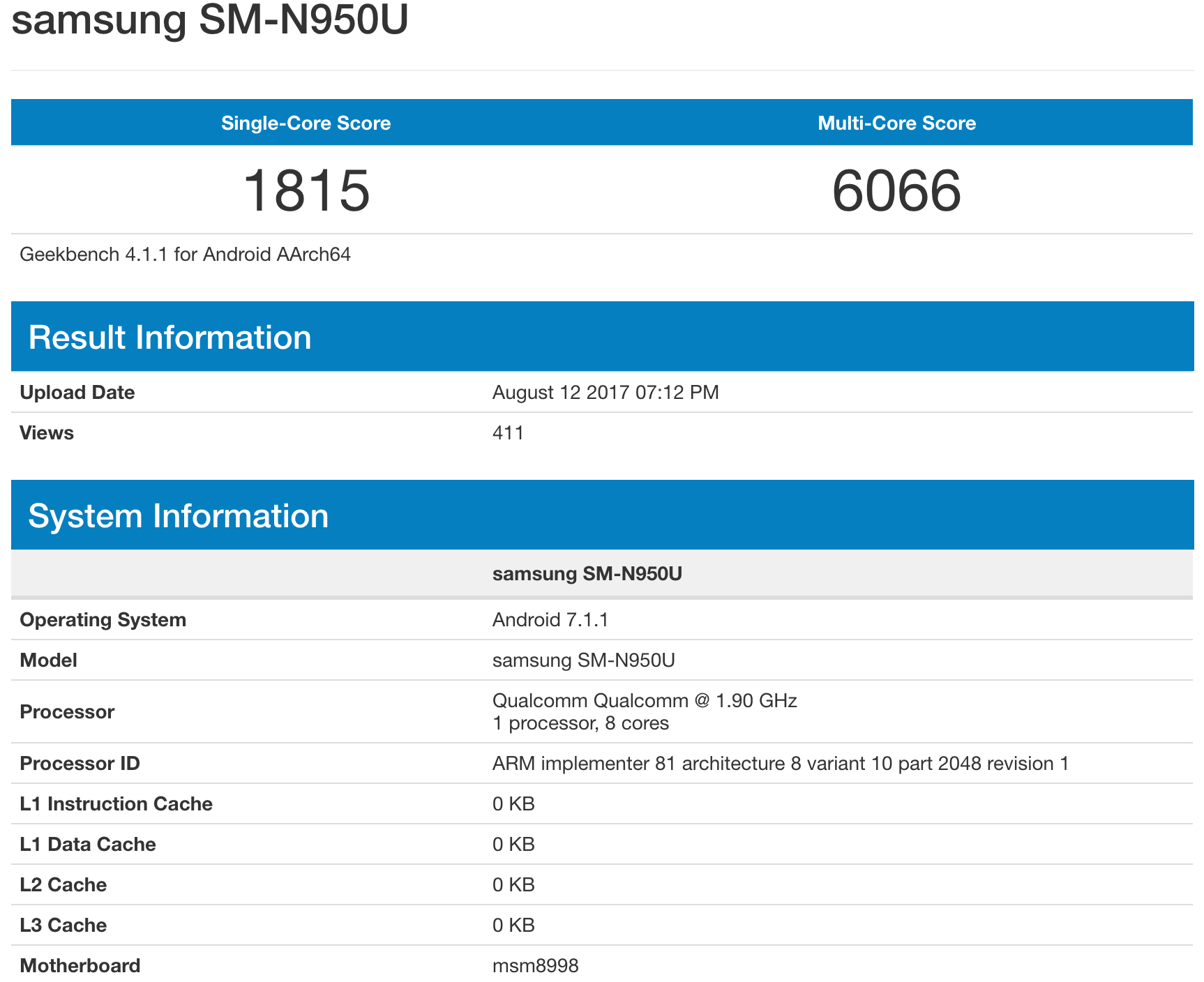 As you can see, the Galaxy Note 8 Samsung will release in the US is a monster when it comes to power. As impressive as those numbers are, however, they fall a bit short of the 1984 Samsung's global Note 8 registered in the single-core test, and the 6116 the phone score on the Geekbench 4 multi-core test. Will this discrepancy translate to any discernible difference in performance between the two Note 8 models? That remains to be seen, but it's doubtful.
Samsung will unveil the Galaxy Note 8 next week at a press conference in New York City. The phone is expected to feature a 6.3-inch Super AMOLED display with 2K resolution, 64GB of storage, 6GB of RAM, a dual-lens 12-megapixel rear camera, IP68 dust- and water-resistance, and Android 7.1 Nougat.