If Samsung's upcoming Galaxy Note 8 doesn't start exploding in users' hands like last year's Note model, it's looking increasingly likely that it will be one of the most impressive flagship phones the world has ever seen. The phone is expected to improve upon the bold new design first shown off on the Galaxy S8 and Galaxy S8+, highlighted by the curved AMOLED Infinity Display that occupies 83% of the phone's front side. As beautiful as the Note 8 is expected to be, however, Samsung's upcoming new flagship phablet will be more than just a pretty face. According to a new leak, the Galaxy Note 8 will also be a beast when it comes to performance.
Each new flagship smartphone from Samsung is more powerful than the last, so it shouldn't come as much of a surprise that the Galaxy Note 8 will be a monster. According to recent rumors, the Note 8's specs include a Qualcomm Snapdragon 836 processor in the US and an Exynos 8895 chipset elsewhere, a 6.3-inch or 6.4-inch Infinity Display, a dual-lens rear camera with one 12-megapixel sensor and one 13-megapixel sensor, an 8-megapixel front-facing camera, and more cutting-edge specs.
Now, results from a key benchmark test have popped up online for a Samsung phone with the model number SM-N950F. You guessed it, that's the model number believed to be associated with the upcoming Galaxy Note 8. The test in question is the well-known HTML5Test, which measures browser performance, and the results for the Note 8 are still posted on the site right now (via SamMobile).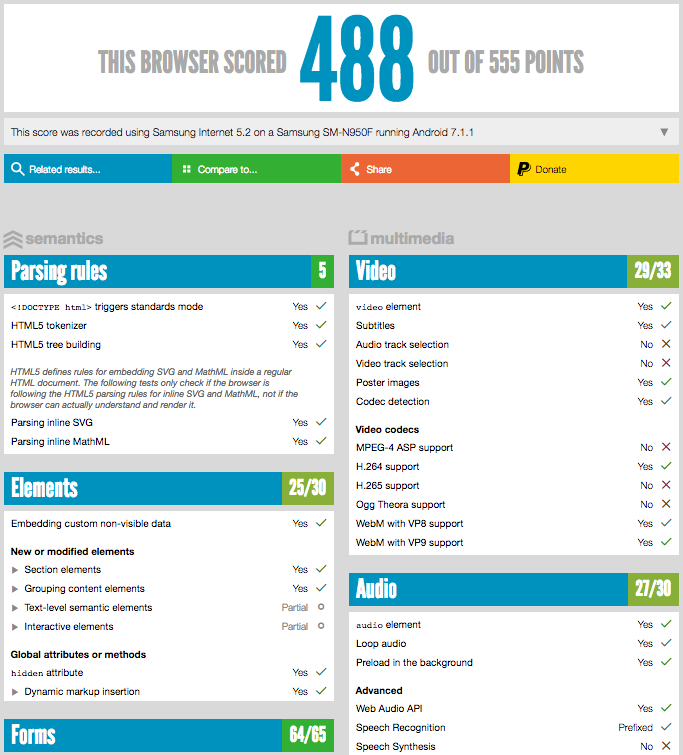 As you can see in the image above, the Galaxy Note 8 running Android 7.1.1 Nougat scored an impressive 488 on the HTML5Test. For perspective, Apple's iPhone 7 Plus running the latest public version of iOS scores a 415.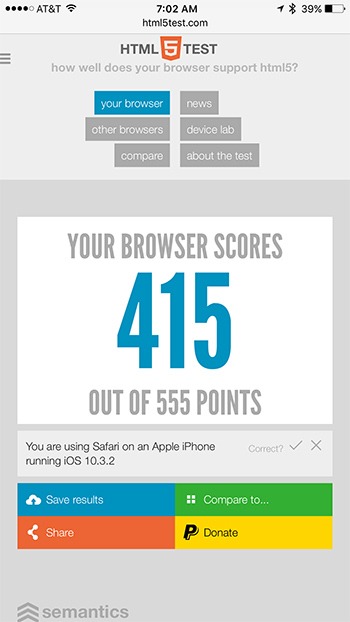 Samsung's hotly anticipated new Galaxy Note 8 is expected to be unveiled sometime in August, and it could launch the very same month. While Samsung will undoubtedly take its time in order to ensure it doesn't have another debacle on its hands like last year's Note 7 recall, the company will also undoubtedly do everything in its power to release the Note 8 before Apple unveils the iPhone 8, iPhone 7s, and iPhone 7s Plus.