A few days ago, Samsung confirmed that it's going to hold a press conference on August 23rd in New York, where it's expected to unveil the Galaxy Note 8. Then, the company said in its recent earnings report that the new Galaxy Note model is coming in the third quarter of the year, suggesting the phone will launch by the end of September. Though Samsung stopped short of revealing the phone's actual release date for the phone, it appears as though the company inadvertently leaked the preorder date.
According to documentation found on Samsung's Australian site, the Note 8 will be available for preorder in the region starting August 25th. Or at least that's when the new screen replacement program for the Galaxy Note 8 kicks off in the region. Samsung Australia will offer one free Galaxy Note 8 screen replacement within 12 months of purchase under a new Screen Assure program, which runs through late October 2018. However, buyers will have to activate the offer before October 31st, 2017.
Discovered on Samsung's website, the documentation has already been pulled. In addition to revealing the potential preorder start date for Australia, the terms and conditions mention the phone's full name (Galaxy Note 8) and product model number (SM-N9404).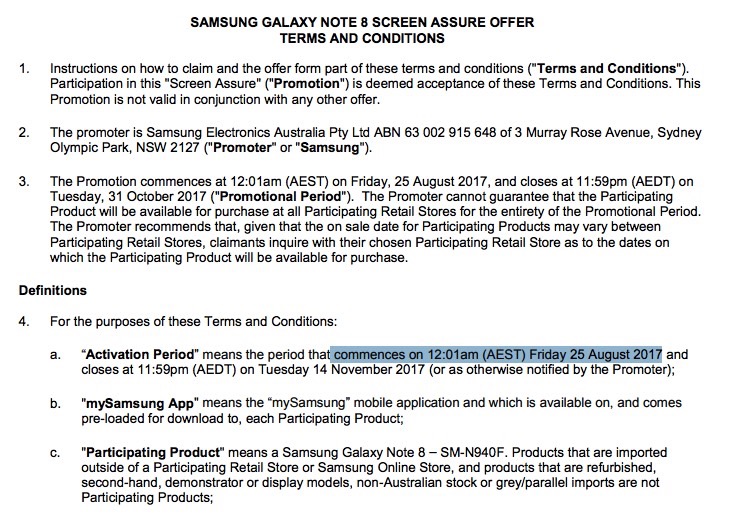 Interestingly, the original post that mentioned the program was also unpublished by Romanian-language blog Androidu.ro, but a version of it still exists thanks to Google Cache. Australian site Ausdroid still has its post up.
If August 25th is indeed the preorder date in Australia, it's likely the Galaxy Note 8 will be available for pre-order on the same date in various other major mobile phone markets, including the US, key EU countries, and Asia.