Samsung decided to skip the Galaxy Note 6 name for this year's new flagship phablet and jump from Note 5 directly to Note 7. The move was supposed to align the numbers of the Galaxy Note and the Galaxy S so that customers wouldn't be confused. The Galaxy Note 6 product name may have sounded like it's a year behind the Galaxy S7. But Samsung probably regrets that decision now that the Galaxy Note 7 became the company's best Android phone but also the worst mobile failure in the company's history.
DON'T MISS: This video might be our first look at a new Apple device no one even knew was in development
Samsung wanted customers that the Galaxy Note 7 and Galaxy S7 are same-year devices. And it looks like people got the message. But that message might hurt Samsung right now. Samsung has started sending out messages to Galaxy S7 buyers telling them that their handsets are not included in the recall.
"Your Galaxy S7 is not an affected device," the message reads, according to Techno Buffalo. "The Galaxy S7 is not subject to recall. You can continue to use your device normally."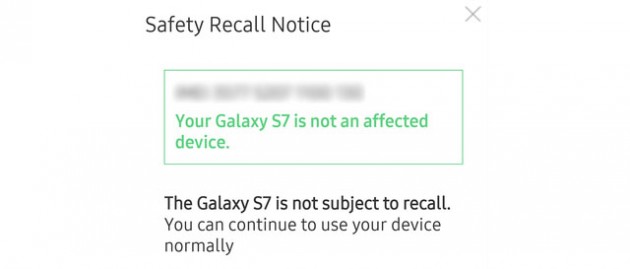 This means that Samsung is either taking preemptive measures to prevent customers from returning the Galaxy S7 or that some consumers have started bringing in Galaxy S7 and Galaxy S7 edge devices thinking they're included in the massive Galaxy Note 7 recall.
Yes, sporadic Galaxy S7 explosions have also been reported, but the situation isn't comparable to the Galaxy Note 7 fires that are caused by some unexplained manufacturing defect.
So if you have a Galaxy Note 7 in your pocket, better replace it as soon as possible. In fact, you could replace it with a Galaxy S7 or Galaxy S7 edge, which don't come with fire hazard notices.