Facebook has acknowledged a new bug that improperly tinkered with user settings — this time, a bug that affected more than 800,000 users and unblocked users that they'd blocked.
The beleaguered social network confirmed in a company blog post today the existence of the bug, said it's fixed now and that the vast majority of users affected — 83 percent – had only person they'd blocked become temporarily unblocked. Which is nevertheless cold comfort to the company's vast audience that sees in this yet another bug that could chip away at trust in the company, following a similar one a few weeks ago.
For that earlier one towards the beginning of June, a glitch inadvertently switched private posts of up to 14 million users to the public setting.
Facebook chief privacy officer Erin Egan in today's blog post explained the new bug was active between May 29 and June 5. And starting today, the company is notifying affected users.
"While someone who was unblocked could not see content shared with friends, they could have seen things posted to a wider audience," Egan explains. "For example, pictures shared with friends of friends. We know that the ability to block someone is important — and we'd like to apologize and explain what happened."
In the case of this bug, she goes on, it didn't reinstate any friend connections that had been severed when the unblocking was first implemented. And while someone who was unblocked would have been able to contact via Facebook Messenger the person who'd blocked them, Facebook noted that most people affected did not have this happen to more than one user they'd blocked.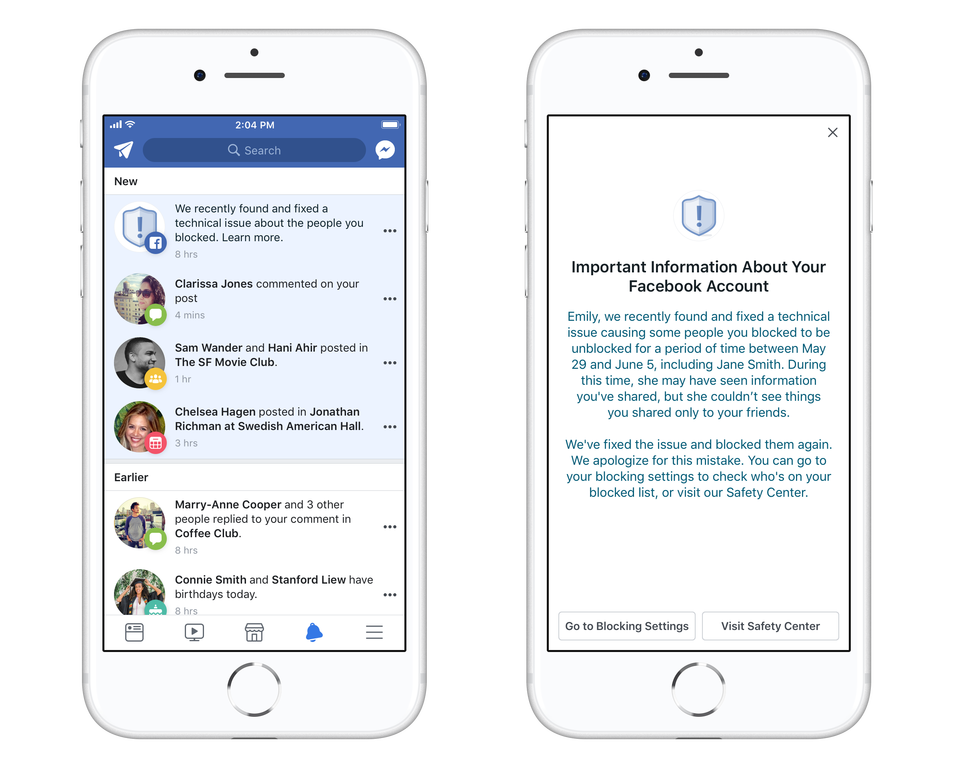 Facebook says the bug is now fixed, and everyone who'd become unblocked has been re-blocked. Affected users, nevertheless, are going to get a notification encouraging them to review their blocked list.
The incident, following so closely on the heels of another similar settings glitch plus larger data and privacy issues, is as good a reminder as any of why most people have gotten more acclimated to Instagram as a Facebook alternative. It doesn't have as many bells and whistles, not as many settings to toggle and keep track off — and to potentially be the subject of a bug. To be sure, the company's transparency and clear communication on this latest one is admirable, but you can see how it adds up to death by a thousand cuts if Facebook can't somehow turn things around when it comes to public perception.