Facebook on Tuesday unveiled the new privacy protections meant to help the company comply with new privacy laws that come into effect in Europe on May 25th. The new features aren't related to the Cambridge Analytica scandal, as Facebook would have rolled out these changes anyway in response to the EU's General Data Protection Regulation (GDPR) regulation that you may have heard of.
But given what the general public learned about the way Facebook operates in the past few weeks, everyone should pay close attention to Facebook's upcoming privacy changes. Facebook says that these privacy-guarding features will be available to all users regardless of country, although it makes it clear in the announcement that, first and foremost, they target Europe.
In fact, Facebook's entire announcement is pretty passive-aggressive. On the surface, it does seem like Facebook wants to help you improve your privacy and even help you limit the kind of data it collects about you. But in practice, Facebook's "body language" tells us a different story: Facebook would love it if you didn't change anything.
It doesn't take too long until your eyes start to roll while reading Facebook's announcement:
As soon as GDPR was finalized, we realized it was an opportunity to invest even more heavily in privacy.
In other words, it doesn't look like Facebook would have been as eager to "invest even more heavily in privacy" if it weren't for the EU's GDPR push, not to mention the Cambridge Analytica mess. Facebook does say that going forward, users will be able to choose whether their data can be used for improved ads targeting — there's no option to shut off data collection, I'm afraid.
Facebook will also let you modify sensitive information in your profile, including political, religious, and relationship information. You can already do that, but Facebook says it's making it easier for users to delete this info.
Finally, Facebook is about to reintroduce facial recognition in Europe and Canada after having removed the feature many years ago. Facebook says the feature is entirely optional, which makes sense considering the uproar it caused. In the US for example, Facebook is facing a facial recognition-related class action suit that could hurt its bottom line significantly.
The following paragraph is also interesting. Facebook is telling us that the new privacy controls and settings will be similar around the world, but at the same time saying they'll be different for European users. Emphasis ours:
We're not asking for new rights to collect, use or share your data on Facebook, and we continue to commit that we do not sell information about you to advertisers or other partners. While the substance of our data policy is the same globally, people in the EU will see specific details relevant only to people who live there, like how to contact our Data Protection Officer under GDPR. We want to be clear that there is nothing different about the controls and protections we offer around the world.
It's a good effort from Facebook you'll say, but it still feels like the company doesn't really want to do it. Go ahead and check out TechCrunch's analysis of the new privacy interface Facebook is proposing.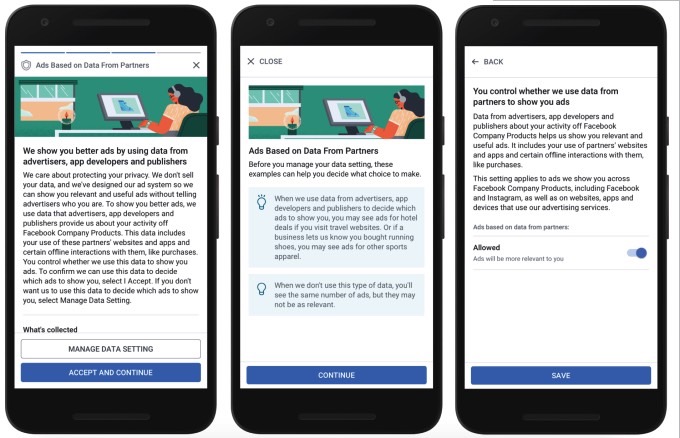 As you can easily see, Facebook created these screens in such a manner that it's incredibly easy for any Facebook user to miss the privacy update, and simply dismiss the notifications. There's an "X" at the top that lets you shut it all down, and a prominent Accept and Continue button that will help you dismiss the privacy check-up entirely. Also, the secondary screen that appears seems to have been conceived just so you don't change the current privacy settings, which may favor Facebook rather than you.
Sure, you can return to the privacy settings section and make changes if you wish. But the way Facebook built everything makes it seem like the company would rather offer you ways out of dealing with privacy settings in the hope that you don't make any changes down the road.
Ultimately, it's up to every single Facebook user to be proactive in order to protect his or her own privacy. But next time you discover that Facebook misused your data — like the time Android users were outraged to find out that Facebook had a detailed account of their calls and phone texts because they unwittingly agreed to it — remember that you've probably allowed the company to do so, by quickly tapping an Accept and Continue button and never looking back. So when you start seeing prompts on your smartphone like the one in the image above, pay attention to them. The news feed will still be there to provide endless entertainment once you're done with them.