Facebook is finally slowing the brakes and doing an about-face on a trend that was starting to see its standalone Messenger app slowly turning into a jam-packed alternate version of the main app, with tons of features and services and all kinds of unrelated bells and whistles (like games) glommed onto the app's main function.
Which is why at a breakfast event today for reporters at Facebook's new San Francisco office, the company rolled out a much-needed refresh for Messenger that focuses on simplicity and getting back to basics for the part of the social network that tons of people still use: Sending messages.
Facebook announced today that "Messenger 4″ is rolling out globally over the coming weeks and will shrink nine tabs down to three. Your conversations — both one-to-one and groups — are front and center in the Chats tab," Messenger VP Stan Chudnovsky announced via a company blog post today. "For hundreds of millions of people every day who share pictures and videos, Messenger 4 will have visual communication features like Camera at the top so you can easily capture and share your selfies.
"Once you tap into Messenger 4's People tab, you can find friends, catch up on people's Stories, and see everyone who is active right now. Then you have the Discover tab, where you can connect with businesses to get the latest deals, play Instant Games, book your next vacation, follow the news and more."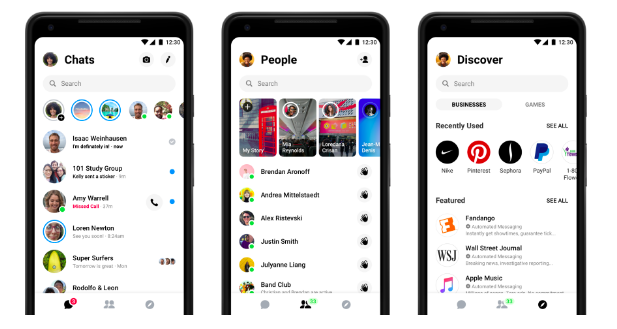 By way of a reminder — Messenger, with 1.3 billion users, is one of just six social apps in the world that boast at least 1 billion users. Including Messenger, four of those six are part of the Facebook empire and also include Instagram and WhatsApp. Messenger alone is also putting up some serious numbers, with Facebook saying some 10 billion conversations between people and businesses and 1.7 billion game sessions happen on the app each month.
As part of the redesign, Messenger is also getting a dark mode in the coming weeks. "It can take time to get used to changes in an app you rely on every day, which is why we're rolling out Messenger 4 in phases," Chudnovsky's post continues. "We have a handful of new features we're planning to introduce in the near future, like Dark Mode, a re-skinned interface that cuts down on the glare from your phone."
Along with gunking up the app's interface over the year's, Facebook has also slowly started cranking up the monetization engine for Messenger, through things like selling ads that appear in users' lists of messages as well as in-between Stories from their friends. The app is also very much still closely linked to the mothership, in a way that makes it difficult to get the full use out of if you try to break away from the main Facebook app and just keep Messenger on your phone.
Search within Messenger, for example, is problematic and doesn't always produce the same results you'd get as it would if you were trying to perform a search within the main app. Facebook has also ported Stories over to Messenger, in part as a way to blunt Snapchat the same way Instagram stories has done. All of which is to say — redesigning Messenger to simplify it could have a side effect of perhaps keeping some people tethered to the struggling main app a little longer.