Ahh, the Consumer Electronics Show. Nothing gets tech bloggers' blood boiling like CES, which takes place each year just after New Year's. Of course gadget fans still need to know about the latest and greatest gear set to debut over the course of the year, and CES is where the world gets its first look at many of the top products that will debut through the year.
CES 2017 doesn't officially begin until January 5th, but announcements have already started to roll out of Las Vegas this week. And one announcement in particular — the practically edgeless 13-inch Dell XPS 13 2-in-1 — has caught our eye. Following a leak on Sunday, Dell has pulled back the curtain on its latest and greatest XPS hybrid laptop… and it looks fantastic.
Some day, "edgless" screens will actually be edgeless, featuring no discernible bezel around the perimeter of the screen. Until then, "edgeless" is being used to refer to any display that has very narrow bezels. Hey, we can nitpick or we can just enjoy how wonderfully thin the bezels will be this year around popular smartphone and laptop displays.
Kicking things off in 2017 is the all-new Dell XPS 13 2-in-1, a sleek and powerful laptop with a touchscreen display that barely has any bezel surrounding it. The result is a much more immersive user experience that's great for streaming movies or diving into your work. The screen rotates fully open so that it sits back to back with the bottom of the XPS 13, allowing the laptop to be used as a tablet.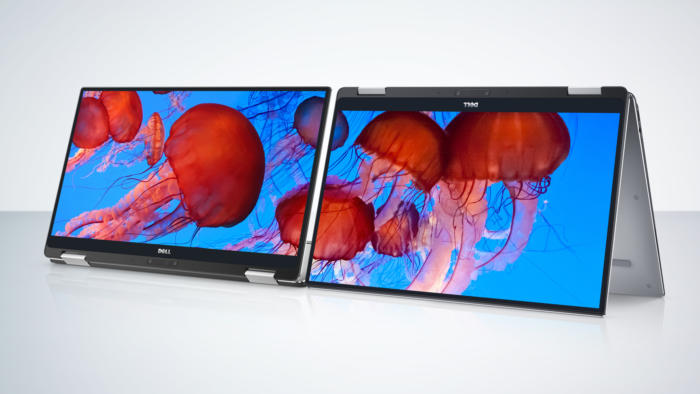 Dell says the 13.3-inch display on its new XPS 13 laptop fits in the same area that would normally be occupied by an 11.6-inch screen. The result is a laptop with a nice big display that is far more portable than most comparable models. The screen has 3200 x 1800-pixel resolution, and the accompanying battery can power the laptop for up to 15 hours per charge.
The XPS 13 2-in-1 will ship with either a 7th Generation Intel Core i5-7Y54 or a 7th Generation Core i7-7Y75 processor, and it will also sport 802.11ac wireless support, a Thunderbolt 3 port, microSDXC support, and two USB-C ports. Dell's XPS 13 2-in-1 will start at $999 and while a release date hasn't yet been confirmed, an XPS 13 2-in-1 page is already live on the company's website.