You've heard me say this before — Bitcoin is tanking hard — but it's happening again. And as always, Bitcoin is taking the entire cryptocurrency market along for the ride. The whole market has been on a downward trend for a few days now in what's shaping up to be a rough year for the industry. Bitcoin dropped below $6,000 again on Tuesday morning, so the entire market is valued at almost $192 billion at the time of this writing, significantly lower than yesterday's $218 billion cap.
As you can see in the following graph from CoinMarketCap, no coin has been spared aside from Tether. One Tether should always be valued at around $1 because an actual real-life dollar backs each Tether. At least that's the theory.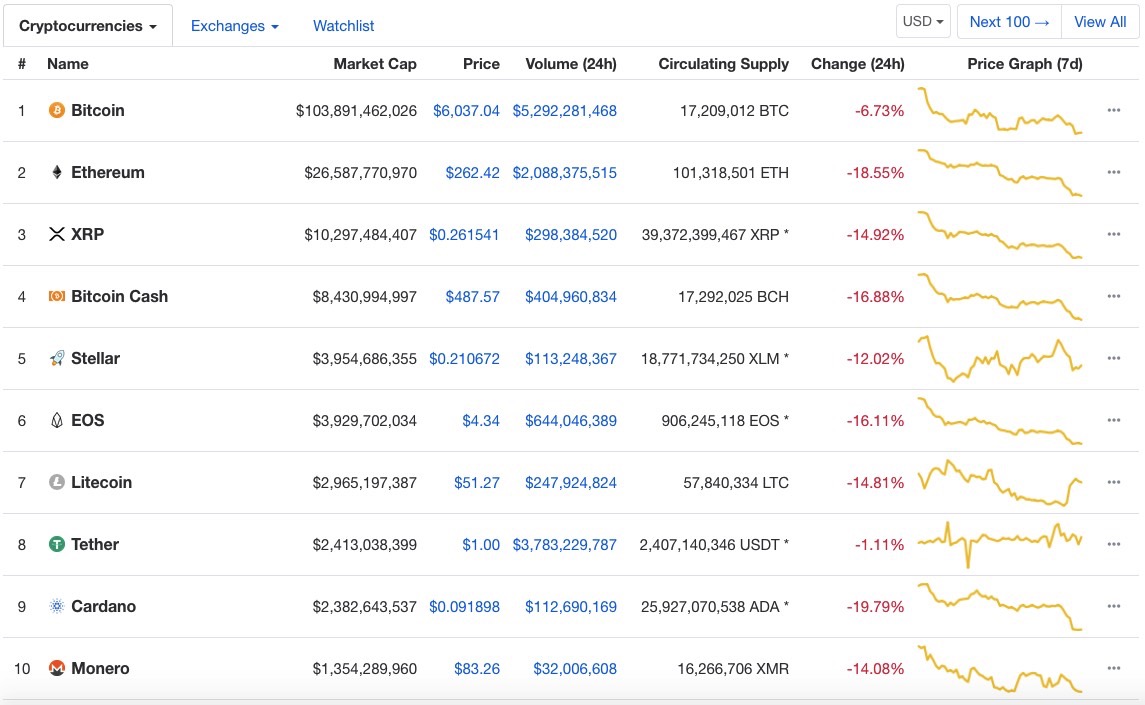 All the other top coins have reached new lows, including Ethereum ($262.42), Ripple ($0.26), Bitcoin Cash ($487.57), Stellar ($0.21), and EOS ($4.34). Most coins are experiencing drops in double digits, from as low as 12% to well over 20%. Bitcoin was down about 7% on the day at the time of this writing, but things may change without warning, as is often the case for crypto trading.
The main reason for the recent dips seems to be the SEC's decision to delay the creation of a Bitcoin ETF — that's a Bitcoin exchange-traded fund. The ruling came in on last week and the next deadline is set for September 30th. If approved, the ETF could bring fresh money to Bitcoin, and the expected effect is a significant rise in value.
On top of that, we've been in a bear market for so long that a return to growth seems inevitable at some point. If you're a fan of the buy-the-dip mantra, now appears to be the time to load up on your favorite coins.
As always when trading cryptocurrencies, make sure you know what you're doing and that you can afford losing streaks.