After quickly testing the $11,000 resistance level a day after hitting $10,000 again, Bitcoin has settled above $11,500 and it looks like $12,000 is now within reach. The news may not be entirely great, as there's more regulation chatter from the US, the sentiment remains positive about the entire crypto market. Most coins are trading at same or better levels than yesterday, with Stellar being a notable exception in the top 10 list, thanks to a 5% drop. 
So what's happening in the wild world of cryptocurrency?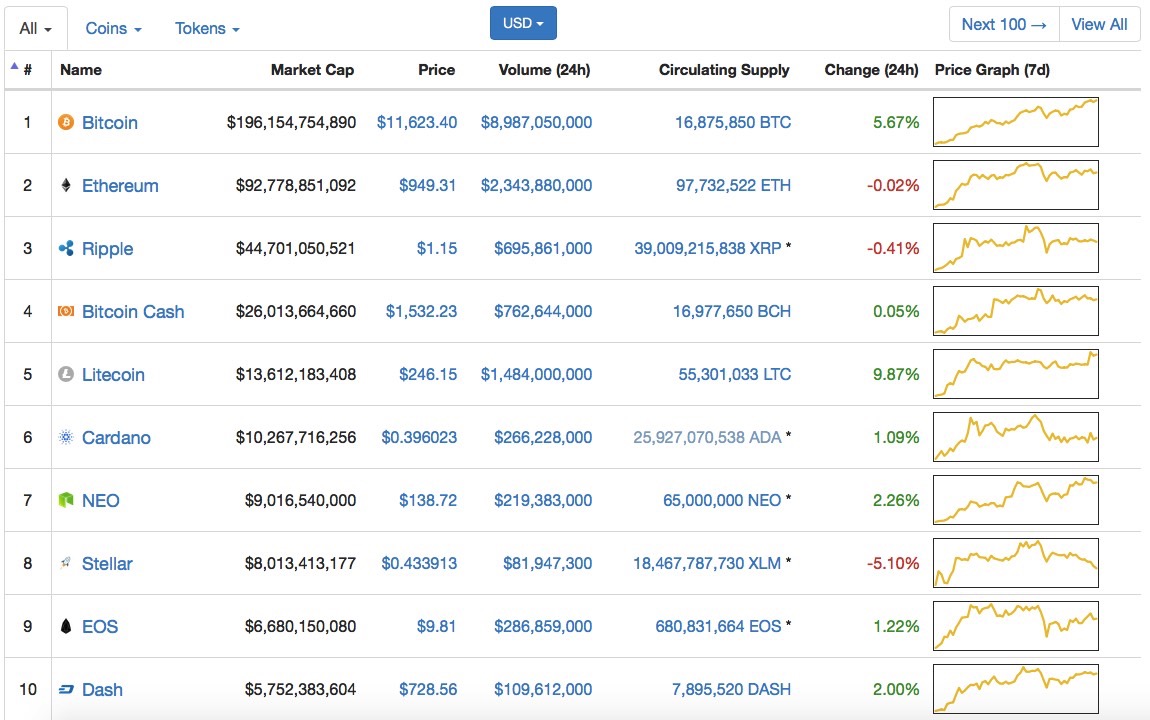 The US Congress is looking to regulate cryptocurrencies, Reuters reports, and the news is somewhat surprising considering that Trump's White House isn't into it, for the time being. Lawmakers are apparently looking to mitigate the risks that come with digital coin trading, but not at the expense of blockchain innovation.
Speaking of blockchain innovation, the Indian prime minister announced an education platform for blockchain technology, per NewsBTC says. Whatever happens to Bitcoins valuation, there's no denying that the blockchain tech is here to stay.
Not everybody is excited about Bitcoin, which "failed" as a currency, according to Bank of England governor Mark Caney. And he might be right to some extent. ""It has pretty much failed thus far on… the traditional aspects of money. It is not a store of value because it is all over the map. Nobody uses it as a medium of exchange," he said at a private event at London's Regent's University, CCN reports.
Korea's financial regulator announced on Tuesday that the government will support "normal transactions, The Korea Herald reports, some three weeks after it banned trading via anonymous accounts. In related news, The Wall Street Journal says that the South Korean cryptocurrency regulator was found dead at home, after having suffered a heart attack in his sleep.
Israel, meanwhile, is looking to tax cryptocurrency as property, not currency, CoinTelegraph reports.
Venezuela and Hungary launched two new coins, including the Petro and Korona, respectively.
Finally, Telegram appears to have raised $850 million in the first phase of its incoming ICO, which makes it the largest ICO in history, according to CoinDesk.