Even though the popularity of the Apple Watch has increased dramatically over the past few years, Apple has steadfastly refused to release any specific sales figures. All the more perplexing is that the sales trajectory of Apple's smart watch has been skyrocketing upwards for quite some time now.
During Apple's recent earnings conference call, Tim Cook boasted that Apple during the December 2017 quarter sold more Apple Watch devices than ever before.
"It was our best quarter ever for the Apple Watch with over 50% growth in revenue and units for the fourth quarter in a row and strong double-digit growth in every geographic segment," Cook told analysts earlier this month. "Sales of Apple Watch Series 3 models were also more than twice the volume of Series 2 a year ago."
All that said, it should perhaps come as no surprise that the Apple Watch is now one of the more popular watch models across all types.
Though Apple hasn't released any specific sales figures, new research data tabulated by Canalys claims that Apple sold 8 million Apple Watches last quarter. Over the entire year, Canalys' data claims that Apple shipped upwards of 18 million Apple Watch units.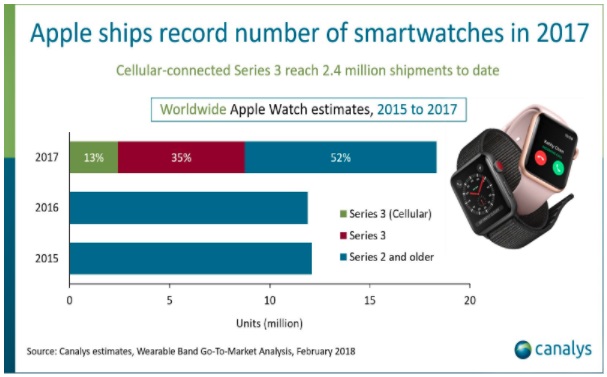 Meanwhile, Francisco Jeronimo of IDC recently tweeted that the popularity of the Apple Watch last quarter resulted in sales that eclipsed the entirety of the Swiss Watch industry during the recent holiday quarter.
For the first time, #Apple shipped more Apple Watches in 4Q2017, than the entire Swiss Watch Industry shipped watches! Apple is the biggest watch maker in the world #AppleWatch pic.twitter.com/G6M6TJ7uO2

— Francisco Jeronimo (@fjeronimo) February 4, 2018
Though the Apple Watch may have started off as a niche product, it's become overwhelmingly apparent that the device is fast becoming a mainstream device. Looking ahead, it will be interesting to see if Apple ever discloses precise Apple Watch sales figures.