The day Apple fans around the world have been waiting for has finally arrived as the company prepares to host its big September event later today. Months of unending leaks and rumors will finally give way to the announcements we've all been waiting for. Of course, there likely aren't very many surprises left since all of Apple's upcoming new products have leaked so thoroughly, but the company usually manages to keep at least a few tricks up its sleeve that we didn't expect. It's going to be a bit more difficult than usual for Apple to surprise us this year though, since there have been so many leaks from Apple's suppliers and even from Apple itself.
We know that the stars of the show on Wednesday will be Apple's next-generation iPhone lineup, which in 2018 will include three different smartphone models. The iPhone Xs will be Apple's follow-up to the iPhone X, and the iPhone Xs Max will be a new larger version with a 6.5-inch OLED screen and a bigger battery. Then a third model believed to be called the iPhone Xr will have a similar design, a 6.1-inch LCD screen, and a more affordable price tag. iPhones aren't the only new products set to debut today though, and now a last-minute leak gives the world its first-ever look at Apple's next-generation Apple Watch Series 4 design in the flesh.
There's always a constant flow of leaks leading up to Apple events, but the sources of those leaks are relatively constant. TF International Securities analyst Ming-Chi Kuo is almost always the first person to leak new details about unreleased iPhone models, and other sources join in a few months later. Digital schematics are then stolen off of Foxconn servers at some point so that physical mockups can be created for third-party case makers, and 3D renders are made as well. All of those leaks have one thing in common, though: They come from Apple's component suppliers and manufacturing partners, not from Apple itself.
This year, Apple slipped up and left some files on a public server that were seen by an iOS app developer. They were official renders of two of Apple's new iPhone models — the iPhone Xs and iPhone Xs Max — as well as an official render of the new Apple Watch Series 4. We already knew just about everything there was to know about the iPhone models, but this was our first look at Apple's new watch model. Here's the image that leaked:
Renders are always nice and we could clearly see that the new design with a larger display we heard so much about was going to become a reality, but marketing renders aren't always a perfectly accurate representation of what a product will look like in the real world. Today, however, a last-minute leak gives us our first live look at the actual digitizer from the new Apple Watch Series 4. It's not the whole watch, of course, but it does reveal the new design for the Apple Watch Series 4.
The image was shared on Twitter by an anonymous leaker who goes by the name Mr. White. He has posted photos of unreleased products and components that have turned out to be genuine many times in the past, so we have every reason to believe this is the real deal. And as we can see quite clearly, the display on the new Apple Watch Series 4 will be completely different from the displays on each of Apple's previous-generation models.
We can clearly see that the bezels around the screen are much more narrow, meaning the display will occupy more of the watch's face than it has in the past. Also apparent is the new shape of the screen. While earlier Apple Watch models have had rectangular displays with sharp corners, the new Apple Watch Series 4 has a display that is rounded at the edges.
Here's an image of the digitizer from a 42mm Apple Watch Series 3, for comparison: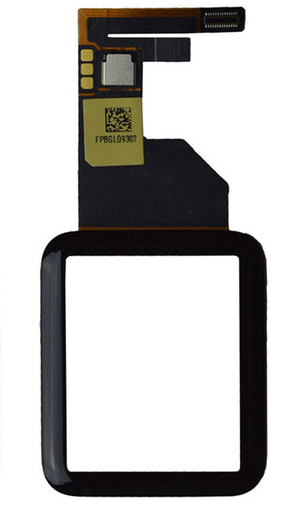 The new redesigned Apple Watch Series 4 models are expected to be priced in line with current-generation Apple Watch Series 3 models despite all the changes we're anticipating. They're also expected to be released at the same time as Apple's new iPhone models, which means they'll likely hit store shelves next Friday, September 21st.