If recent history is any indication, then Google will release the final Android P build at some point next month. That also obviously means the operating system's dessert-themed name should be made public pretty soon. A report said back in February that Pistachio Ice Cream it what Google is calling Android 9.0 internally, and then the trail went cold (pun intended). However, the final name for the next Android build may have just been leaked by one of Google's partners, and it's nuts (pun intended, again).
Not any kind of nuts, but — wait for it — Pistachio.
This can't be it, can it? Not because we've already had Ice Cream long ago, and Pistachio Ice Cream would feel like Google is cheating at this game. But mostly because a February report from Bloomberg said Pistachio was supposed to be an internal name for Android P and not the final name given to the release version of Google's new Android software.
Polish blog Tabletowo has screenshots from a reader who spoke to Huawei customer service reps in the country about Android updates for his or her hardware. That's when the name Android Pistachio turned up.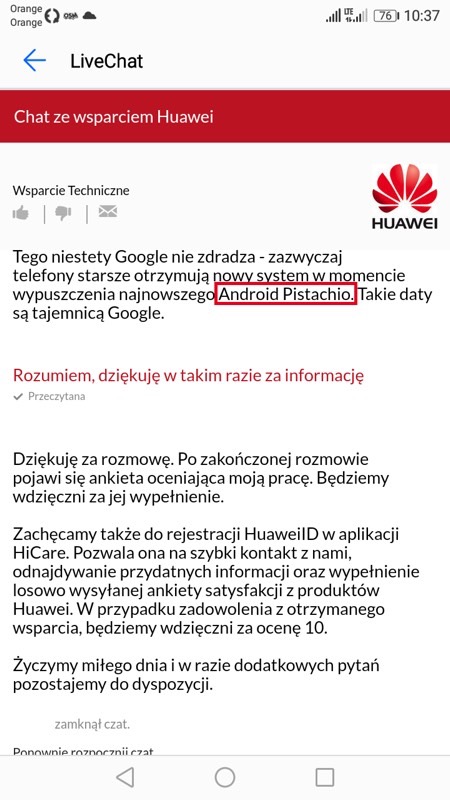 Pistachio, without any ice cream, isn't exactly a dessert, is it?
So, did a Google partner just tell the world what Android P is going to be called? Or is this just a placeholder based on Google's internal codename? If Bloomberg's Android P is accurate, Google may have used Pistachio when talking about Android P to device makers including Huawei. That's how Pistachio may have ended up in a chat like the one above.
Also, because it happened in a customer service chat, there's always a chance that the representative just made that name up. Google should come clean soon enough because the final Android 9.0 release is happening soon. Hopefully, it's not Pistachio.