Mobile operating systems today have reached a point where it's perfectly okay to expect "boring" updates that include plenty of improvements meant to further enhance the overall experience. Such is the case with Android O, which will have a bunch of interesting behind-the-scenes features in addition to all the changes hardcore users will spot immediately. One of these hidden features concerns battery life, as Google has developed a bunch of new tricks to prevent unnecessary battery drain.
The fact that Google is looking to improve smartphone battery life by optimizing Android shouldn't be a surprise. It's taken similar steps for the past few years, even before Project Volta debuted.
Google shared more details about how it plans to improve battery life in Android during the developer sessions that followed Google's I/O keynotes, Android Police reports. Titled Background Check and Other Insights into the Android Operating System Framework, the presentation is available on YouTube (see it at the end of this post).
What Google plans to do going forward is to further limit battery drain caused by apps that run in the background — Facebook is one of the worst battery life killers on Android, but there are others as well.
Google explained that once an app disappears from the screen but remains in the background, it'll be pushed out of memory and certain activities like location or Wi-Fi pings will happen less so they don't drain as much energy. Every time an app needs to do something in the background, the user will be made aware of what is happening, although it's unclear how that will work in practice.
Furthermore, if an action on the phone would normally trigger a bunch of background apps at the same time, the system might wake them up after a delay, so as to not hog resources and deplete battery life.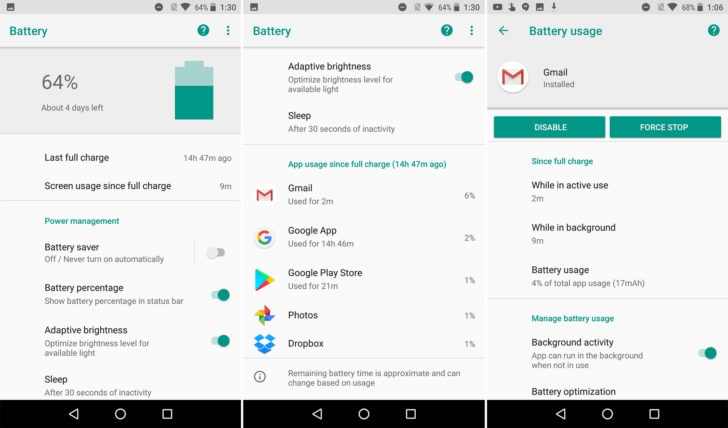 The user will also get more control over battery life thanks to an improved battery menu in Android O.
In addition to showing you which apps are "killing" your battery life, the new battery settings menu will display additional things about your activities on the phone. Android O will provide various details about how you use an application in relation to battery consumption. You'll see how much juice was used while the app was active, and how long an app used energy after it was dropped to the background.
This should give you more control over battery management and help you decide whether it's worth using certain apps given the amount of energy they consume. You'll also be able to Disable and Force stop apps on a per-app basis, and you will be able to manage background activity settings.