Alcatel on Monday announced three new Android phones at Mobile World Congress in Barcelona, Spain, including a new high-end device that ships with an amazing, albeit unnecessary gimmick: an LED-covered back. The rear panel lights up for notifications and alerts, turns into an equalizer visualization when you listen to music, or just lights up the room in a fun pattern whenever you want such a feature.
I'm pretty confident that I would not use this type of handset cover on any device, and that I'd switch to the regular cover that also ships in the retail box. But all I did during my brief time with the Alcatel A5 LED was play with that crazy LED back. It's mesmerizing.
If you put neon lights under your car, this phone might be for you. If you're a young mobile device user, which is where Alcatel is targeting this device, the A5 might be for you. If you want a good excuse to destroy your phone's battery life, this phone is for you. Alcatel did say that while these are LED lights, and they don't stay on all the time, you should expect the battery to run out faster when using the case.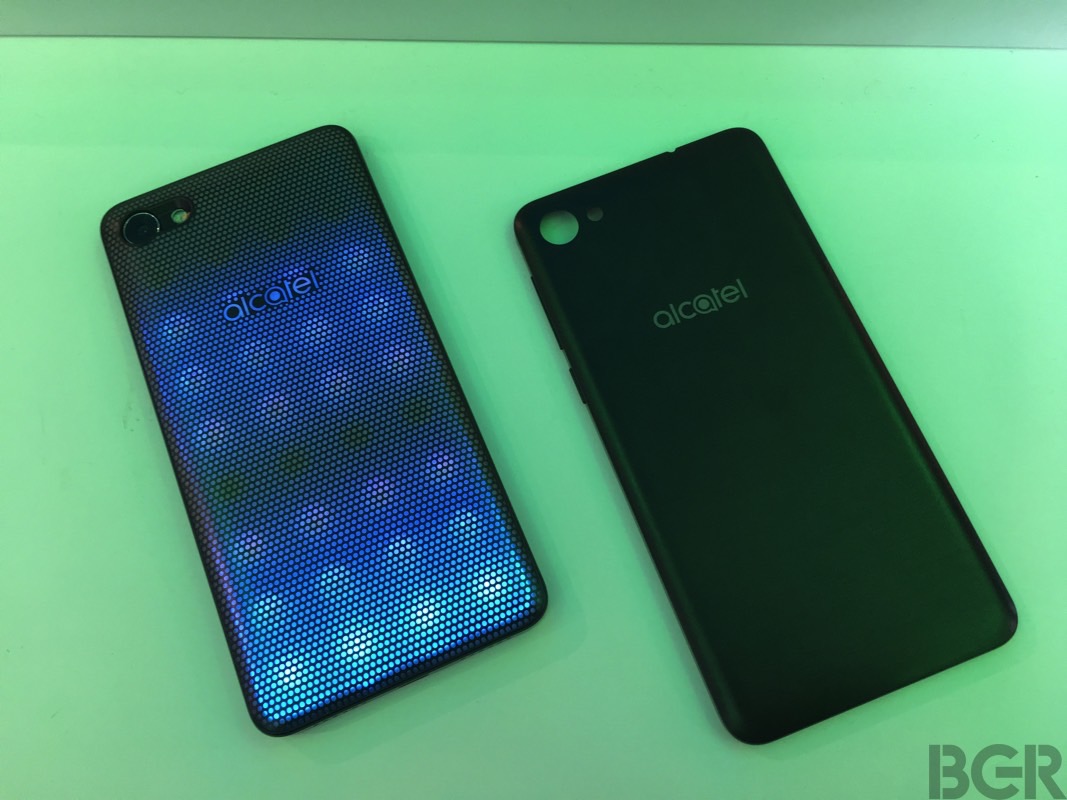 You can customize the pattern that shows up on the back with the help of a special app. A simple shake is enough for the phone to move on to the next pattern. There are plenty of colors and plenty of dynamism. Epileptics should definitely stay away from this particular device.
When it comes to notifications, the A5 LED will light up with colors that match the app pushing out alerts. If it's Facebook, expect a blue background and an "F" to show up across the back of the phone. That changes to a green "W" for WhatsApp.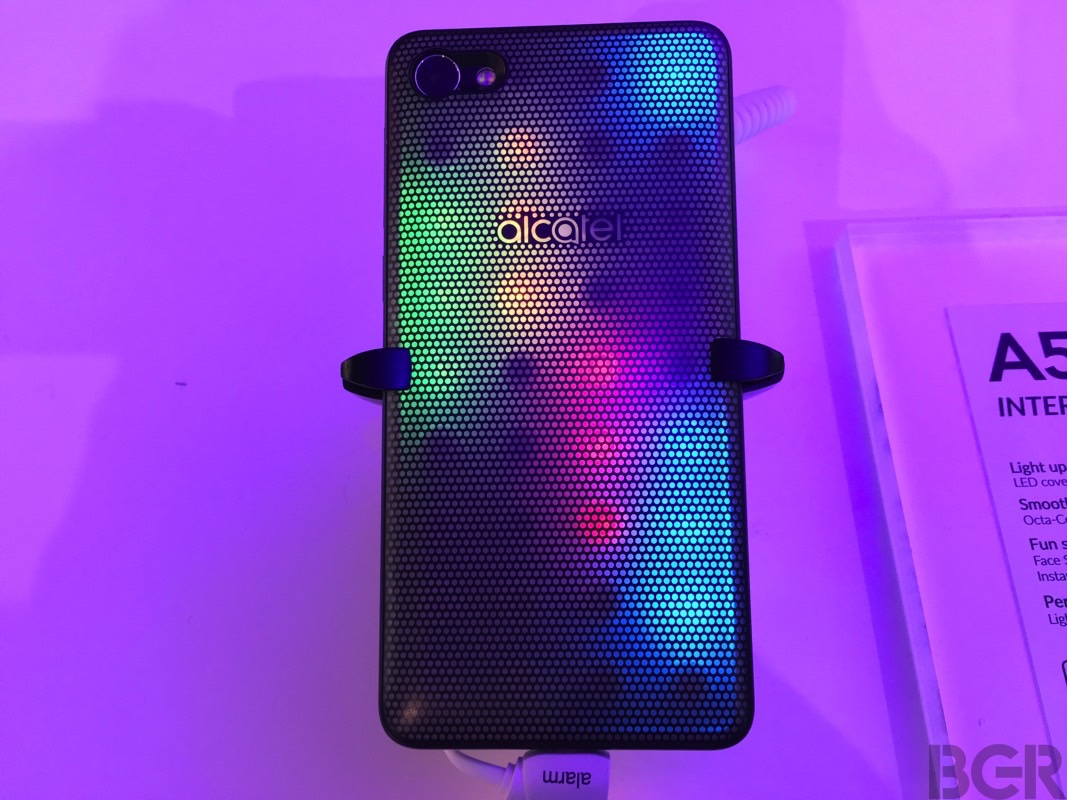 LED control, however, will not be open to developers — at least not initially, so don't expect any other LED features from it. In fact, developers might not even want to imagine any app functions that take advantage of this LED mini-screen, but I might be wrong.
If it's too annoying, the rear shell does come off, and you can replace it with a plastic one that doesn't have any other magical powers.
If the A5 LED turns out to become a hit product, Alcatel might mass-produce additional rear covers for the handset, including a speaker case and a battery case. These were on display at Alcatel's booth, but they're only concepts right now.
In a way, the A5 LED seems to have copied a page from the Moto Z's playbook. But this isn't a modular phone like Motorola's. Oh, and if you're wondering, just because you can remove the back plate doesn't mean the battery is also removable.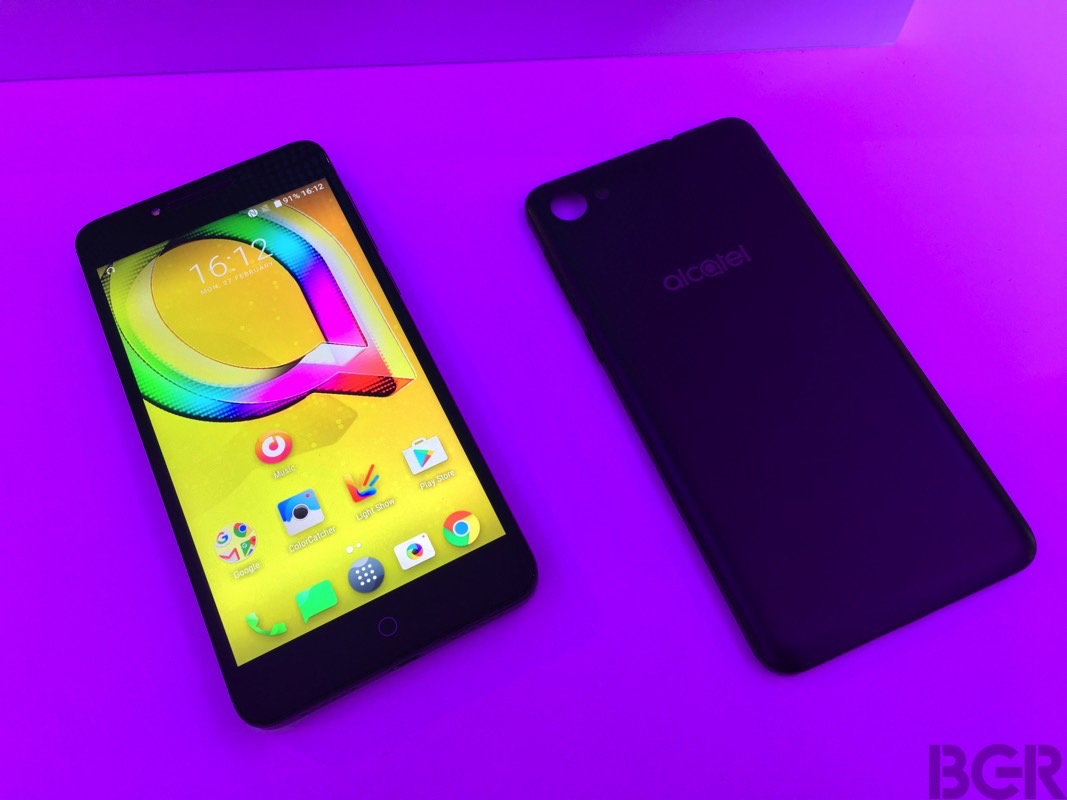 I did say the A5 LED was the high-end device among the three Android phones Alcatel announced at the show, but it's by no means a flagship handset. The phone will retail for €199 in Europe, and that price gets you a 5.2-inch IPS display with 1280 x 720 resolution, octa-core processor, 2GB of RAM, 16GB of storage, microSD support, 8-megapixel camera, 5-megapixel selfie camera, 4G LTE Cat. 4 support, Bluetooth 4.2, and Android 6.0 Marshmallow. A fingerprint sensor will also be available, but not in the phone version that will launch in America.
If there's one other thing that caught my eye in this A5 LED phone from TCL's Alcatel, it's that it has a Private Mode that lets you sign into a secure mode to hide certain apps and photos.