ChatGPT and Dall-E (OpenAI), Stable Diffusion (Stable Diffusion), Midjourney (Midjourney), Bing Chat, Bing Image Creator, and Copilot (Microsoft), Google Bard and Google SGE (Google), Claude (Anthropic), LLaMa and Meta AI (Meta), and Adobe Firefly (Adobe). These are just some of the generative AI products that come to mind when you think of mainstream AI. Though in truth, many of them are still in testing, and we're in the very early days of generative AI. Any company with a breakthrough product can challenge these companies and their services.
But they only scratch the surface, as there are plenty of free AI tools that many people haven't even heard of. They might not be as well known as the ones above, or as big. Yet, they can offer niche features that many people will find very useful.
There's A Prompt for That
I've quickly learned by using ChatGPT to find answers to my questions that the prompts you type are incredibly important. The better you explain your question to generative AI, the better the answer it'll deliver on its first try. You can, of course, tweak the prompt with other replies, and the AI will adapt.
But There's A Prompt for That might be the kind of AI that helps you with other AI chatbots. It works with only a few AI tools, ChatGPT included, and its purpose is very simple: To generate a good prompt for your needs.
Briefly tell the AI what you need and what AI product you want to use, and you'll get the results.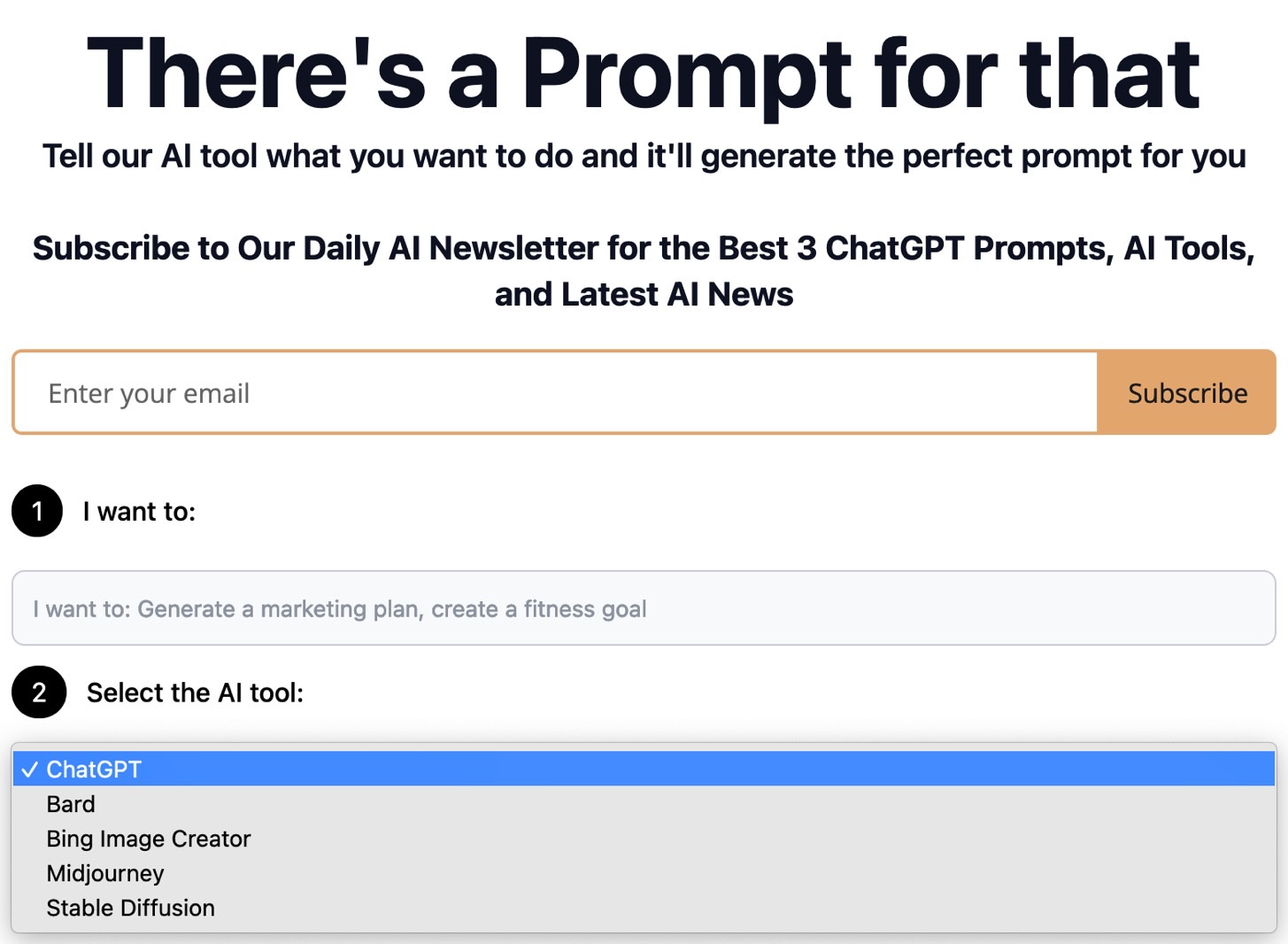 GPTZero
With AI use on the rise, you might want to be able to differentiate between text written by a human and text that comes from generative AI. GPTZero should help you get there.
The company trained on ChatGPT, GPT-4, Google Bard, LLaMa, and other AI products to be able to tell the difference between human and AI text. If you're dealing with such issues, maybe you're a professor correcting papers, this tool might help.
Wonderplan
Life shouldn't be just about work, whether it involves ChatGPT and its various alternatives. And if you're looking for a getaway but don't feel like getting the research done to get the best possible travel deals, you might want to try out Wonderplan AI.
Just input the destination, the period, and the budget to get the results. You can, of course, compare it with other resources. Like Google Bard combined with Google Flights and Hotels, a feature that Google supports now. Or do the legwork yourself.
GFPGAN
You probably take most of your pictures on smartphones and digital cameras. But you must have plenty of printed photos around the house, including old ones that are beginning to fade or have already sustained damage over the years.
You'll want to check out GFPGAN, an AI tool that will help you restore some of those images. Unfortunately, this isn't a service that works on a website. You have to install the program on your computer. This tutorial might help you get the job done.
Rarsy
If you're looking to create carousels to promote online content or just to share what you did on your last trip, there is a generative AI tool for that. It's called Rarsy, and it should let you create carousels by simply entering the information you need to feature.
Waveformer
Another cool thing you might want to do with the help of AI is create your own music. It might not help you win a Grammy, but you still get to make your music much faster than, you know, the non-AI way.
For that purpose, there's a Waveformer AI app. It lets you issue a prompt to describe the genre and the length of the track. That's it.
One more thing
As always with free apps online, whether AI software or something else, make sure you understand the fine print, if there is one. These AI tools might be free to use, but they might offer limited trials. Or you might need to register an account with some of them or install the service yourself.
Also, remember that ChatGPT-like programs usually rely on your chats with the bots to further train the software. You might want to avoid using personal information in your prompts and check privacy policies.