T-Mobile has long characterized itself as the "Uncarrier," a company that cares about customers first, and deceptive contracts second. But according to customer complaints filed with the FTC and a report conducted by consumer and labor group Change to Win, T-Mobile has created a culture of extreme pressure that encourages shady selling practices and fraud.
The report uses data from complaints to the FTC and interviews with T-Mobile employees and customers to paint a very different picture of the company to the one that T-Mobile and John Legere have been promoting. Data shows that T-Mobile has had far more customer complaints filed with the FTC than its competitors.
In the first half of this year, T-Mobile had nearly one in every 10,000 customers file a complaint with the FTC. That might not sound like a lot, but it's nearly 30% more complaints than the next-closest company, Verizon. It's more than seven times more complaints per customer than Sprint saw.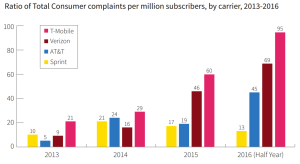 But more concerning than the volume of complaints is what they're about. When Change to Win went through the complaints, they found that many customers were complaining about having charges added onto their bills without permission. That practice — fraudulently signing customers up for services they don't want and haven't agreed to — is exactly what has landed Wells Fargo in a world of hurt with federal regulators recently.
The fraudulent enrollment doesn't appear to be the work of a few over-eager salespeople or technical errors, either. Change to Win interviewed current and former T-Mobile workers to see what the corporate culture was like, and the transcripts show the same kind of pressures that Wells Fargo employees blamed for their misselling:
"Nearly every worker interviewed singled out the company's aggressive quota for device insurance as an example of this high-pressure sales environment. According to multiple workers in several states, the company requires sales associates to sign up 80 percent of its new accounts with its JUMP! insurance and upgrade program, costing $9 to $12 per device per month, or with its $10 per month premium handset protection service.

However, these programs may not be a good value for many T-Mobile customers, and can be a hard sell to consumers who do not want or cannot aord the additional monthly expense. To get around this, one retail worker said it is standard practice to secretly add the JUMP! insurance and upgrade program on customers' accounts without their consent—to meet the quota—and then remove it a few days later so customers do not catch on. Doing this makes the workers' numbers look good and the "boss will be happy."
Interviews with T-Mobile call centre customer service employees, and FTC complaints, would appear to corroborate this. One worker interviewed "estimates that every month she gets more than one hundred calls about fraudulent JUMP! program and insurance additions," and numerous FTC complaints alleged that insurance plans and unlimited data were added for months without permission, resulting in hundreds of dollars paid to T-Mobile without permission.
T-Mobile did not respond to repeated requests for comment about this report.
It's worth bearing in mind that the interviews and polls were conducted by Change to Win Retain Initiatives, an arm of labor group Change to Win, which is dedicated to finding examples of company malpractice. The survey was conducted online, which makes it difficult to verify the authenticity of the respondents, and the questions were focused on finding examples of company misdoing.
But even a skeptical look at the results shows that T-Mobile has a lot to answer for here. The sheer number of FTC complaints are worrying, especially since T-Mobile is supposed to be the carrier we like. But if an investigation proves even some of the other claims made by former customers and employees, T-Mobile will be in serious trouble.
If you're a T-Mobile customer or employee with details on mis-sold products, please email chrismills@bgr.com