The PSB Alpha iQ bookshelf speakers boast a classy design and support for high-resolution wireless audio. Do they justify the price?
Pros
Well-designed
Good build
Great feature-set
Excellent detail
Good bass response
| Buy From | List Price | Sale Price | |
| --- | --- | --- | --- |
| | $1,499 | $1,199 | See It |
The speaker world is changing, and quickly. Smart speakers have not only gotten more accessible, but they've also gotta much better sounding, and the result is that it's relatively easy to get solid, smart audio in your home. That means that actual speaker companies have had to make more of an effort to distinguish their products from the rest of the pack.
Many of those companies, of course, are responding to the competition by building smarter speakers — which is exactly where the PSB Alpha iQ speakers come in. These speakers build on PSB's much-loved Alpha line, plus they support the BluOS suite of connectivity features and app.
But they're also quite expensive. Can the PSB Alpha iQ deliver the audio quality to justify their price? I've been using them to find out.
PSB Alpha iQ design
The PSB Alpha iQ speakers have a premium feel thanks to their sleek design, sturdy build, and attention to detail. Surprisingly, they're more compact than you might expect, measuring around 6 x 10 x 8 inches. This smaller size makes it easy for the speakers to fit into various spaces, like bookshelves or dedicated audio setups, without taking up too much room.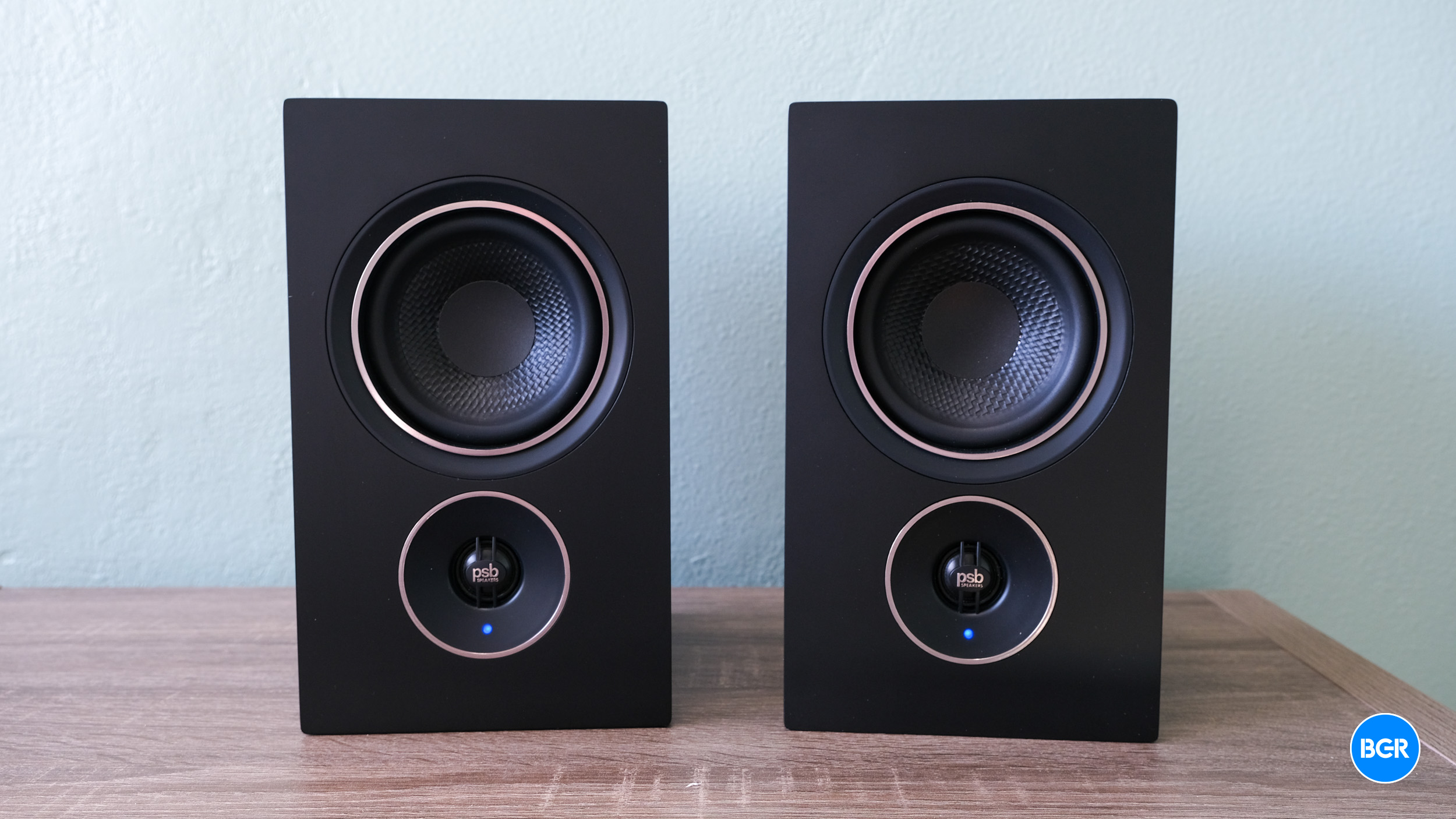 These speakers come in two attractive finishes, matte black and matte white, so you can choose the one that best fits your interior style. One speaker acts as the primary unit, with a control surface on top and an assortment of ports on the back, while the other is the secondary speaker. During setup, you can decide which speaker is on the left or right, making your audio experience more ergonomic and personalized.
The main speaker has a nice array of ports, including HDMI eARC, USB, Ethernet, optical, auxiliary, and phono MM. This versatility makes it easy to connect with different devices and input sources. What's more, the speakers offer wireless connectivity, so you can enjoy your music without the hassle of cables if you prefer.
The control panel on the primary speaker's top is user-friendly, featuring simple play/pause and volume buttons. These buttons are responsive and spaced well enough to prevent accidental presses.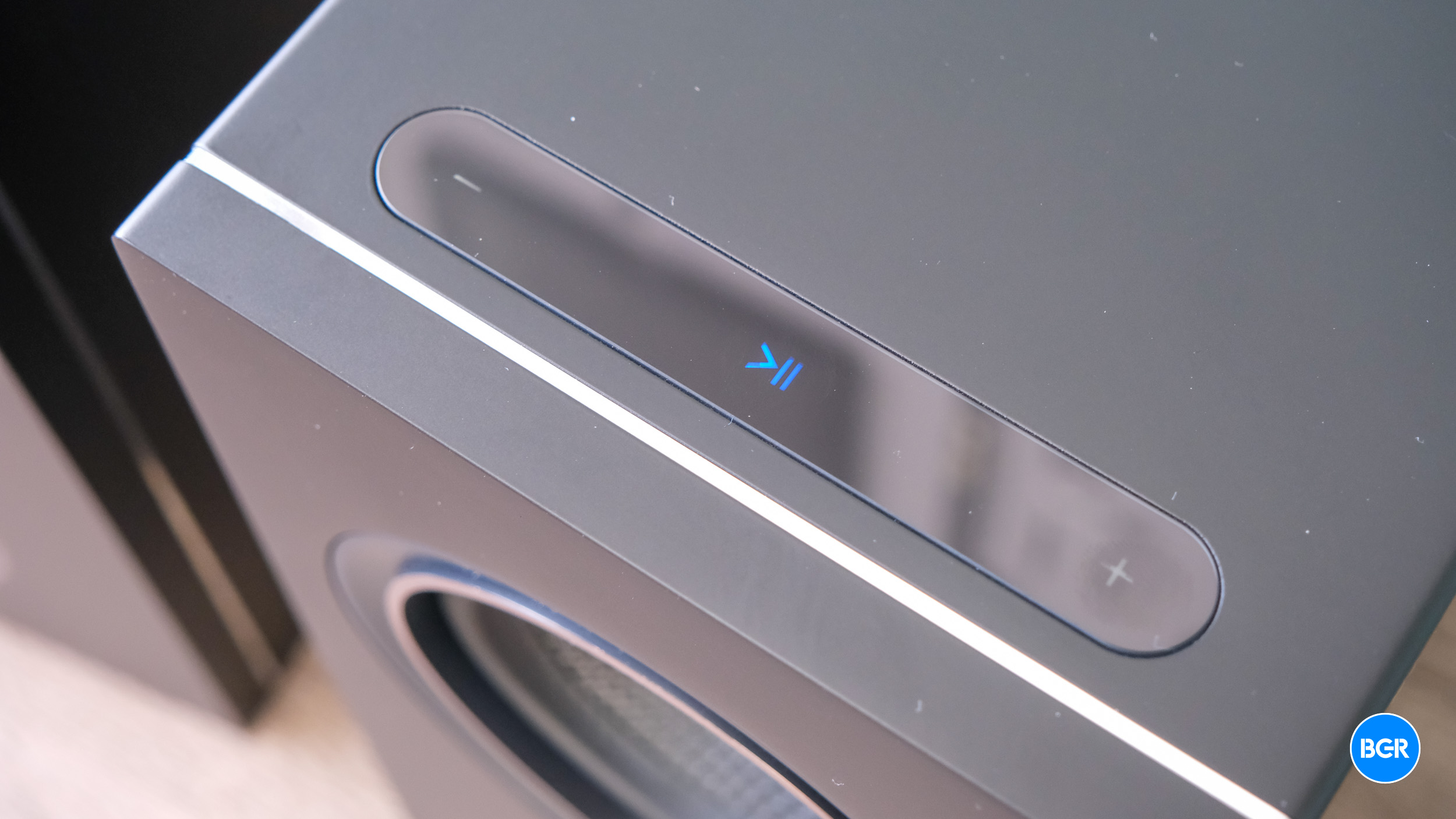 While the PSB Alpha iQ speakers look undoubtedly sophisticated, having more color options would be a great addition for those who like variety. Overall, these speakers blend impressive design, functionality, and aesthetics to provide a top-notch audio experience that's approachable and enjoyable.
PSB Alpha iQ features
The PSB Alpha iQ speakers come packed with a range of features that cater to a variety of preferences and needs. As mentioned earlier, the main speaker boasts an impressive selection of ports, providing users with plenty of options for connecting their devices. However, the real standout is the wealth of wireless options available, making these speakers incredibly versatile and user-friendly.
Wireless connectivity for the PSB Alpha iQ speakers is top-notch, supporting popular streaming technologies such as AirPlay 2, Tidal Connect, Spotify Connect, and more. This broad compatibility means that users can effortlessly stream their favorite music or podcasts from their preferred platform, ensuring a seamless listening experience.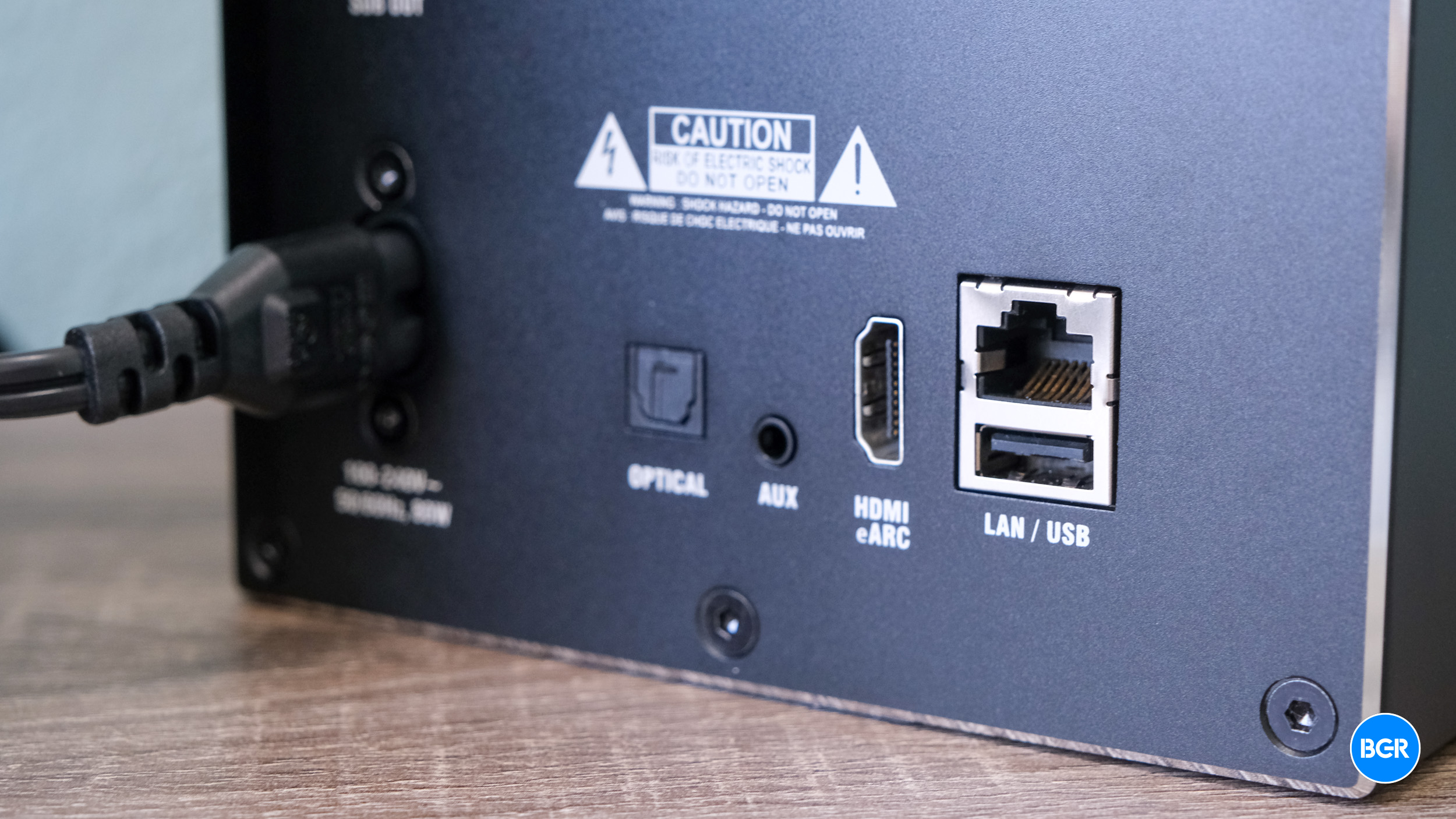 Although the speakers work with the Bluesound app, it's worth noting that the app isn't perfect. While it's functional, some users might find it a bit confusing at times. As a result, many may prefer using other streaming options like AirPlay 2 for a more straightforward experience. Nevertheless, the Bluesound app does have its merits. One of the key advantages of the app is its ability to connect with various streaming services, allowing users to control all BluOS-compatible speakers from a single interface. This centralized control can be quite convenient for those who have multiple devices in their audio setup.
PSB Alpha iQ sound
Sound quality is undoubtedly the most crucial aspect of any speaker, and thankfully, that's where the PSB Alpha iQ speakers truly excel. These speakers deliver a natural and faithful audio reproduction, making them an absolute pleasure to listen to, regardless of the content being played. They also include the DAC required to play ultra-high-quality MQA music, which helps make them a better pick for audiophiles.
One of the standout features of the PSB Alpha iQ speakers is their impressive high-end detail. The clarity in the high frequencies adds an exciting dimension to the overall audio experience, making it more engaging and immersive for the listener. Furthermore, the mids are well-tuned for accurate audio quality, ensuring a balanced and enjoyable listening experience across various genres.
Surprisingly, despite their compact size, these speakers can pump out an impressive amount of bass. This capability demonstrates their versatility and ability to cater to different preferences and styles of music. In addition to their bass performance, the PSB Alpha iQ speakers can also get impressively loud, making them suitable for small and medium environments. While larger rooms might benefit from more powerful speakers, these units hold their own quite well.
Another remarkable feature of the PSB Alpha iQ speakers is their ability to maintain accurate audio quality even at higher volumes. This characteristic isn't always present in speakers, but it's certainly appreciated, especially at this price point. Overall, the PSB Alpha iQ speakers offer excellent sound quality that truly sets them apart from others in their class, making them a worthwhile investment for any discerning audiophile.
Conclusions
The PSB Alpha iQ wireless speakers succeed in their mission — they deliver premium audio quality in a good-looking package, with great wireless support like AirPlay 2. Frankly, they're among the best-sounding bookshelf speakers in their price range, and if you're willing to shell out for that excellent audio quality, then it's worth considering the PSB Alpha iQ speakers.
The competition
There are plenty of speakers for audiophiles, but not many of them support wireless connectivity and come in a compact package. If you do want wireless connectivity in a pair of compact audiophile-grade speakers, then these are the way to go. That could, of course, change in the future.
Should I buy the PSB Alpha iQ speakers?
Yes. They're excellent bookshelf speakers.