Multi-room audio is easier to access than ever, and Sonos is currently the go-to option for most. Sonos' most recent speakers, the Era 100 and Era 300, cement the company as the current champion for those who want a great-sounding speaker in their home. But that's not to say there isn't some serious competition — and the Bluesound Pulse M leverages Bluesound's experience in the arena to deliver some things that Sonos doesn't have.
But as mentioned, the Bluesound Pulse M has to do a lot to take out the king. How well does the speaker compete? I've been using it for a while now to find out.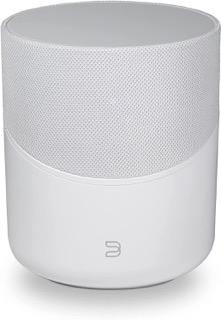 BGR may receive a commission
Pros
Sleek design
Excellent audio quality
Good feature set
Bluesound Pulse M design
The Bluesound Pulse M wireless speaker is a sleek and stylish device and would make a great addition to any room. Its design is visually appealing, with a modern look that will fit in with any decor. The speaker is taller and wider than the Sonos Era 100 and HomePod. However, it's not too big, so most people should be able to find a spot to put it in their homes.
The fabric covering the top half of the speaker gives it a friendly appearance that will make it feel at home in any room, and it's coupled with the Bluesound logo at the bottom of the speaker. Overall, the design of the Bluesound Pulse M wireless speaker is attractive and modern, and it is sure to impress anyone who sees it.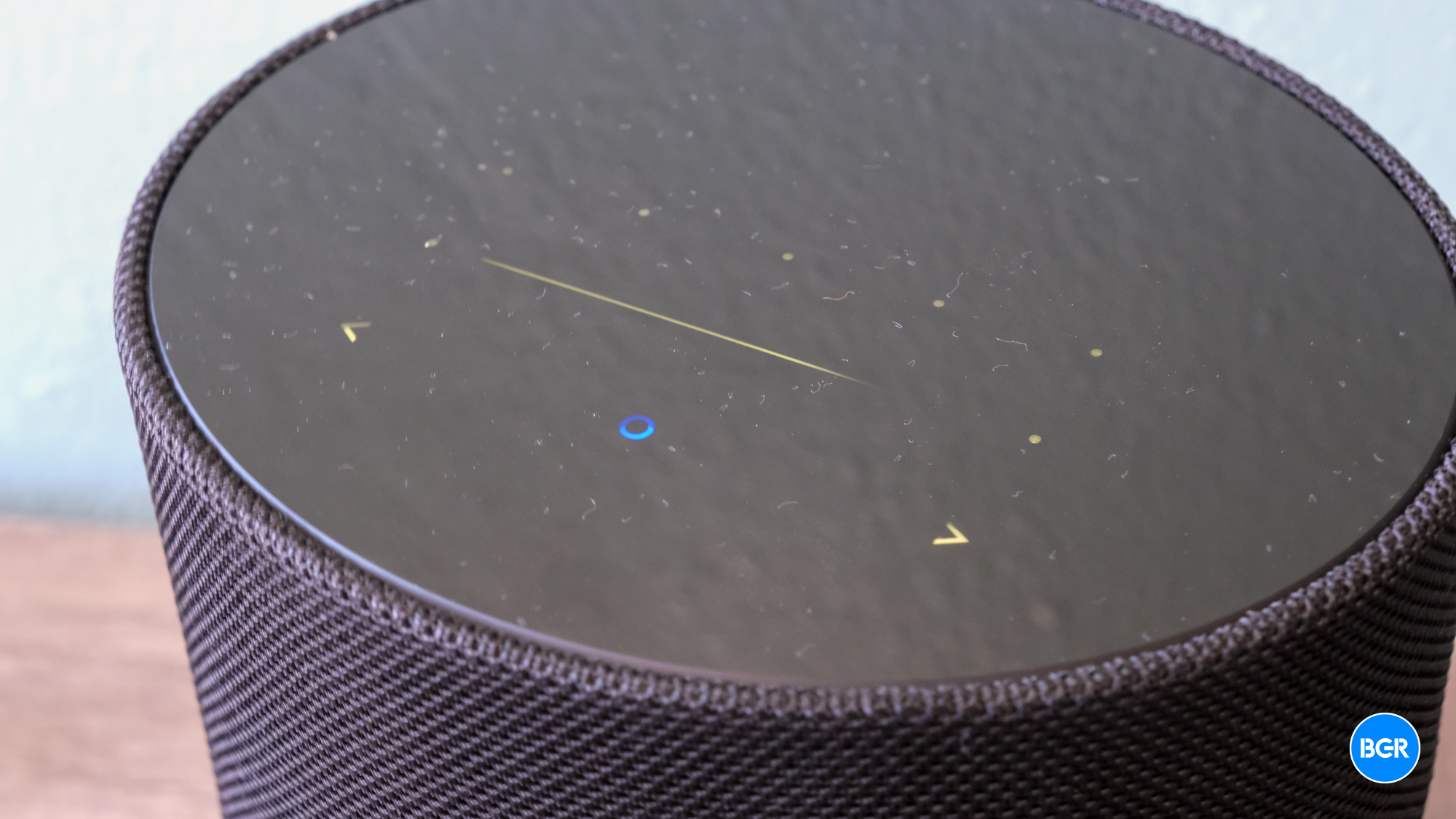 One of the great features of the Bluesound Pulse M wireless speaker is the selection of ports on the back. These include an Ethernet port, USB port, headphone jack, and aux input. This good selection of ports makes the speaker more versatile, allowing it to be used in a variety of different ways. This is particularly useful for people who want to connect the speaker to a range of different devices, such as a TV or computer.
The touch controls on the top of the speaker are also easy to use. The volume slider is more intuitive than volume buttons and allows users to adjust the volume quickly and easily. The touch controls are a great addition to the design of the speaker, as they make it easy to control the device without having to fiddle around with buttons or switches.
Overall, the design of the Bluesound Pulse M wireless speaker is both functional and stylish, making it a great choice for anyone looking for a high-quality wireless speaker that also happens to look great.
Bluesound Pulse M features
The Bluesound Pulse M wireless speaker boasts an impressive range of features that cater to various user preferences and enhance the overall listening experience.
Perhaps the most notable feature is its support for high-resolution audio, which is crucial for audiophiles seeking the highest-quality sound reproduction. The speaker handles a wide array of audio formats, including popular options like FLAC, MQA, WAV, AIFF, and MPEG lossless formats. With a native sampling rate of up to 192kHz, the Pulse M delivers audio performance that far surpasses CD quality, making it a must-have for discerning music enthusiasts.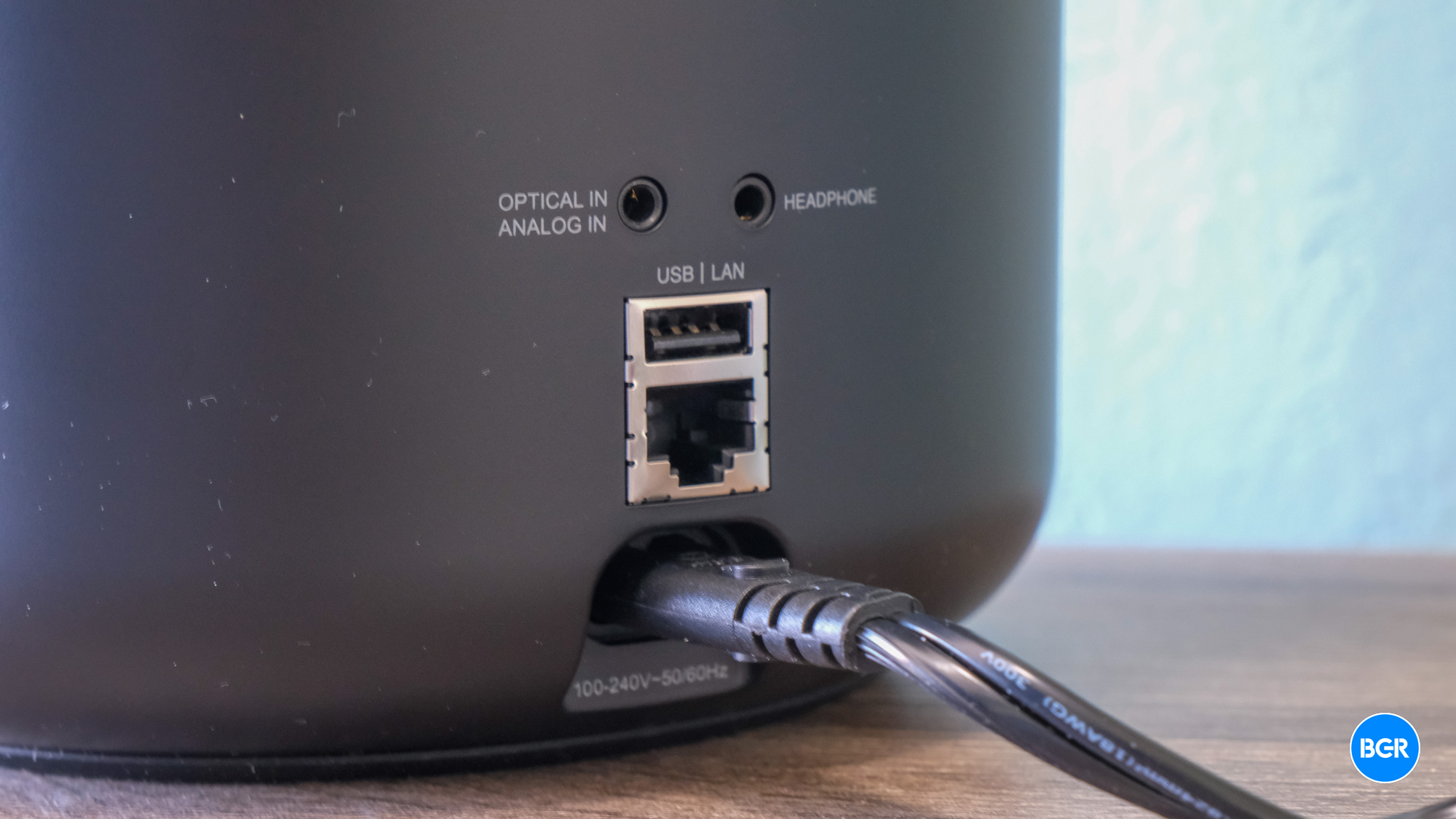 In addition to its superb audio capabilities, the Pulse M also offers an extensive selection of smart features that elevate its usability and compatibility with various devices and streaming services. Users can enjoy seamless integration with AirPlay 2, Spotify Connect, Tidal Connect, and Roon Ready, providing a wide range of streaming options. However, it is worth noting that the speaker lacks Google Cast support, which might be a drawback for those in Google's ecosystem.
While the Pulse M does not have a built-in voice assistant, it still offers compatibility with Alexa Skills and Actions on Google, allowing users to control the speaker through their existing smart home ecosystem. This ensures that the Pulse M can be easily integrated into homes with voice-controlled automation systems, despite the absence of an onboard voice assistant.
The accompanying Bluesound app, while functional, can be somewhat confusing at times, particularly for first-time users. The app allows users to tweak speaker settings, set up groups, and manage other aspects of the speaker's performance. Although the app's interface is somewhat bare-bones, I found myself relying on their default streaming apps and AirPlay 2 for a more familiar and intuitive experience. Nevertheless, the Bluesound Pulse M's comprehensive feature set makes it a strong contender in the wireless speaker market.
Bluesound Pulse M sound
The primary focus of the Bluesound Pulse M wireless speaker is its exceptional audio quality, which sets it apart from many competitors in the market. While the device may not offer the same range of smart features as some alternatives, its superior sound performance more than compensates for this trade-off. Unlike the new Sonos Era 300, the Pulse M does not support surround formats like Dolby Atmos; however, this speaker is geared toward those who prioritize audio fidelity over immersive audio experiences.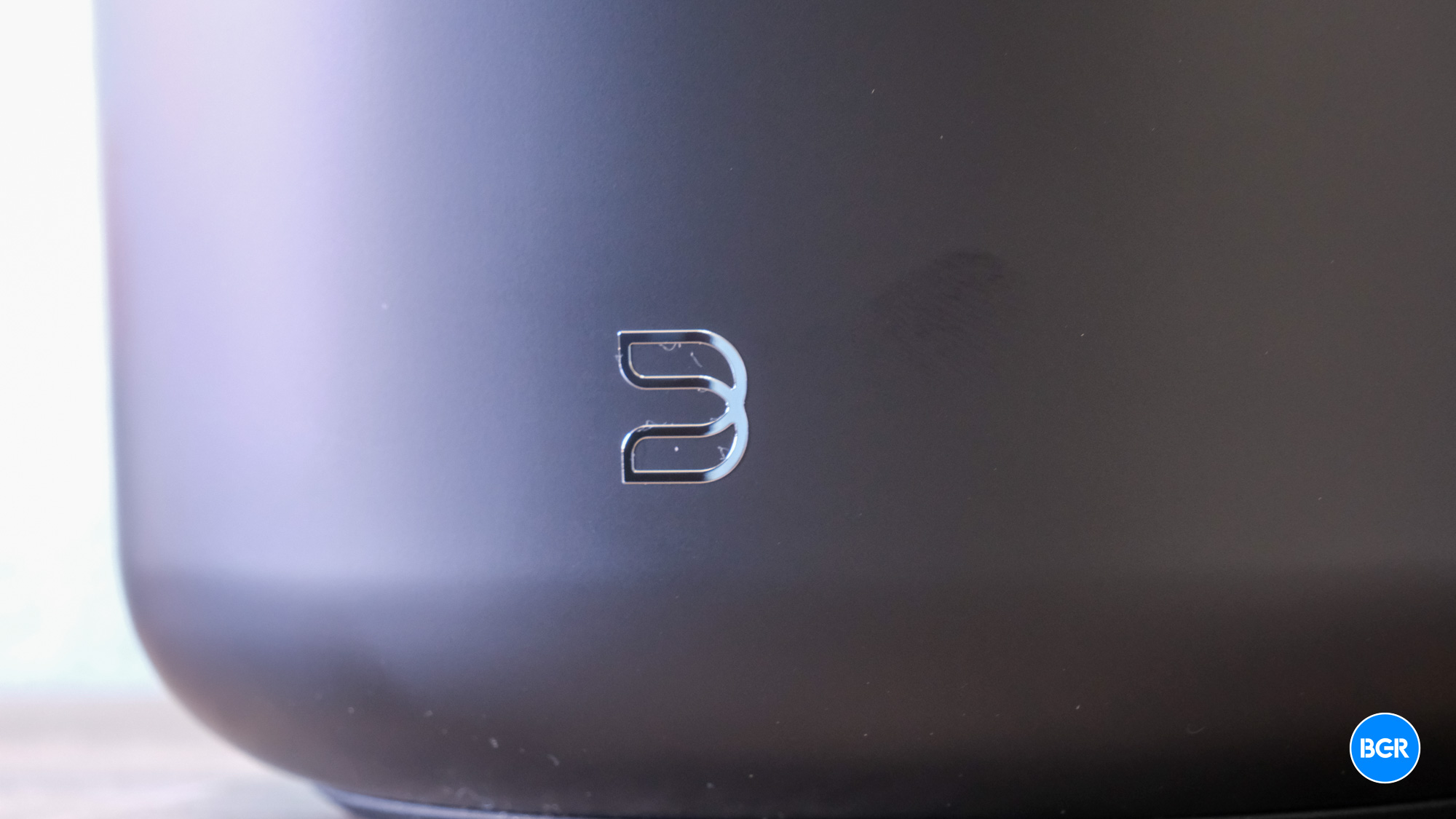 The bass response of the Pulse M is particularly noteworthy, providing a robust and powerful low-end presence that enhances the listening experience. The speaker achieves an impressive bass extension, allowing kick drums and bass guitars to sound deep and powerful without overpowering the overall audio mix. This well-balanced bass reproduction ensures a satisfying listening experience across various music genres.
The midrange frequencies are expertly tuned in the Pulse M, offering a pleasing balance between low and high mids. The low mid response is rich and full, while the high midrange exhibits a subtle scoop that helps create a more spacious sound. This meticulous tuning delivers a well-rounded and engaging audio presentation that will delight discerning listeners.
High-frequency reproduction is another area in which the Pulse M excels, providing exceptional clarity and detail that contribute to an exciting and dynamic audio experience. Although the speaker may not be as sparkly as some of its competitors, the level of detail it achieves is still excellent.
Conclusions
The Bluesound Pulse M has a lot going for it. It's well-designed, has the right features for a large portion of users, and sounds excellent. As mentioned, however, it also faces a ton of competition — but if you're simply looking for a great-sounding speaker and either already use, or don't mind using, the BlueOS app, then the Pulse M is worth buying.
The competition
The biggest competition in this space comes from Sonos, with the new Era 100 and Era 300. Ultimately, I find the audio quality of both the Era 300 and the Pulse M to be excellent, and you can't go wrong with either of them. If you're in Sonos' ecosystem already, you should get the Era 300, but if you aren't, or already use BlueOS, then the Pulse M is the way to go.
Should I buy the Bluesound Pulse M?
Yes. It's an excellent-sounding speaker overall.