The original HomePod was Apple's first run at a smart speaker, offering excellent support, Siri integration, and support for some handy smart audio and smart home features. Only one problem — it was expensive, and at the time, Siri was lagging behind the likes of Google Assistant and Alexa. Now, however, Apple is back with an all-new model — the 2023 Apple HomePod.
So what exactly is new? Well, at first glance, not much. The speaker offers a similar design, similar audio quality, and many of the same features. But it also gets a price cut, along with some slight tweaks that might make it a go-to option for those who want a great-sounding smart speaker that integrates with Apple's ecosystem. Can it do enough to make it a better buy than the HomePod Mini for most customers? I've been using the 2023 HomePod to find out.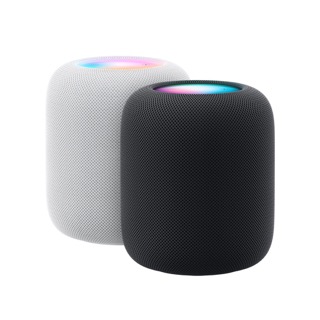 BGR may receive a commission
Pros
Nice design
Good audio quality
Good smart home integration
Siri is quick
Cons
Expensive
Some feature limitations
Apple HomePod (2023) design
The first thing you'll notice about the new HomePod is its design, and the design is mostly the same as before. The dimensions are slightly tweaked, but you truly wouldn't be able to tell the difference just by looking at it.
One of the more important changes is the removable power cable. Now you can easily swap out a damaged cord when needed, making it much easier to keep the speaker running long-term. The removable cable also makes it easier to transport.
The top surface is also different from the original. It has an inset groove where the touch controls are, instead of being just a smooth surface. Apple has taken advantage of this new design by making the Siri animations look better — they now occupy the whole surface, creating a more aesthetically pleasing look.
The controls are the same as before — volume buttons on the sides and a central surface for playback and to trigger Siri. The HomePod also still features the same mesh fabric material.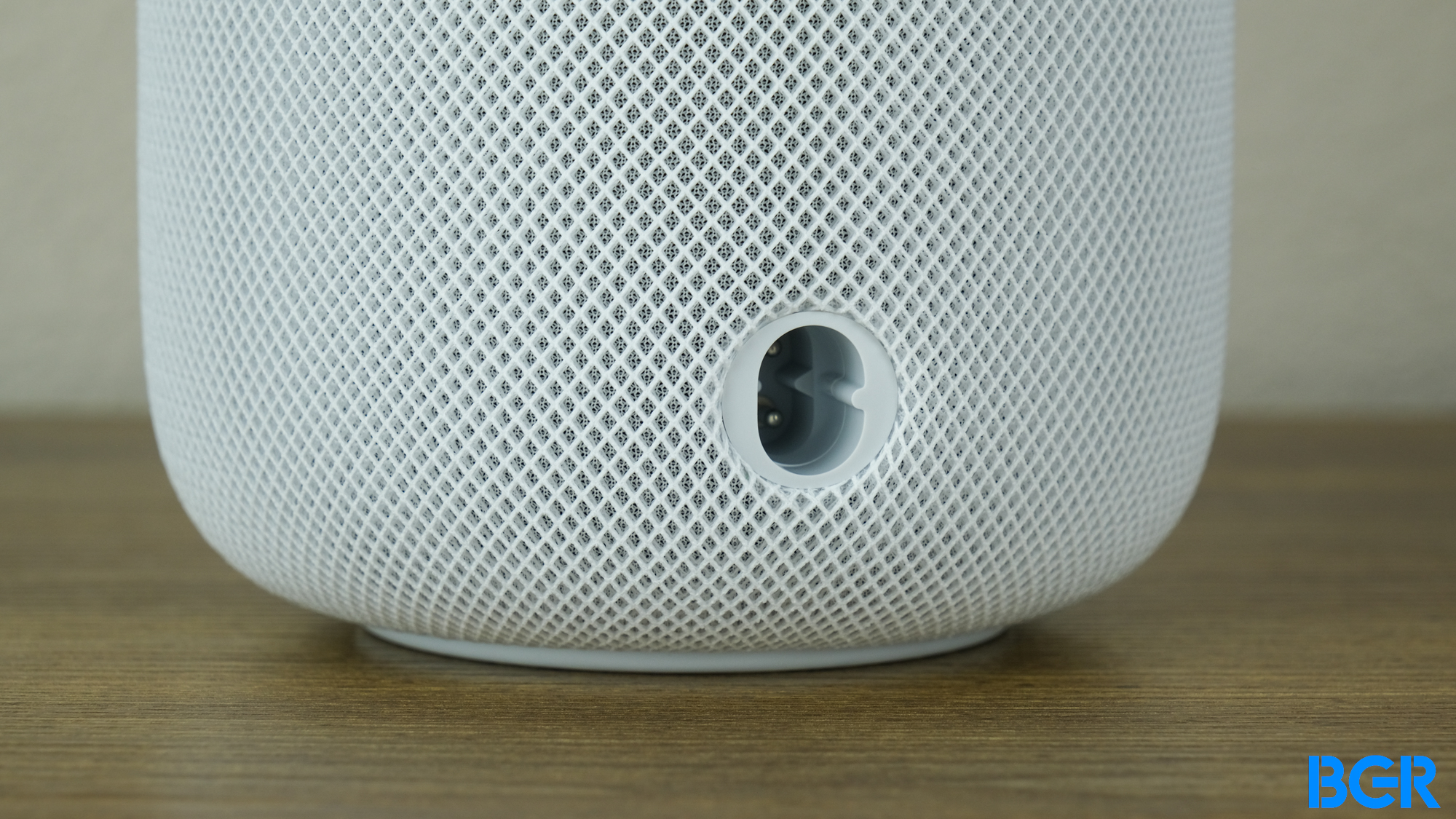 As for colors, there are still basically two options — a white version and a black version. The latter is still black, but it is now called Midnight and has a bit of a blue tint to it. Still, the changes from the original HomePod are minimal, so if you already have one, you won't notice much of a difference.
Apple HomePod (2023) smart features
The smart features on offer by the new HomePod are mostly the same in day-to-day use, but they're now powered by the Apple S7 chip.
For example, the new HomePod still has Siri baked in, though Siri has gotten better over the years. In my experience, Siri is still a bit behind the competition in terms of understanding queries and finding information from the web. It's much better at controlling compatible smart home devices and performing basic tasks than it used to be though.
The new HomePod also gets a few new smart home features. This time around, it adds a temperature and humidity sensor, which can be used as part of automations from the Home app. You can also see the readings in the Home app, but sadly, it doesn't seem like you can use the sensor's readings to control other accessories — like you can't ask Siri to heat a room to a certain temperature, when the thermostat isn't in that room. Note that these sensors are also available in the HomePod Mini.
The HomePod can also listen for things like smoke alarms, and if it hears an alarm, it can alert you to your phone. This can be a lifesaver if you're not home, and the alarm is triggered
It also now supports use as a Matter controller, and can integrate with the Thread network in your home.
The HomePod still features a lot of great audio-related features as well. As before, you can pair two HomePod speakers together for a stereo pair. And when used in a home theater setup with a compatible Apple TV, it can also play audio from other devices, like a game console, through eARC.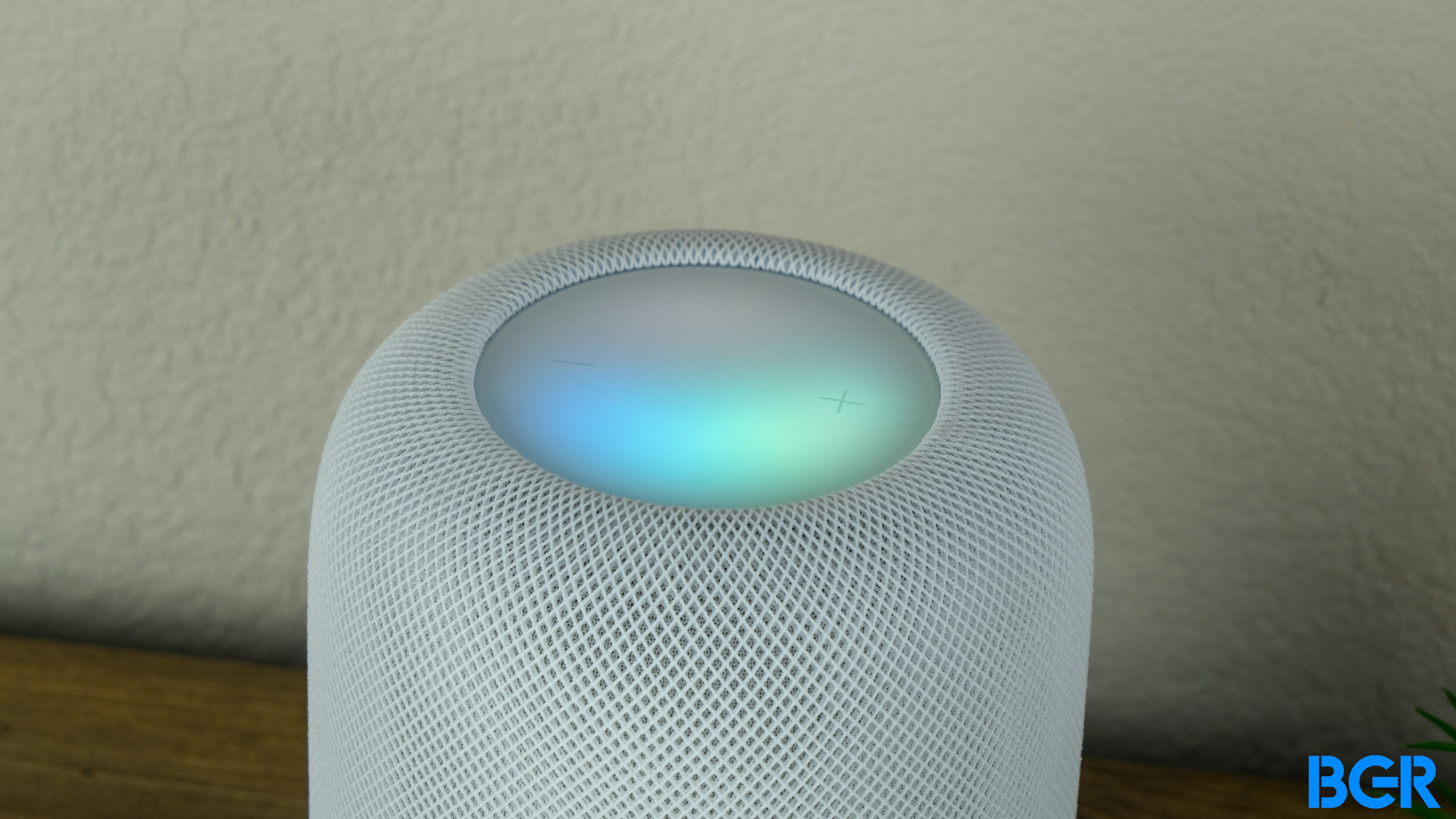 The HomePod also now adjusts its EQ in real time based on placement. For example, if it's in a corner that amplifies the bass, it can adjust in order to provide a more natural sound.
Apple HomePod (2023) sound quality
One of the most important things about the HomePod is how it sounds — and the HomePod offers excellent audio quality.
I didn't have the original HomePod on hand to compare, but from what I can tell the audio quality has remained mostly the same. But that's a good thing — the HomePod offers a powerful bass response that is well-controlled and doesn't overpower the other frequencies.
The mids are also well-tuned and offer enough emphasis on vocals and guitars. The HomePod has a slightly "scooped" sound — which means that it emphasizes the highs and lows over the mids. That's common in consumer speakers, and not a bad thing, necessarily.
Additionally, the highs are very detailed. Now, don't make the mistake of thinking that the HomePod is some kind of audiophile-grade speaker — it isn't. But it is probably the most detailed and clear smart speaker out there, and certainly more detailed than most non-smart speakers in its price range
If you're looking for an even better sound quality, consider using two HomePods as a stereo pair. It's an excellent experience. I also found that when used with an Apple TV, the HomePod speakers seem to work very well.
Overall, the HomePod offers excellent audio quality — with powerful bass response, well-tuned mids, and plenty of detail in the high end.
Conclusions
The 2023 Apple HomePod is an excellent option if you want a smart speaker with great sound quality and the ability to integrate with Apple's ecosystem. It's not a revolutionary upgrade over the previous HomePod, but it does offer a few tweaks and a lower price point which make it more attractive. The improved audio features, the addition of humidity and temperature sensors, and the ability to use it as a Thread router are all nice additions.
If you're looking for a smart speaker in Apple's ecosystem and want better audio quality than the HomePod Mini can offer, the HomePod is a great option.
The competition
If you're curious about buying a HomePod, then you're perhaps also considering a HomePod Mini. For most, a HomePod Mini is still a better buy. You'll get all of the same smart features and pretty good audio quality, at a lower price. To be clear, the larger HomePod does sound much better — but if you're mostly buying this for the smart features, then the HomePod Mini is a better option.
If, however, you really want a great-sounding smart speaker, then the HomePod is a solid option.
Should I buy the Apple HomePod (2023)?
Yes, but only if you want better audio quality and are willing to spend to get it.