The Lenovo Legion 7i Gen 8 delivers top-tier performance at a much lower price than the similarly-specced competition. What are the compromises?
Pros
Excellent performance
Great design
Fast display
Affordable for the performance
Good port selection
| Buy From | List Price | Sale Price | |
| --- | --- | --- | --- |
| | $2,199.99 | $2,199.99 | See It |
The gaming laptop world is seriously heating up. Not only are great gaming laptops getting better, but you can also get a top-tier gaming laptop for more reasonable prices. The Lenovo Legion 7i is an excellent example of this, offering incredibly high-performance specs, and starting at a little over $2,000.
Now, of course, that's still not cheap. This isn't a budget machine for those just getting started in the world of PC gaming. It's still built for flagship quality in a decently thin and light laptop. How does the Lenovo Legion 7i perform? I've been using the gaming laptop for a while now to find out.
Lenovo Legion 7i design
The Lenovo Legion 7i may be a gaming laptop, but it doesn't necessarily look like one, at least compared to similarly-priced machines from the likes of Alienware and Razer. The laptop has a scaled-back color-scheme, with the Legion logo on the lid.
Perhaps the main tip-off that it's a gaming laptop is the fact that the base extends just beyond the hinge, something that's uncommon among traditional laptops, and more common among gaming laptops. Along with that, you'll also get a selection of ports on the back of the laptop.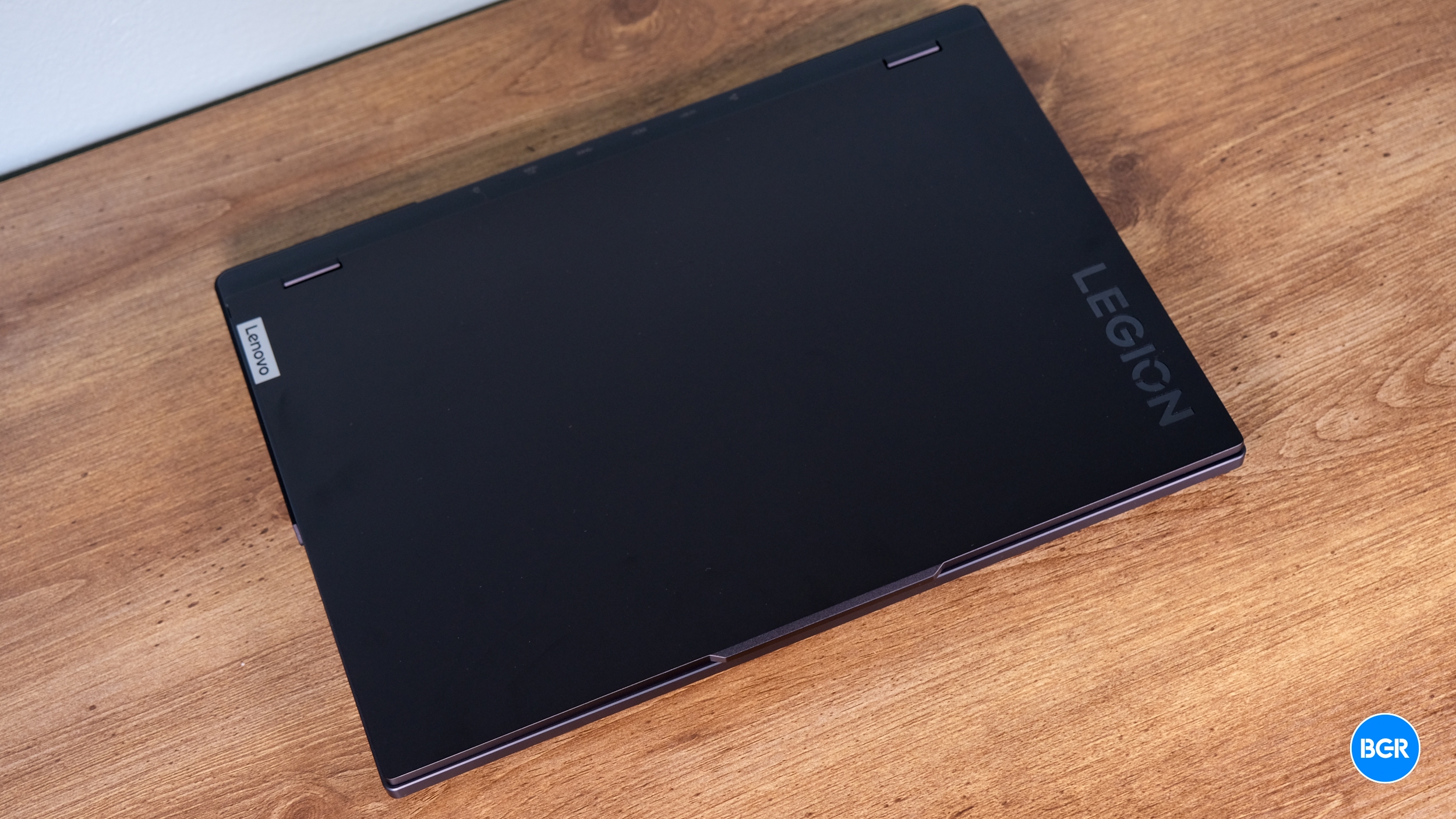 Speaking of ports, there's a solid selection here. On the left side, you'll get a USB-A 3.2 Gen 1 port and a Thunderbolt 4 port. On the right side can be found a headphone jack, USB-A 3.2 Gen 1 port, and a switch to electronically turn off the webcam. On the back, you'll get an Ethernet port, a USB-C 3.2 Gen 2 port, HDMI 2.1 port, power input, and two USB-A 3.2 Gen 1 ports.
My main complaint is that I would have liked to see more Thunderbolt 4 or USB 4 ports. One is fine for most users along with the other USB-C ports, but future-proofing is important, and replacing a few of those with newer ports would have been nice.
The laptop is relatively large, but not overly so — and especially not for a gaming machine. It weighs in at 6.1 pounds, which certainly isn't light, but not necessarily overly heavy for a 16-inch gaming laptop.
Lenovo Legion 7i display
Open up the lid and you'll be greeted with a relatively high-end display. The display measures in at 16 inches, with a resolution of 2,560 x 1,600. It has a 16:10 aspect ratio, along with a 240Hz variable refresh rate and up to a 500-nit brightness.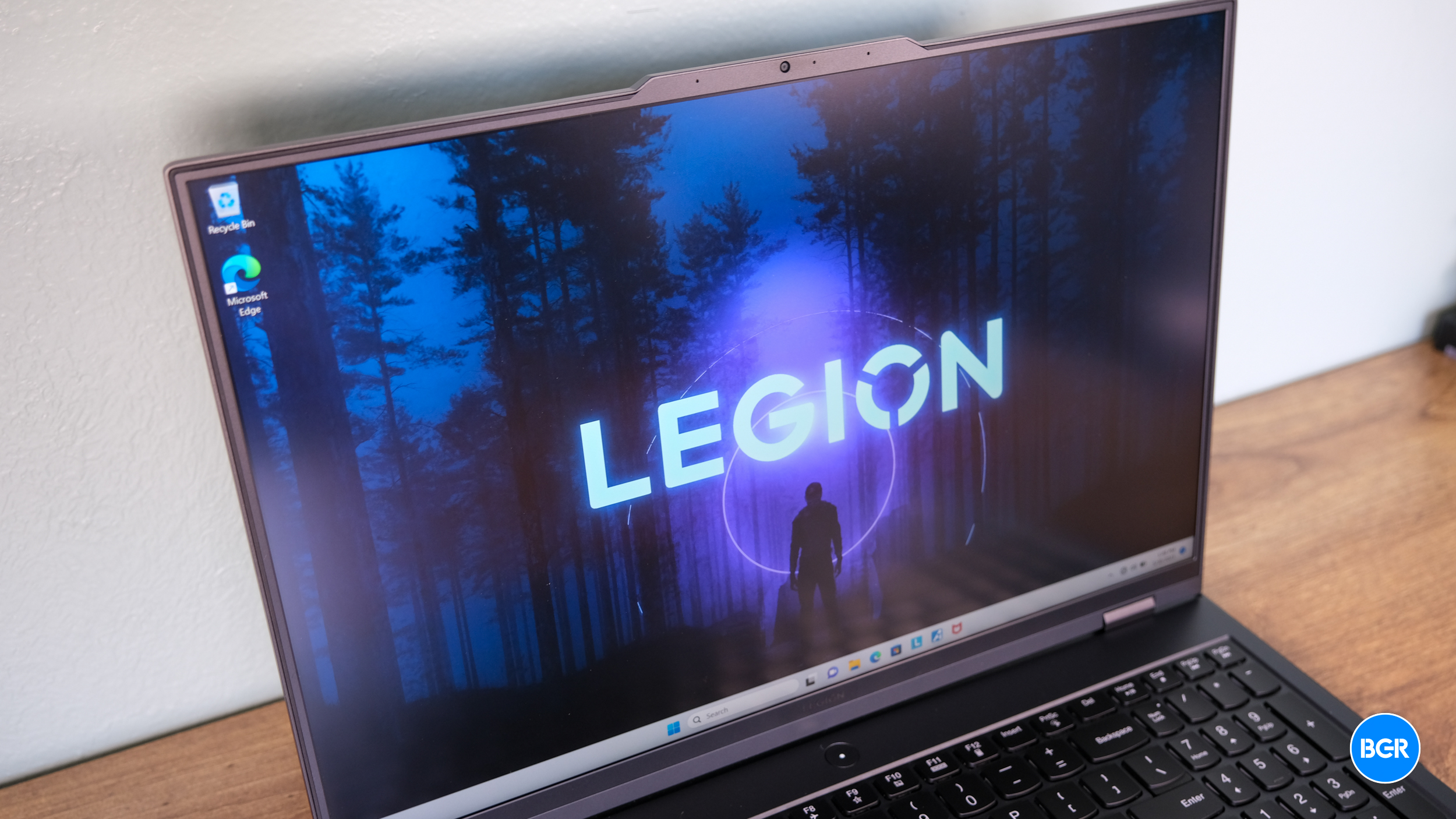 Lenovo Legion 7i keyboard and touchpad
The keyboard on the Lenovo Legion 7i looks and feels excellent.
I found that generally, there's a good amount of travel, and great spacing, making for a natural typing experience overall. You'll get 1.5mm of travel on the keys here, and there's a number pad and full-size arrow keys, which you would absolutely expect from a gaming device.
The keys offer some style-related features too. You can adjust RGB lighting on a per-key basis, so you can get the exact lighting effects that you want.
The touchpad isn't bad, though it's not as responsive or as great-feeling as those on a MacBook. The trackpad is five inches, which is quite large, and there is a decent click. Compared to other Windows laptops, it's relatively responsive. Of course, while you're gaming you should still get a gaming mouse.
Lenovo Legion 7i performance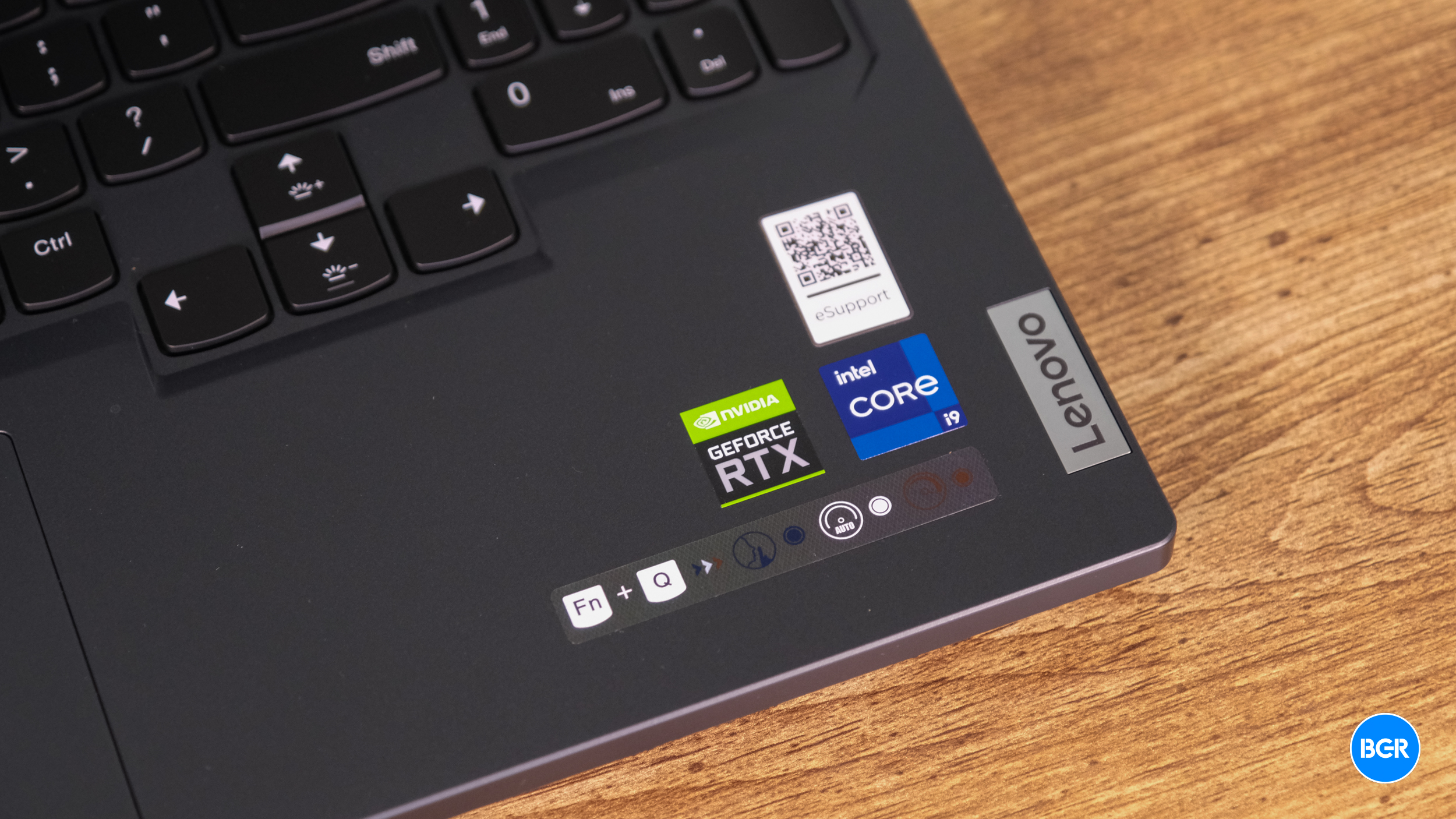 Under the hood, the Lenovo Legion 7i is an absolute beast. The machine offers a 13th-gen Intel Core i9-13900HX chipset, coupled with either 16GB or 32GB of RAM, and up to 1TB of internal storage. The base model also has an Nvidia GeForce RTX 4070 GPU, however our test model steps that up to an RTX 4080.
As you would expect from laptops with these specs, the Lenovo Legion 7i can handle pretty much anything you can throw at it in 2023. The graphics card may not be quite as high-performing as the desktop-class alternatives, but it easily delivers a top-tier graphics experience for a portable machine.
Along with the basic specs, Lenovo has included some features to optimize performance even more. That includes the company's own LA-2Q AI chip, coupled with the Lenovo AI Engine+. These make use of machine learning to balance refresh rates and fan speed, making for a generally smoother performance.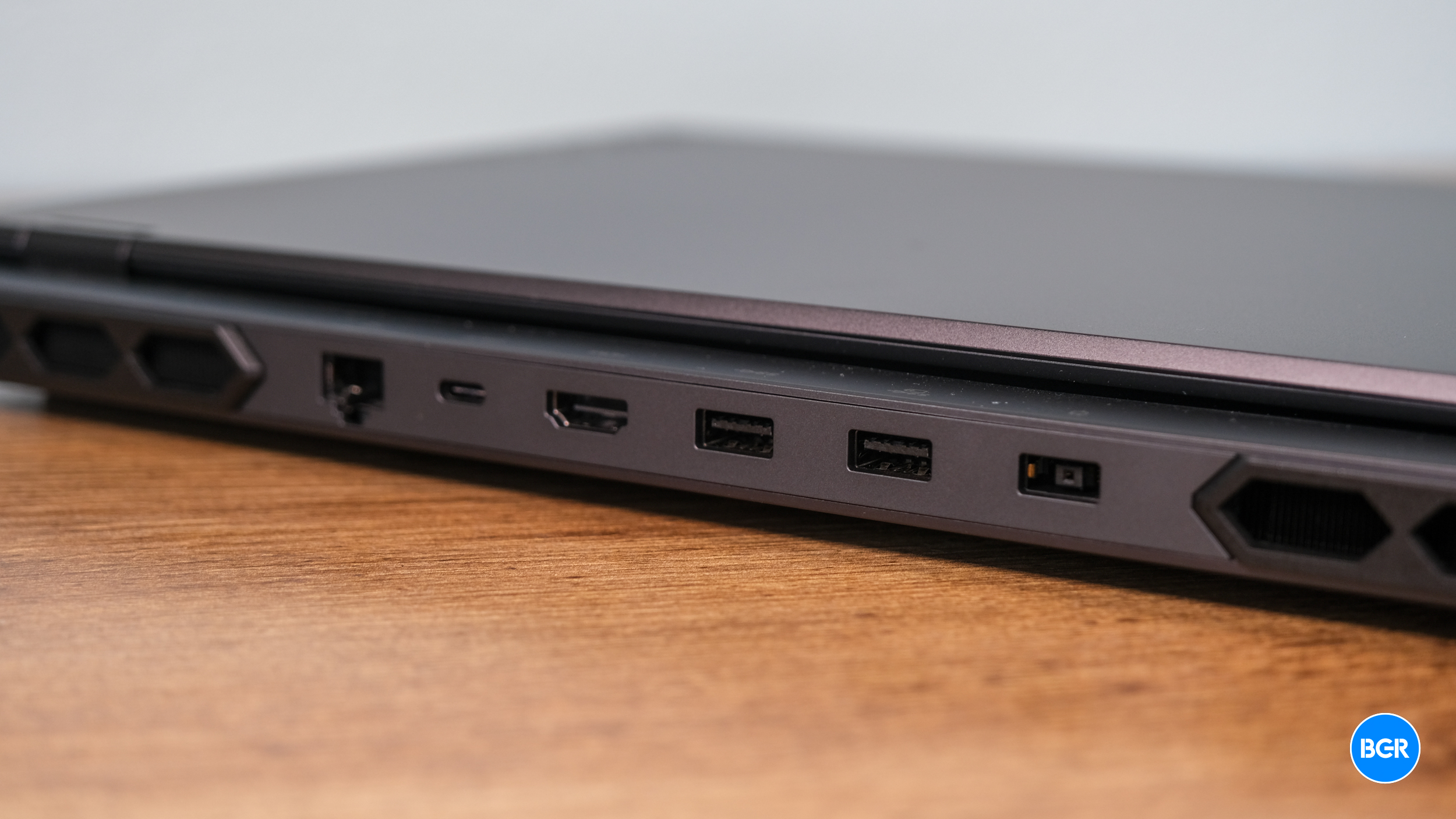 Ultimately, the Legion 7i is one of the highest-performing laptops out there right now. Sure, it's not necessarily head-and-shoulders above the competition, but it can certainly compete with the best, both in terms of productivity, and in gaming. Playing games like Star Wars: Jedi Survivor was a breeze, and the game looked absolutely stunning.
Lenovo Legion 7i battery and charging
The Lenovo Legion 7i comes equipped with a 99.9Whr battery, however despite the fact that the battery is quite large, because it's such a high-performing machine, battery life isn't very good. You should only expect to get a few hours of gaming out of the machine before needing to plug in, though thankfully if you're using it for productivity you'll get a little more — though still not enough to get through a full work day.
Thankfully, the Legion 7i can charge relatively quickly though. The laptop comes with a 330W charger that should get the laptop to 80% in around 30 minutes, which isn't bad at all.
Lenovo Legion 7i webcam and speakers
The Lenovo Legion 7i comes with a 1080p webcam, and it's not bad. Generally, details are pretty good, and colors are vibrant enough. I also like the fact that the machine comes with a switch to electronically turn off the webcam, helping address any privacy concerns.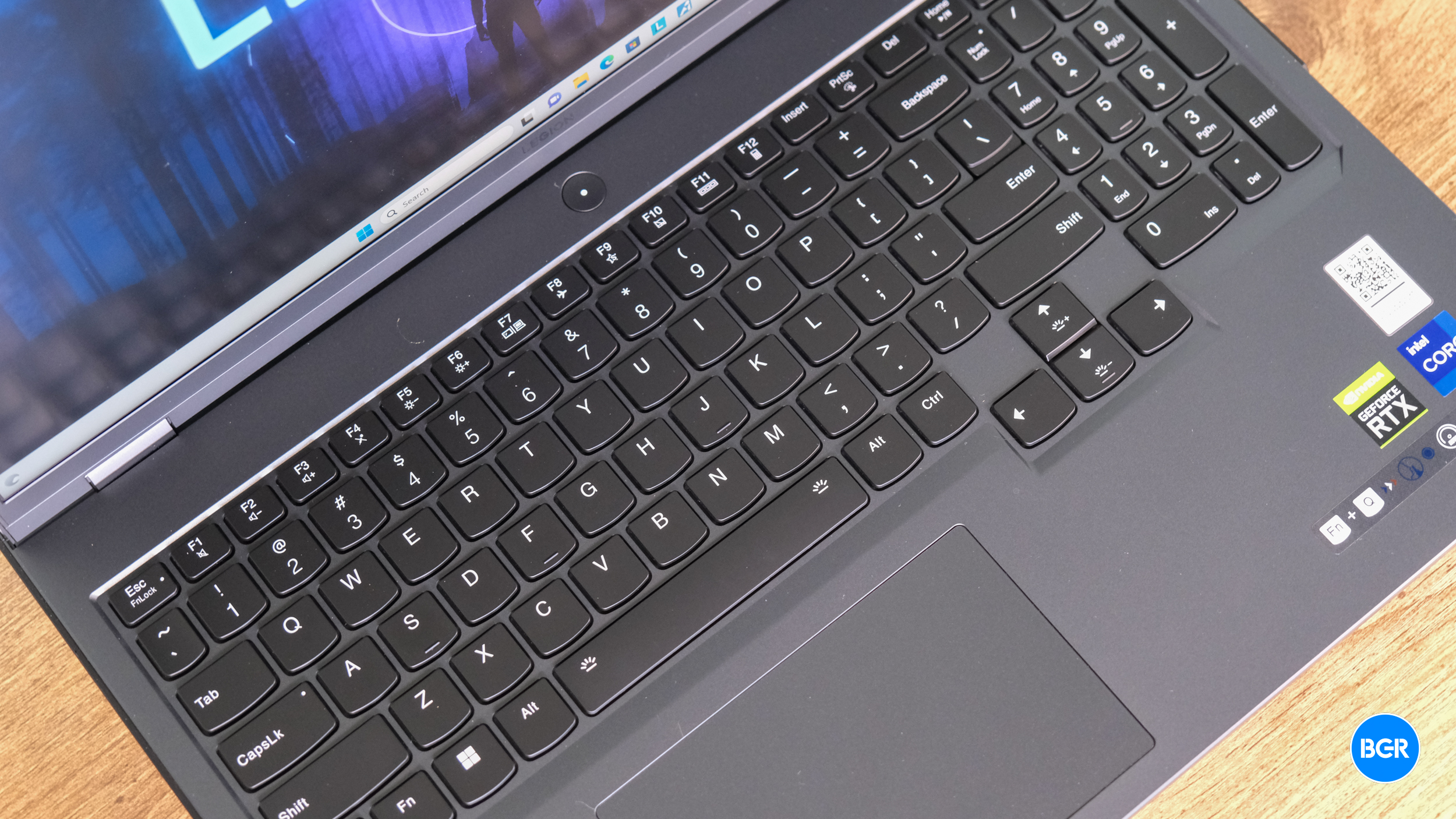 The laptop comes with stereo 2W speakers designed by Harman, and they're not great. Many other laptops in this price range come with discrete woofers, and the speakers here don't deliver much detail. I recommend gamers upgrade to an external speaker system or a pair of headphones, but in a pinch, the speakers on this laptop do just fine.
Conclusions
The Lenovo Legion 7i Gen 8 has a lot going for it. The laptop does make some sacrifices — the speakers aren't very good, and the battery life leaves a lot to be desired. But it delivers where it counts — boasting top-tier performance that beats the majority of the competition in this price range.
The competition
So what exactly is that competition? Well, it's slim pickings in this price range. If you're really looking for top-tier performance, then you might also be looking at the likes of the Asus ROG Strix Scar 18 or one of MSI's higher-end machines, however while those iron out some of the details like offering better speakers, they also cost a lot more. If you're looking for a great gaming laptop in the sub-$3000 price range, this is the way to go.
Should I buy the Lenovo Legion 7i Gen 8?
Yes. It's an excellent machine for the price.