Fame is a funny thing, and some people will go to unbelievable lengths to attain it. For Monalisa Perez, a 19-year-old Minnesota woman, and her 22-year-old boyfriend, Pedro Ruiz III, the itch of YouTube stardom ended in tragedy. Hoping to create a viral video and spark attention for their video channel, the couple staged a stunt that ended in Perez accidentally killing Ruiz with a single gunshot to the chest.
The couple's plan, according to reports, was to have Perez fire a shot at Ruiz while he held a book over his chest. According to Perez, it was an idea Ruiz had come up with after firing a shot at a different book and seeing that the bullet failed to make it all the way through. Perez teased the stunt on her Twitter account, noting that it was Ruiz's idea and not her own, and their hope was that the video would go viral.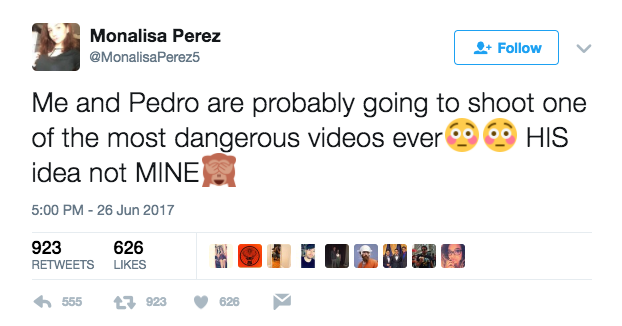 Ruiz reportedly set up a pair of video cameras, held the book in front of him, and told Perez to fire. At a distance of only about a foot, Perez shot at her boyfriend with a .50-caliber Desert Eagle pistol — and incredibly powerful handgun — and the bullet passed through the book and struck Ruiz in the chest. He died at the scene.
Perez has been charged with second degree manslaughter, and faces up to 10 years in jail if convicted. The couple already had one child, and Perez is seven months pregnant with their second.