I've never been much of a classic car guy, but there are a few classics I can't help but love. Shelby Cobras from the mid-1960s have always made my eyes widen and some Ferraris from the 1960s are just too gorgeous to deny. But the Jaguar XKE from the late 1960s and early 1970s has always had a special place in my heart. I mean, look at this magnificent beast. The smooth, bubbly lines and grumbling V12 just stir up something in my soul and it has been that way ever since I was young. I even once had the pleasure of driving a pristine 1969 model, and it was everything I imagined it would be.
To be frank, there really haven't been any other cars from Jaguar over the years that have grabbed my attention. I appreciate the brand and its heritage, and of course I can acknowledge that the company has made quite a few fine automobiles over the years. But none of them really appealed to me personally in any way. From exterior design and interior styling to performance and bang-for-your-buck factor, Jaguar simply hasn't ever been my cup of tea. That is, until I first laid eyes on the F-Type about five years ago.
I must have done a triple take the first time I saw a Jaguar F-Type on the road. Its predecessor was the XK, which I had always found to be uninspired and disappointing considering it was a car intended to carry forth the legacy of my beloved XKE. It seems odd to say this about such an expensive car, but I always viewed it as the poor man's Aston Martin. Apart from the British connection, the XK featured styling that was quite similar to several Aston models at the time, but far more vanilla.
Of course, the F-Type is anything but vanilla.
Jaguar's first generation of F-Type sports cars were actually a bit too aggressive for me. I was drawn to them, but I thought the company had taken the styling a bit too far. Elements of the exterior styling looked almost aftermarket, and in a bad way, like when you see someone driving a customized car who's trying way too hard. Jaguar was quick to dial things back a bit, and its current crop of F-Types is toned down just enough to look more refined and cohesive. The F-Type still looks aggressive, of course — it's easily one of the most aggressive looking cars in its class — but it also looks sophisticated and high-end.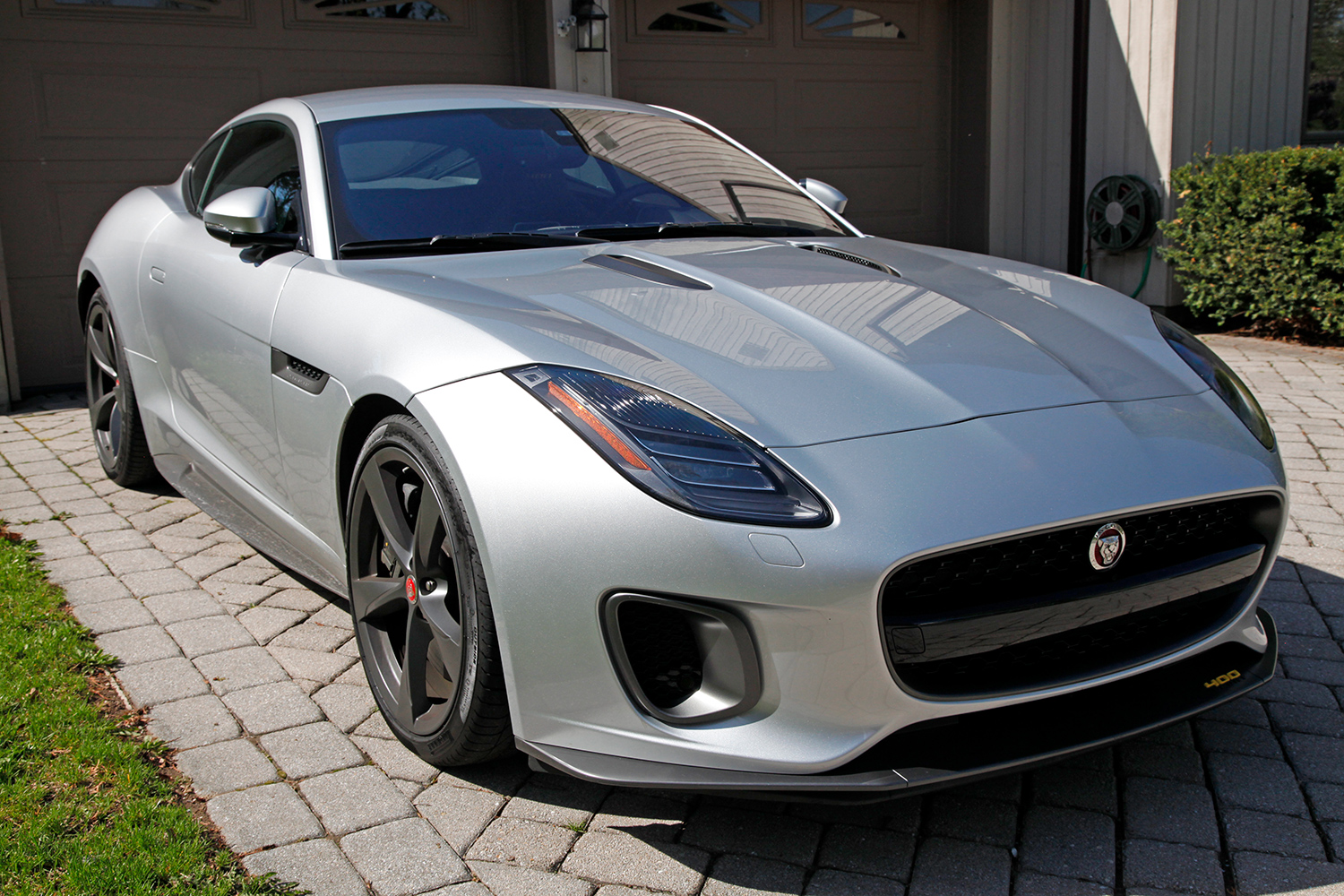 Jaguar recently provided me with a loaner car from its press fleet and it was the first time I had spent any one-on-one time with the F-Type. I've checked it out in passing several times, and my neighbor around the corner has one that I've poked around before. Actually, the timing of this loan couldn't have been worse. Just one day after I took delivery, someone plowed into the front corner of my neighbor's F-Type. He even drove right past the gorgeous silver specimen you see in the photos above as he towed his car back home.
There are currently 16 different 2019 F-Type builds available from Jaguar, including eight coupes and eight convertibles. $60,750 gets you a 2.0-liter in-line 4 cylinder coupe with rear wheel drive, and an extra $3,100 gets you the same engine in a convertible. Up at the top of the pile you've got the F-Type SVR with a 5.0-liter supercharged V8 that cranks out 575 hp and takes you from 0 to 60 MPH in 3.5 seconds. That puppy will set you back $122,750 for the coupe, or $125,850 for a convertible.
The F-Type I tested is nowhere to be found among the 16 different builds Jaguar now offers. It's a 2018 model, and it's a special edition that was only available for one model year. It reads like this: 2018 Jaguar F-Type 400 Sport.
The 400 Sport was released to commemorate the introduction of Jaguar's new range of F-Type coupes and convertibles last year. It features a 400 hp supercharged 3.0-liter V6, an uprated chassis, special brakes, sleek 20-inch wheels in a Satin Dark Grey color, and various unique trim features including special yellow and Satin Dark Grey 400 SPORT badging inside and out.
The example I drove came with Indus Silver paint and an interior in Ebony with Cirrus stitching. It was quite a combination, as you can see in the photos. The car carried a base price of $89,500 and the only optional equipment in my loaner was the $1,635 Climate Package 2, which includes heated and cooled seats, a heated windshield, a heated steering wheel, and two-zone climate control.
Driving the F-Type 400 Sport is fun. A whole lot of fun. It's certainly not the fastest car in its class, with a 0 to 60 mph time that sits at 4.8 seconds on paper. It's not terrible considering the coupe's curb weight of more than 3,500 lbs, but faster cars can be had. A comparably priced 911 will take you to 60 mph in 4.2 seconds, for example.
Much more troubling to me than the F-Type's performance in a sprint was the issue that power often wasn't there when I wanted it to be. In the car's normal driving mode on the highway, it sometimes felt as though there was an eternity between stomping on the gas pedal and feeling the car begin to accelerate. But all was soon forgiven; the 400 hp supercharged V6 can indeed pin one's head back once all that power finally reaches the road.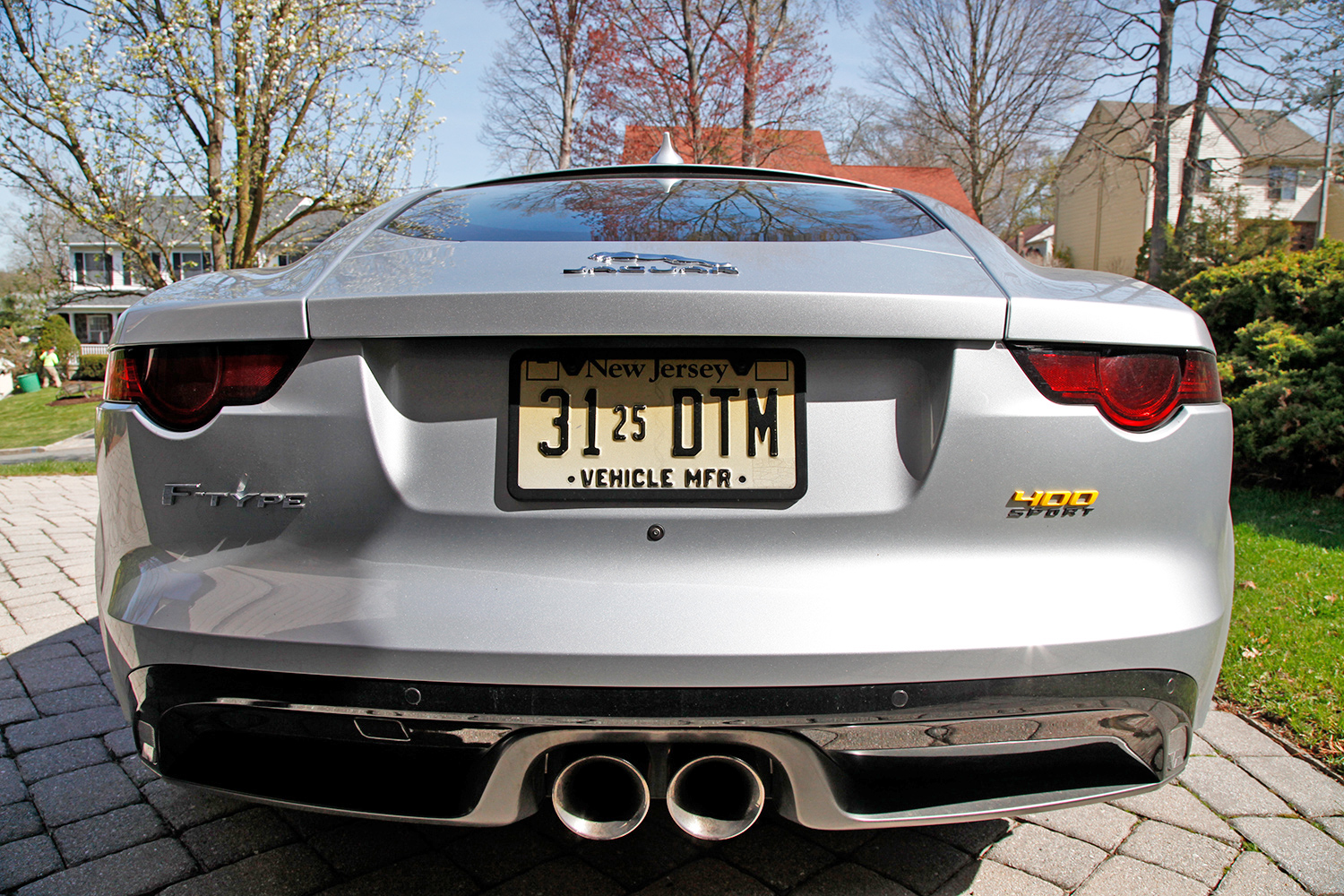 The F-Type's Dynamic driving mode spices things up considerably. Throttle response improves noticeably, gears are held longer, and steering gets heavier. Couple Dynamic mode with the car's Active Exhaust setting, and the 400 Sport is instantly transformed into the snarling jungle cat it yearns to be. Active Exhaust deepens the car's exhaust note. It's also noticeably louder and it stops muffling all those delightful crackles and pops. It's flat-out rude, but I found myself enabling Active Exhaust quite often. Why? Because it's goddamn glorious and the world deserves to hear it.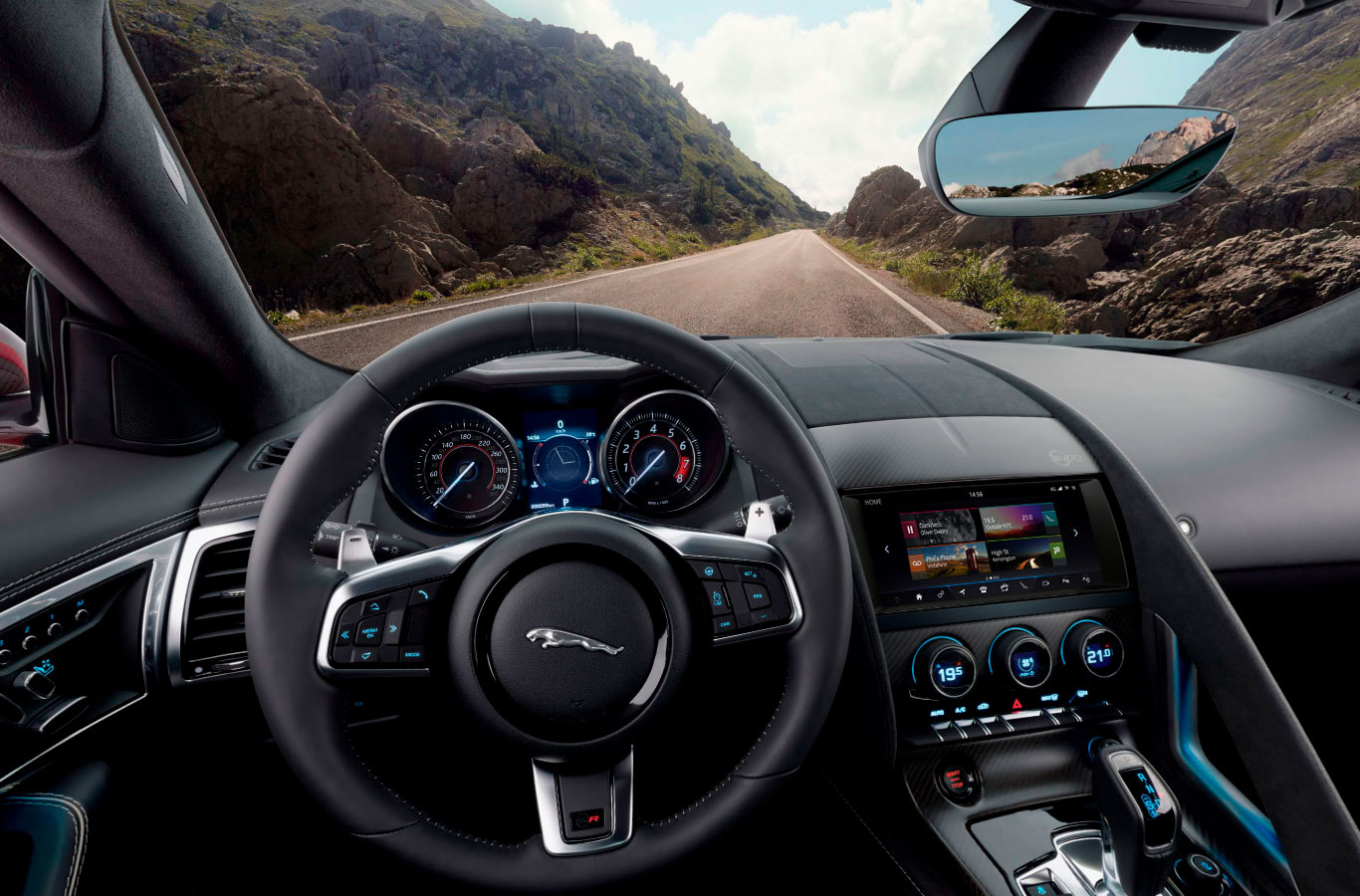 Inside the F-Type's cockpit, the design is stylish and somewhat minimalistic. There aren't many bells and whistles to speak of, which is actually a breath of fresh air these days among cars in this class. The leather wrapped steering wheel has a flattened bottom in the 400 Sport model, and the metal paddle shifters have a wonderful weight and feel to them. Basic system controls can also be found on the steering wheel, though most interactions happen on the centrally located 8-inch touchscreen above the climate controls.
As a nifty added touch that keeps the interior streamlined, the center air conditioning vents ascend from the top of the dash when the system is turned on, and they tuck themselves away as soon as the climate control is turned off.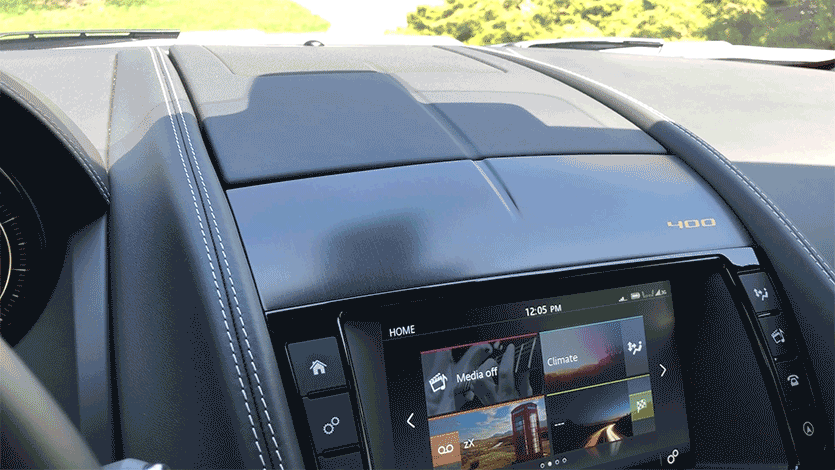 Jaguar's F-Type is much like the company's namesake. The jaguar isn't the fastest cat in the jungle, and it's also not the largest, the most fearsome, or the most brutal. But the jaguar is still a terribly dangerous and intimidating beast. Evolution has made it a daunting predator.
Driving the F-Type 400 Sport is exhilarating. Acceleration is smooth and powerful once the supercharged V6 responds to the throttle, oversized brakes bite hard as tight turns approach, and handling around curves is delightful. Well-designed sport seats keep the driver and passenger comfortably in place through it all. The Meridian surround sound system is also fantastic, though I didn't spend much time driving with the music on. The Jag's engine and throaty exhaust offers a far better soundtrack than anything the speakers might have to offer.
The aggressive exterior styling screams "look at me" a bit too loudly for my taste, but I suppose that's the point, isn't it? There's no denying that the F-Type is a beautiful sports car. It looks mean and it should, because it is mean.
Though it's no longer in production since it was a special edition for the 2018 model year, Jaguar's F-Type 400 Sport is a great example of a middle-of-the-road F-Type build. The 2019 models start at $60,750 for a 2.0-liter in-line 4 cylinder engine, and you'll pay well over twice that much for an F-Type SVR with a 5.0-liter supercharged V8 that propels you from 0 to 60 mph in just 3.5 seconds.
I'll always favor German engineering, but my time with this Jaguar gave me a new appreciation for British sports cars. The design is striking, both inside and out, and the 400 Sport has power to back up its aggressive appearance. Jaguar's sports cars have come a long way from the days of the old XKE I've always loved, but the car's spirit and style have survived after all these decades.