Instagram is an app that offers so much. You can see what your friends are doing. You can see what celebrities are up to. Shopping for new items or sharing memes has become commonplace these days. Get ideas for how to renovate your bathroom. Watch how many chicken nuggets this person ate in one sitting. There is endless content for you to see on Instagram.
Over the years, it has become a very popular app for businesses and it's become an important way for companies to share more about themselves with consumers. But, there is such as thing as social media fatigue. Basically, we're telling you that you can be looking at too much content. Maybe you need to take a break.
If you're sick of Instagram and want to get rid of it, it's rather simple. The Meta-owned app can be a lot of fun but sometimes it's time to call it quits. We have a step-by-step guide on how to delete your Instagram account. Here's how.
Deactivating your Instagram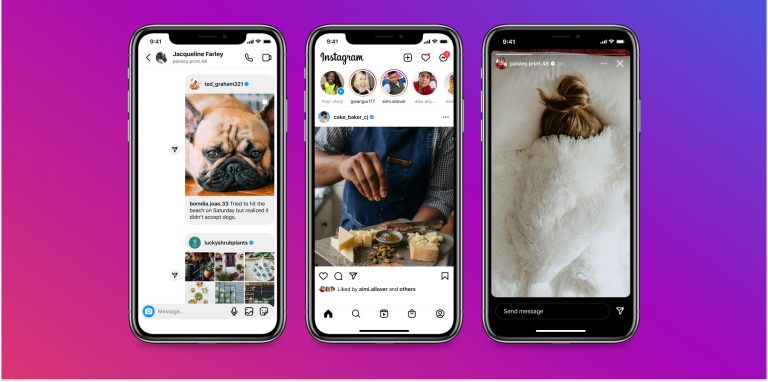 Maybe you don't want to delete your Instagram account entirely. You can first deactivate it or disable it.
Deactivating your account means hiding your account, profile, likes, followers, photos, and comments from the public and others. But it only temporarily disables your account. Logging back into Instagram will reactivate your account.
If you think there's a chance you might want your account back in the future, the move to deactivate your Instagram account temporarily. Here's how.
Log into your account and click on your profile.
At the top of the page, next to your handle, you'll see Edit profile. Click that.
Scroll down the bottom of that page and you'll see Temporarily deactivate my account. Click that.
From here, Instagram will ask you a reason why you are deactivating your account. You can select options like "This is temporary. I'll be back," "Too many ads," or "Privacy concerns." You'll have to type in your password again to authenticate your account. Then at the bottom, there is another Temporarily deactivate account button. Click that and it is deactivated.
• Finally, click "Temporarily Disable Account" at the bottom of the page.
Steps before you permanently delete your account
If you delete your account, all of your data will be erased. That goes for photos, likes, followers, comments, and anything else that happened with your profile. If you want to keep this data before you delete it, you can download it.
On the Instagram homepage, click the Menu button (three vertical lines). Click Your Activity.
In Your Activity, you'll see a list of your likes, comments, story replies, and reviews. Click Download your information.
It will then send you either an HTML or JSON file to your email address. Choose which one you want and then hit Next. Then type in your password and you're good to go.
How To Delete Your Instagram Account On Your Phone
Whether you're using an IOS or Android version, the following steps will properly guide you:
First, check if the option is available for you by going to your profile. Then click the menu. Click on Settings and go to Account. If there's a Delete Account option under the Branded Content section, then you're good to go.
Press Delete Account. It then notifies you that you can deactivate your account instead of deleting it. It alerts you that "Deactivating your account is temporary" and "Deleting your account is permanent." There are then two buttons that say Deactivate account and Delete account. Choose Delete account.
Permanent Deletion of Your Instagram Account On The Web
It is a little bit different from the web. Because Meta owns Instagram, it will have you go into the Meta Accounts Center.
Click the three horizontal lines Menu. Then click Meta Accounts Center
This will show you all of your accounts that Meta has. If you have a Facebook and an Instagram account, it will show you both. Click Account Settings at the bottom.
This will show you both accounts separately. You can click Remove on which one you want to delete. Note that if you remove one, it will remove any profile that is managed by that account.
You can also visit the Delete Your Account page. You select the reason you're deleting it, enter your password, and it will delete it.
Can you get your Instagram account back?
Yes, you can, as long as you hurry up with it. Within 30 days, you can log in with your username and password and a message will pop up asking if you want to keep using that account. You say Keep Account and you're good.