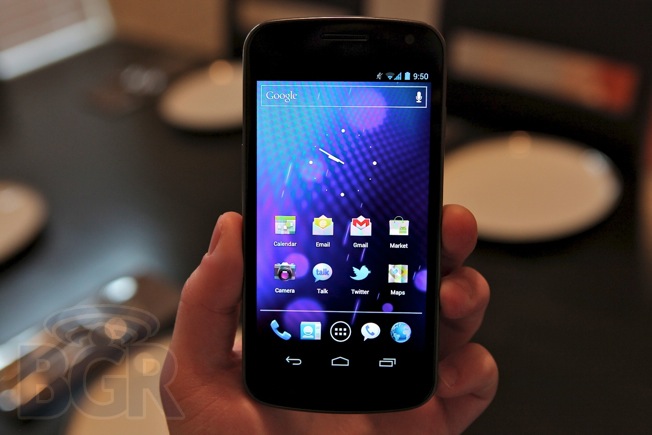 We've been playing with a Samsung Galaxy Nexus for the last day, and after shuffling between a Motorola DROID RAZR, an HTC Vivid and an HTC Rezound, the Samsung Galaxy Nexus is a welcome change in many ways. It's obviously the Google reference handset for Ice Cream Sandwich, and in almost all cases, it is the best Android handset we've seen far as hardware and software go. Android 4.0 is the most cohesive release from Google yet, and while it's not that straight forward out of the box, you do eventually get the feeling that this phone has a distinct personality as opposed to many other Android phones, which often seem to blend together. Be sure to check out our hands-on photos in the gallery below, and hit the break for more thoughts.
The Samsung Galaxy Nexus we were sent from Google is an HSPA+ unit as opposed to the 4G LTE handset for Verizon, and while the device came with a T-Mobile SIM card that worked on T-Mobile's 4G network, we've been using it with an AT&T SIM card and have been able to use the device on AT&T's 3G network as well. This looks like one of the few pentaband UMTS devices in the United States; one UMTS device to rule them all, we suppose.
As far as Ice Cream Sandwich goes, it's the most cohesive release from Google ever. The phone finally feels like it has a personality, even if it's that of a robot from a TRON-like world. Android 4.0 also feels like an actual operating system, not just one designed for tablets and smartphones, but that's due to the amount of options and flexibility the OS gives users, not necessarily because the OS is more powerful than competing platforms. Ice Cream Sandwich at times feels like a frozen onion, one that's a bit hard to thaw, and then you have to peel back each layer to get to exactly what you want.
In terms of hardware, the Galaxy Nexus is definitely a unique handset. It has a huge 4.65-inch Super AMOLED display but it's still easier to handle than a device like the DROID RAZR because it's much more narrow. One-handed operation still isn't as comfortable as it should be, however. The curved body of this phone is great and it feels solid, but the back of the case is still built from cheap-feeling plastic similar to other Samsung phones, and it spoils the feel of the device in your hand.
BGR's full review of the Galaxy Nexus will be published in the next few days.