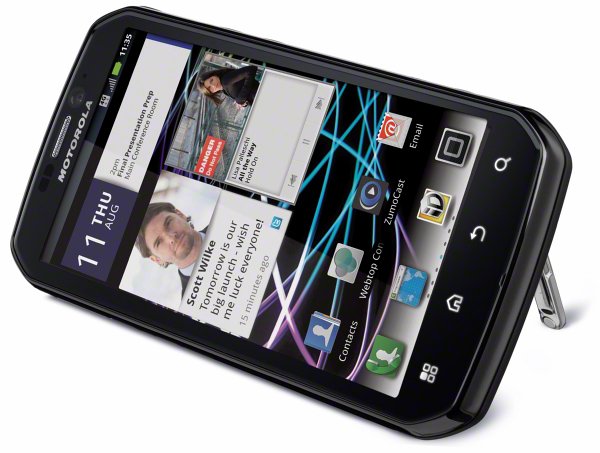 The Motorola Photon 4G was rumored to be the first flagship Motorola handset to join Sprint in quite some time, and just moments ago at Sprint and Motorola's press event in New York City, the Android handset got official. The Motorola Photon 4G features a 4.3-inch qHD display, 1GHz dual-core Tegra 2 processor, 16GB of storage, front-facing VGA camera, rear-facing 8-megapixel camera with full 1080p HD video capture support, 4G WiMAX, and more. It definitely looks like the Photon 4G and the EVO 3D will be the Android handsets to beat this summer. The full press release is after the break!
Sprint and Motorola Forge Renewed Business Relationship That Extends Device Innovation

New Portfolio of Android-Based Devices Empower Both Businesses and Consumers with World-Class Versatility, Productivity and Entertainment Features

Sprint to launch more than 10 new Motorola devices in 2011, including
Motorola PHOTON 4G, boasting Sprint 4G, Android 2.3, Sprint ID and worldphone capabilities,
Motorola XPRT, a business-class Android smartphone, and
Motorola TRIUMPH, the first Motorola Android smartphone for Virgin Mobile USA

New York City – June 9, 2011 – Sprint (NYSE: S) and Motorola Mobility, Inc. (NYSE: MMI) today announced a reinvigorated alliance that strengthens and extends the two companies' device innovation leadership. Sprint and its prepaid brands of Boost Mobile and Virgin Mobile USA will launch more than 10 new Motorola wireless devices in 2011, bringing revolutionary performance, speed and design to Sprint customers. This new portfolio demonstrates a commitment to bring customers advanced devices with industry-leading features, including smartphones, tablets and best-in-class Push-to-Talk devices.

Two new devices were communicated today as part of this relationship, including the iconic Motorola PHOTON™ 4G, Motorola's first Sprint 4G device with a dual-core 1GHz processor, Android™ 2.3, Sprint ID and worldphone capabilities, and Motorola TRIUMPH™, the first Virgin Mobile USA device from Motorola. These two devices, along with the additional products in the new portfolio, build upon Sprint and Motorola's long history of innovation across Sprint 3G and 4G networks and Nextel National Network.

"Over the years, we have teamed with Motorola to bring top of the line devices to our customers across both prepaid and postpaid brands," said Sprint CEO Dan Hesse. "I am pleased to see our collaboration grow. Together we will enhance the customer experience by bringing innovative devices to market, such as the Motorola PHOTON 4G and Motorola TRIUMPH."

Sprint was unbeaten among major wireless carriers for customer satisfaction according to results from the 2011 American Customer Satisfaction Index. In addition to tying for first place among wireless carriers, Sprint was also the number one most improved company in customer satisfaction, across all industries, over the last three years, according to the survey.

"We are excited to be partnering with Sprint to announce a new portfolio of innovative, differentiated Android-based products that make the mobile experience better for people – whether at home or at work," said Sanjay Jha, chairman and chief executive officer, Motorola Mobility. "These devices showcase our deep insight into consumer needs and harness the power of Sprint's networks."

Motorola's First Sprint 4G Phone

Sprint and Motorola are taking wireless innovation to a new level with Sprint's first 1GHz dual-core NVIDIA® Tegra™ 2 processor smartphone on the Sprint 4G Network, Motorola PHOTON 4G. Motorola PHOTON 4G provides on-the-go users with an edge in managing their lives, around the world. Motorola PHOTON 4G offers the perfect blend between personal and business needs and boasts enterprise-quality security for Android, international GSM capabilities, a 4.3-inch qHD display, dual cameras and a kickstand for hands-free viewing.

Built with Android 2.3, Gingerbread, Motorola PHOTON 4G, combined with the Sprint 4G Network, lets users browse, download and multitask at blazing-fast speeds to support their busy lifestyles. Motorola PHOTON 4G does it all, providing users with an array of versatile tools, like the Motorola webtop application, allowing users to access and create content from a larger screen while connected to a Motorola accessory dock (available for purchase following device availability).

Additional features include:

Dual-core NVIDIA Tegra 2 processor and 1GB of RAM
Large 4.3-inch touchscreen with qHD (Quarter High Definition) display
16GB of onboard memory, support for up to 32GB SD Card, for a total of up to 48GB
Worldphone capabilities to access emails, calendars and news from locations around the globe
Ability to utilize the webtop application while connected to a Motorola accessory dock (sold separately) to open, view, edit and send Microsoft Office documents using cloud-based web apps through the full Mozilla Firefox browser
Supports critical IT device policies commonly requested by enterprises and government entities, including integration ease, cost-of-management and data security concerns

Dual cameras – 8 megapixel, dual-LED flash camera with front-facing webcam to store photos and videos directly on the device and VGA front-facing camera for video chat
Android Market™ for access to more than 200,000 useful applications, widgets and games available for download to customize the experience
Sprint ID for an easy way to personalize the user experience with apps, widgets, ringtones and more, all in a single download

3G/4G Mobile Hotspot capability, supporting up to eight devices on the Sprint 3G or 4G networks and one while roaming internationally on GSM (Mobile Hotspot capability while roaming internationally on GSM will be delivered through an upcoming software update)

Motorola PHOTON 4G will be available this summer. Pricing, final specifications and a full list of accessories will be provided closer to launch.

Motorola's Debut on Virgin Mobile USA

Available this summer, Motorola TRIUMPH is the first Motorola device available exclusively to Virgin Mobile USA customers. Tech savvy customers will appreciate the feature-rich Motorola TRIUMPH as one of the hottest phones with the added flexibility of a no contract plan.

Motorola TRIUMPH boasts a vibrant 4.1-inch WVGA touchscreen, two cameras, a super slim design at less than 0.4 inches thick, HD-Video (720p) capture and HDMI output to allow for image sharing on your HDTV (requires HDMI cable sold separately).

Additional features include:

1GHz processor and up to 32GB of expandable memory to power and store multimedia libraries
HDMI out hook-up for flat screen multimedia viewing
Access to corporate email, social media sites, like Facebook® and Twitter™ and a full suite of Google™ services, like Google Search™, Gmail™, Google Maps™, Google Talk™ and more
5 megapixel rear-facing camera and front-facing VGA camera for video chat

Android Market for access to more than 200,000 useful applications, widgets and games available for download to customize the experience

Motorola TRIUMPH will also be the first handset to come preloaded with the Virgin Mobile Live 2.0 app used to access the Virgin Mobile branded music stream.

Virgin Mobile Live 2.0 is a social networking music application, which will provide Android users free access to the company's critically acclaimed music stream hosted by DJ Abbey Braden, as well as live music performance videos, and "check in" features at special events. All status updates made using the app will also sync with Facebook and Twitter. It will be available in late July at http://www.virginmobileusa.com and in major retail outlets nationwide.

Business-Class Android OS Smartphone

On June 5, Sprint and Motorola debuted Motorola XPRT™, the first Motorola smartphone powered by Android from Sprint to deliver enterprise-class security, personal productivity enhancements and international roaming. Designed for business users, Motorola XPRT offers a sleek, compact design built on Android 2.2, Froyo.

It features:

High-resolution 3.1-inch HVGA display with physical QWERTY keyboard
5 megapixel camera with camcorder and dual LED flash for low-light performance
2GB memory card included, supporting up to 32GB
Corporate email (Microsoft Exchange ActiveSync®), personal (POP & IMAP) email and Quickoffice for opening Microsoft Office™ documents
Worldmode – CDMA (EVDO Rev. A), GSM/UMTS (HSPA) – international roaming service available in more than 200 countries
Google mobile services such as Google Search, Gmail, Google Maps with Navigation, syncing with Google Calendar™, Voice Actions and YouTube™

It is available now in Sprint Stores, Business Sales, Web Sales (www.sprint.com) and Telesales (1-800-SPRINT1) for $129.99 (excluding taxes) with a new line or eligible upgrade and two-year service agreement.

More than 10 Devices Together by Year End

Additional devices available in 2011 from Sprint and Motorola will include:

Motorola Titanium™: Available late summer, Motorola Titanium leverages Sprint's industry-leading Push-to-Talk capabilities as the first Nextel Direct Connect® smartphone built on Android 2.1.
Motorola XOOM™ with Wi-Fi: In May, Sprint made available Motorola XOOM Wi-Fi through Direct Ship sales channels for $599.99 (excluding taxes). It is the first device to feature Android 3.0 (Honeycomb), the version of Android designed specifically for tablets and features innovations in widgets, multitasking, web browsing, notifications and customization. It also offers a 10.1-inch widescreen HD display, 1GHz dual-core processor and two cameras, a rear-facing 5 megapixel camera with flash that can capture HD video and a front-facing 2 megapixel camera for Google Talk with video chat.

Boost Mobile recently announced availability for three new Motorola devices:

Motorola Clutch™ + i475, successor to the highly popular Motorola Clutch, is a candy-bar QWERTY device with a larger display screen, improved keyboard for text messaging and walkie-talkie functionality. It is available now for $99.99 (excluding taxes) at Boost Mobile's exclusive retail stores, select independent wireless dealer, major retail outlets nationwide and at http://www.boostmobile.com with free shipping.
Available later this month and priced at $79.99 (excluding taxes), Motorola Theory™ is a sleek, candy-bar QWERTY at an affordable price. Key features include a high-finish premium design, threaded messaging, web and email access, Bluetooth® technology, 1.3MP camera and 2.4-inch QVGA display.
Coming late June, Motorola i412 is ideal for wireless users craving an uncomplicated phone for talking, texting and walkie-talkie functionality. It will be available for $69.99 (excluding taxes) at Boost Mobile's exclusive retails stores, select independent wireless dealer locations across the country, http://www.boostmobile.com with free shipping and major retail outlets nationwide.

Motorola Clutch + i475 and i412 are the latest walkie-talkie phones to offer Push-to-Talk service operating on the Nextel National Network, the fastest national Push-to-Talk network1.

All three devices will be available with Boost Mobile's $50 Monthly Unlimited with Shrinkage plan where the longer you stay, the less you pay simply by making on-time payments. For every six on-time payments, a Boost Mobile customer's monthly cost will shrink by $5, eventually getting down to as low as $35 a month for unlimited nationwide talk, text, web, email, IM and calls to 411. Payments do not need to be consecutive to qualify for the next savings milestone.

Boost Mobile was recently recognized by J.D. Power and Associates as Highest-Ranked Non-Contract Company in Overall Customer Satisfaction Performance2. It offers wireless phones and services with no long-term contracts.