The Motorola DROID BIONIC for Verizon Wireless combines everything you might want in a phone into a single, lust-worthy package. From 4G LTE, to a supersized 4.3-inch display and 1080p HD video capture, this phone has it all. Verizon Wireless has launched several 4G phones now, but they have all arguably been lacking due to their shortcomings in either size (thickness), weight or battery life. Is the Motorola DROID BIONIC the first phone to bring 4G to the next level on Verizon? Check out the full review after the break to find out for yourself.












Hardware / Design
The DROID BIONIC started out as a much different device when it was announced a shocking nine months ago at CES 2011. Verizon and Motorola wouldn't reveal exactly why it took so long to launch, and why the device we have today is very different than the device announced in January, but it's pretty obvious, at least to me.
Verizon told Motorola to go back to the drawing board and deliver a more competitive handset. Things like using a TI OMAP processor instead of an NVIDIA Tegra 2, a thinner and edgier design and different screen materials have allowed the device Motorola and Verizon released to be absolutely competitive with what's out there, and to also be the best in several key areas. The Motorola DROID BIONIC is the first 4G LTE handset to be slim enough to not get in the way. It's also the first 4G LTE handset I have wanted to keep using because of the combination of features the device offers.
The hardware and design of the BIONIC is robotic and edgy, yet soft enough that the phone could appeal to a variety of demographics. On front, you'll find a slab of high quality Gorilla Glass overlaid on a 4.3-inch qHD display. The glass panel on the DROID BIONIC is the first from Motorola that I can remember that's made of this material; it feels like a glass touchscreen should, unlike the Motorola PHOTON, ATRIX, or DROID 3. Additionally, there's a beautiful beveled edge that gives the device a perfect contrast to the thin metallic bezel surrounding the display.
There's a 1.3-megapixel front-facing camera toward the top of the front panel, with a proximity sensor and an LED notification light and that is invisible unless in use. On the right side there's a volume up and down button, on the left you'll find the microUSB port and mini-HDMI out port, and on top is the power/lock/unlock key and a 3.5mm headset jack.
Around back, there's an 8-megapixel camera with support for 1080p HD video capture an LED flash and a speaker. The rear of the device features a battery cover that engulfs the entire back of the phone in a soft-touch rubberized finish, and physically, the BIONIC is like other recent Motorola devices in terms of Style. It sports a thicker top portion, tapering down into a thinner design about a quarter of the way down.
The display and touch performance on the Motorola DROID BIONIC is possibly the best of any Android device I have used. It just goes to show how much of a difference hardware and software, working perfectly together, can make. There is no lag whatsoever. Each tap is instantly recorded. Swiping from one home screen to the next — something that performed terribly on the DROID 3 for me — flows incredibly well on the DROID BIONIC. Touch performance isn't as good as iOS in some areas, but it's getting so close that it doesn't really matter anymore.
The screen itself looks exactly like Motorola's other qHD offerings. It's a PenTile display that will be incredibly frustrating to around 1% of the people who own it; most people don't notice, and don't care. The resolution is great, the display is bright and colors look good, though whites don't appear to be perfect white due to the PenTile display.
Software
The BIONIC is the first Verizon 4G LTE smartphone to feature Google's latest OS, Android 2.3.4 Gingerbread, and that means the DROID BIONIC provides out of the box support for video calling over 4G, 3G and Wi-Fi in Google Talk, in addition to a slew of other enhancements with the latest Gingerbread build. The BIONIC also features printing over Wi-Fi with MOTOPRINT, and a new app and service from Motorola called ZumoCast that allows you to access multimedia, documents and other files from your home or office computer for free, over 4G or 3G.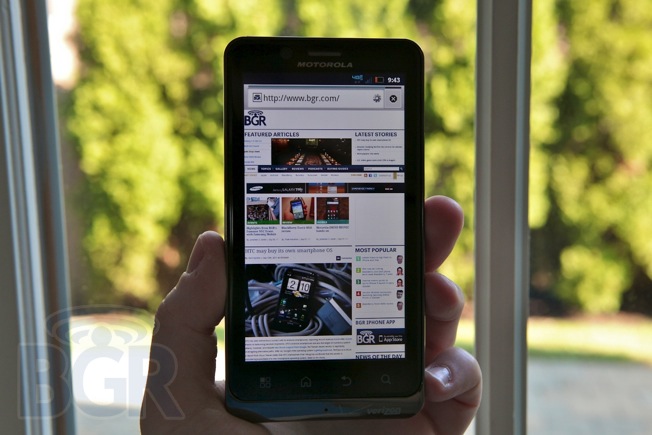 As far as Motorola's software customizations, there isn't very much that I haven't seen before. Something that that feels different, though, is how well the software works on the BIONIC. It's a different experience than any other Motorola Android device I have used. The phone doesn't stutter and software doesn't hang; it really seems like Motorola has finally started melding its hardware and software together almost seamlessly. And it should, as the company's teams have been working on Android development for years, but it's starting to show.
Phone / Battery
I have really enjoyed using the Motorola DROID BIONIC on and off as a phone since Verizon gave me a review unit last week. Calls come in very clear on Verizon's network, dropped calls were not an issue, and people could hear me very clearly. The speaker, on the other hand… well, it's pretty terrible for both speakerphone use and audio playback. It sounds almost muffled, reproduces audio poorly, and isn't loud enough.
One bug I have noticed that is incredibly annoying is that when you're on phone call, and the phone is against your ear, you can not adjust the volume of the call if the screen is off. I have tried repeatedly to get this to work and it hasn't. If you take the phone away from your ear you can change the volume once the proximity senor triggers the display, but once you start talking again after a moment against your ear, you cannot adjust the volume.
Battery life has been excellent. Now, that's a bit of a relative statement as this is a 4G LTE device, but it's easily the best-performing LTE device I have used as far as the battery goes, and it actually is pretty comparable with some 3G Android phones Verizon offers. Standby time isn't as great as I'd have liked, but as far as daily use with consistent 4G LTE service, the Motorola DROID BIONIC really delivers.
Accessories
Motorola and Verizon are positioning the DROID BIONIC as not only their most powerful and best smartphone to date, but as a device that can power and handle all of your travel and home entertainment needs. Just like the Motorola ATRIX 4G, the BIONIC can make use of Motorola's laptop dock, which is a laptop shell that is powered completely by the BIONIC itself. There are also a several docks and adapters that allow the phone to power 1080p HD content on your home set up.
For extremely light work on the go, the laptop dock configuration isn't necessarily a bad option, but for most users it's too clunky and too limited to be useful — even though you're able to use a desktop-grade version of FireFox complete with full Adobe Flash support for browsing. As far as the multimedia docks, if you typically store most of your music, TV shows and even movies on your phone, it's a reasonably good option. And the entry-level multimedia adapter for the BIONIC is a great value at $29. Verizon is also offering a discount on the laptop dock to BIONIC customers for a limited time.
Conclusion
The Motorola DROID BIONIC is the first 4G LTE smartphone to really deliver. It's packed to the brim with all of the latest cutting-edge specs and features, and it's all melded together in an incredible package. In fact, this is probably my favorite smartphone Verizon has offered exclusively, ever. Android is still Android with all of its strengths and weaknesses, but Motorola has done an amazing job finally working out issues with its customizations to get them to a place where they start to add to the phone as a whole, instead of subtracting from it.
The phone satisfies technology enthusiasts, packing in a screaming dual-core processor, an 8-megapixel camera with 1080p HD video capture, 4.3-inch qHD display, built-in storage, expandability and more. It also is thin enough and it's footprint small enough where I have no problem recommending it to friends who are in the market for a new smartphone on Verizon, especially someone looking for a 4G device. It's one of the most expensive smartphones Verizon has offered in recent years at $299.99 with a two-year agreement, but it's also one of the best phones the nation's top carrier has ever carried, and in my view, it's well worth it.