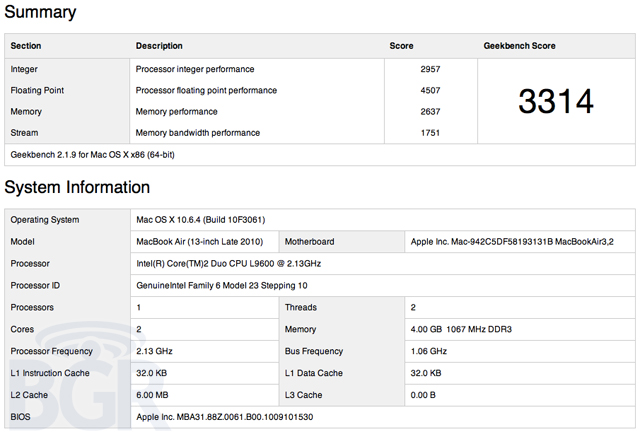 Ever since Apple announced the new MacBook Air — and we found out there was a built-to-order option which upped not only the RAM but CPU — we figured it would be worth putting it head to head with the stock model to see performance differences. We have a 13-inch MacBook Air "stock" model with a 1.86GHz Intel Core 2 Duo processor, 2GB of RAM and a 128GB SSD drive. Our built to order MacBook Air is rocking a 2.13GHz Intel Core 2 Duo processor, 4GB of RAM, and a 256GB SSD drive. Hit the jump to check out our results.
For our benchmarking tests, we used Geekbench and Cinebench. Here are the results:
According to Geekbench, the built to order MacBook Air came in with a score of 3314, and the stock MacBook Air came in at 2976. That's around an 11% difference in performance.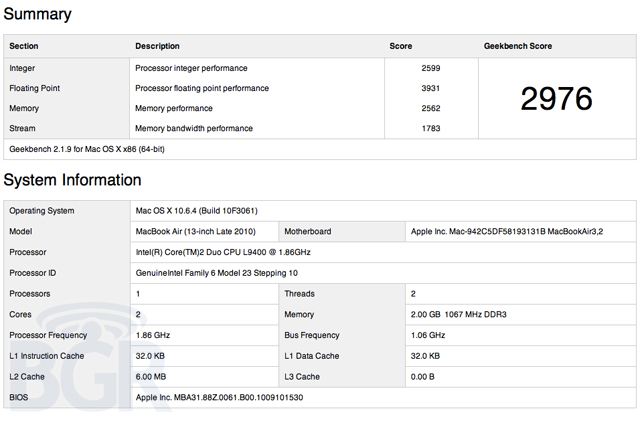 When we ran Cinebech on the built-to-order MacBook Air, we got a score of 1.19. On the stock MacBook Air we got 1.04. A performance difference of around 14%. Is the extra price worth the extra performance?
Well, you'll have to spend 27% more than the base stock-model to get the faster CPU and additional RAM — part of the reason being you get a SSD that's twice the capacity — but still, that seems a tad expensive. We will update this post with real world usage feedback over the next couple days to see if we're missing something, but for now, if you don't need the additional storage space, we'd say just upgrade the RAM and you'll most likely be a happy camper.