Earlier this morning, Apple unleashed Mac OS X 10.6.6 which brought along with it the Mac App Store. Now that we're rockin' away on the latest OS version and have played with the App Store for Macs, we have some feedback. Join us for the ride, alright?
First thing's first — when you fire up the Mac App Store you'll be prompted to accept the new terms and conditions, if you don't, or somehow don't get prompted, you'll receive an "Unknown Error" which has been troubling some users. After entering your Apple ID and accepting the new terms, you're off the running. The actual process of finding apps really works just like it does on every iOS device — the layout is incredibly similar to the iPad's App Store and there are buttons for Featured, Top Charts, Categories, Purchases, and Updates.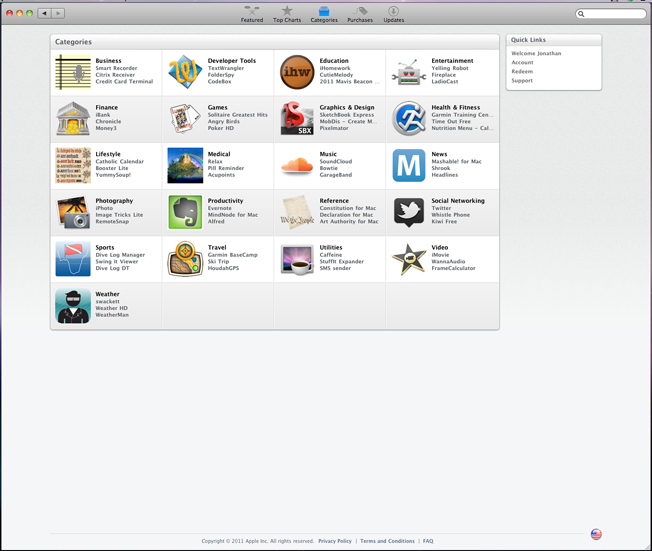 To purchase an app, well, just click the purchase button with price next to app of your choice. You can explore app pages in detail like you can on iOS devices with large screenshots, descriptions, user reviews, ratings, and extra information. Installing an app is super straight forward as well, and we love how the app icon animates and flys down to the dock and shows the traditional iOS progress bar until it's installed. App installation varies on size of course, but we found a few seconds was the average for most applications — very speedy.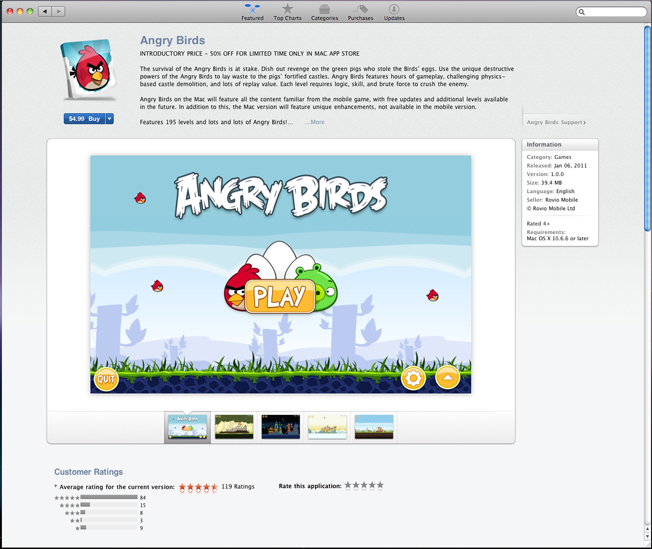 So far, we've enjoyed using the Mac App Store… it's all part of Apple's master plan, of course. You know, dumping those optical drives and transitioning to a mostly internet-connected and above all easy to use computing experience. The great part about the Mac App Store is that it should also help non-technical Mac users feel more comfortable installing, browsing, and purchasing more software thus directly benefiting the development community. Most of the apps in the App Store are what you'd expect so far — yes, the lovely and addicting Angry Birds is the #1 Paid app — but we can't wait until more and more of our favorites start getting added.