We're live at Motorola and Verizon Wireless's press conference in New York City where the smart money is on a fresh new DROID smartphone that will launch in the coming weeks. Motorola's new full-touch DROID is expected to be RAZR-thin, and it will feature some pretty formidable specs according to BGR's exclusive report from last week. With a $99 iPhone 4, the iPhone 4S, Motorola's new DROID and a brand new Galaxy Nexus all set to be on store shelves before the holidays, it looks like Verizon is once again the place to be for high-end smartphone fans. Hit the break for our live coverage of the press conference, which is scheduled to kick off at 12:00 p.m. EDT, 9:00 a.m. PDT.
12:43PM:Demo time! We'll be back with a hands-on! That's it!
12:43PM:One of the lightest and thinnest, strongest, and fastest smartphones today, the DROID RAZR. Around the world it will be called the Motorola RAZR, available in November around the world.
12:43PM:Today we announced two incredible devices. One that will change the fitness category, one that will reshape what 4G LTE will be. These have something in common. You can sync your MOTOACTV with the DROID RAZR. You would see on my phone there's a message from someone and it's already been synced to my MOTOACTV. As I look here, I have my messages, and I have a call coming. I could take that call on my smartphone, or if I had a wireless headset, I could take that as well. This syncing of the smartphone with MOTOACTV you could do multiple different things and you'll see unique things we'll do with this. This notion of a device that's immediately viewable at a glance is certainly important.
12:40PM:The power of Verizon's 4G LTE network isn't just measured in a lab or marketing materials. We have a two year lead over our nearest competitor. We'll continue to deliver. Preorders will start October 27th, available in stores in November. The price is $299 and we're anxious to bring to market, the best, the smartest smartphone. Here's Sanjay again.
12:39PM:Think about the applications, DROID RAZR from Verizon's 4G LTE makes these app matter more. The power and speed can be shared, because it includes the trademark mobile hotspot feature. Let's talk about 4G LTE. It's the largest and most reliable 4G LTE network. By the end of the year we'll cover more than half of the population. And we will blanket the country by 2013.
12:38PM:Motorola and Verizon have united to introduce another game-changing device. Best of the best. Slimmest and most attractive device in the market. Power at your fingertips. Designed for optimum performance, that you could only get on Verizon's 4G LTE network. DROID RAZR is ready for business. Government grade encryption for mail, calendar, and contacts. Editing Microsoft documents anytime anywhere. Networks matter. Download a game or access music, access files on your PC. You want a connection that's fast, one that's reliable, you want Verizon.
12:37PM:Thank you for allowing Verizon to be apart of this great announcement. Two years ago we leveraged our partnership to being a device to market with unparalleled performance. Set the standard on the VZ network. People ask are all Android's a DROID? DROID stands for performance and quality, and not all Android devices are DROIDS.
12:36PM:We have brought two iconic brands together, DROID and RAZR, here is Verizon Wireless CMO Marni Walden.
12:36PM:DROID RAZR comes with a full suite of accessories, a new 14-inch laptop dock, new 10-inch dock, vehicle dock, HD dock, gesture touchpad, wireless keyboard, portable power pack, and more. It's already remarkable, but here's one more thing. It's a 4G LTE device, not only thinner than 3G smartphones but delivers 4G speeds. To give you an idea of what this means, downloading ESPN.com on an iPhone 4S will take 3x as fast. Uploading a 5MB video takes 12 seconds, iPhone 4S takes 76 seconds.
12:34PM:These features are above and beyond what's found in a basic Android device. We believe enterprise is important because it is being consumerized. 2/3 of devices on enterprise is bought by you. DROID RAZR is everything a business owner wants, and just wants an employee needs. It's a consumer device with enterprise features. Let's talk about accessories.
12:33PM:The fourth area that's important to us is the consumerization of the enterprise. The notion more and more people taking their device to enterprise and want to access email and productivity applications. Corporate email access, calendar, addresses, ability to view and edit Office documents, full security capability. Remote wipe of device and SD, password enforcement, Citrix receiver, Motorola Webtop, GoToMeeting.
12:32PM:MotoCast is a powerful piece of software.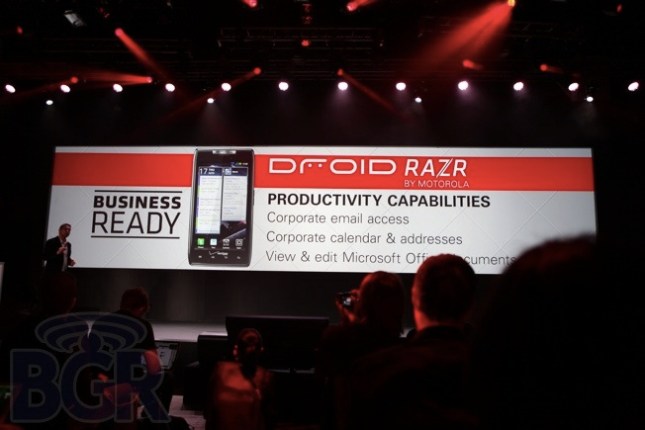 12:32PM:If I had a tablet synced to that account it will show on that tablet. It's like Photo Stream, but less streamlined, and more photoy.
12:31PM:Hopefully this picture will get uploaded… and it will show up in the document library. This notion of the personal cloud which you control and seamlessly share, and when you take photos it appears on your PC and multiple devices.
12:31PM:Using the DROID RAZR, of course.
12:31PM:He's taking a photo of us now, fun!
12:30PM:I can upload files from the PC to the smartphone. Lights just got super bright. Like…
12:30PM:Let me show you one other thing, if I was on a sales call and needed access to a file, PC is offline. PC is coming back online. Backup computer. Now he's showing off a PDF in real-time.
12:29PM:Now let me show you a photo, say I went to my parents and want to show them my kids photos. He plugged in an HDMI cable into the phone, and he's showing the photos on the TV.
12:28PM:He's playing In The Club. I can't.
12:27PM:Here is my PC, and I'm streaming content from that PC to this DROID RAZR. He's playing some 50 Cent from his PC to his phone.
12:27PM:First thing is, you connect your DROID RAZR to your computer, it installs the program, create an account, and you select the files you want to share.
12:26PM:Consumers want access to their personal cloud from wherever they are. Today if you want to quickly access that work document, or bump into an old friend and want to show a photo to them, but it's on your PC, we have solved that problem and it enables you to access all that content straight from your DROID RAZR. I'm going to demonstrate how this works.
12:25PM:Only 15% of us store in the cloud, the rest of us store our stuff on our PCs at home or work. Photos, music, videos, files.
12:25PM:Software features are also important to our consumers. Here are some that will differentiate the DROID RAZR. There's a new evolved Webtop interface. Battery life is a number one pain point for consumers, especially in smartphones. We have developed new software to help people optimize their battery, called Smart Actions. Helps automate certain tasks. It can turn off Bluetooth and GPS setting. We know when you get home because of your Wi-Fi connection. If your phone got down to 20% battery, it can dim your display, reduce speed of the processor, or reduce data usage. You can control and customize it to fit your life. By setting Smart Actions you can reduce your battery consumption by 30%. The third software feature I want to talk about is MotoCast. We know people's lives exist across multiple different devices, all of our content isn't in the cloud yet.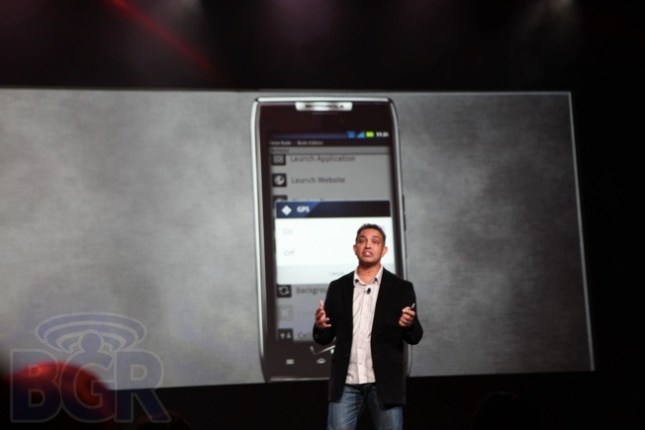 12:23PM:Inside we have an 1800mAh battery, gives you leading edge 12.5hrs of 3G talk time, 8.9hrs of 4G.
12:22PM:DROID RAZR also packs a punch in processing power, dual core 1.2GHz CPU, 1GB of RAM, PC-like power.
12:22PM:The device is 127 grams, one of the lightest smartphones.
12:22PM:Another new innovation, DROID RAZR is the first display to ahve Splash-guard, even the electrical boards inside.
12:21PM:Using the integrated app, the DROID RAZR will be the first device to download HD movies from Netflix. Took great care to withstand everyday use. Stainless steel core, laminated glass, laser-cut KEVLAR fiber on the outside, scratch-resistant corning Gorilla Glass.
12:21PM:The first thing you'll notice is the design. It's impossibly thin, at 7.1mm. It's beautiful. It's the world's thinnest smartphone. We didn't just make it the thinnest smartphone. We spent time on finishes and materials as well. It's features diamond cut aluminum accents, tapered corners, premium build. 4.3-inch Super AMOLED advanced qHD display. Higher contrast ratio than iPhone 4S. We can also use the display to show our pictures and videos.
12:19PM:Stainless steel frame, Gorilla Glass, splash resistant, dual core 1.2Ghz CPU, 4.3-inch Super AMOLED, 8 megapixel camera with 1080p.
12:19PM:There it is! It's ridiculously thin.
12:18PM:Video is playing now…
12:18PM:When we started thinking about developing a new smartphone, it wasn't just an object of desire, but to deliver them without compromise. What does it take to make the best smartphone on the planet? Best look amazing, thin, and durable, and still hold a battery for the entire day. Most cutting edge processing speed available. Large and high resolution display. Must have smart and innovative features that can simplify people's lives. I'd like to introduce you to the best smartphone today, the DROID RAZR by Motorola.
12:17PM:Next up for the announcement we're also very excited. Smartphones have become very personal devices, coveted objects that people fall in love with. While having the latest tech is crucial, just is the way the phone looks and feels.
12:16PM:For those of you training for the upcoming NY Marathon, we're taking center stage for the entertainment sponsor. It will be available on November 6th, 8GB for $249, 16GB for $299.
12:16PM:When my contestants saw it, the whole crew saw it, and they all went crazy. I'm really excited to be here and thanks for listening to me.
12:15PM:You can keep track of your steps, calories, great way to get people off the sofa. People who haven't worked out before, the more tools we can give those people, the better. The motivational aspect of this is great, and we use music a lot on the show. Whenever I can get a really great song to power my contestants up, they will reach their goal quicker. I like that the Motorola ACTV will gage how songs can help you and play those at the same time. It's also extremely cool looking.
12:14PM:I'm here to talk about the weight loss aspect of this device, I think this is a game changer. The one thing you need is tools, information, and motivation. The one thing I love about this is that it's tracking my calories all day.
12:13PM:I have never felt like more of a loser, than coming out right after Dean.
12:13PM:Sanjay Jha is back out. You have to remember Dean spends more than an usual amount of time running, running 50 miles, you learn to run your life when you run. Not everything is like Dean, most of us are trying to stay healthy and what better way to talk about getting healthy than Bob Harper, form NBC's the Biggest Loser.
12:12PM:The thing I said to Sanjay was I wish I had this sooner. The headset is wireless, and the greatest attribute is that it takes your pulse, and it's got a biometric sensor in the earbud. You don't need a heart rate monitor strap anymore. I go for these long runs, listen to my music, take calls, walk in to my house when I'm home, my workout is uploaded to the portal, everything is waiting for me. Pace, route, elevation, everything a GPS would monitor, to me, it's the perfect fusion of three great devices into one sleek compact device. Music, heart rate monitor, GPS. Biggest bonus is I can take my calls wirelessly through a Bluetooth headset. You'll be as big of a believer as I am. This is the technology for tomorrow and we have it available for today thanks to Motorola.
12:10PM:To offer more perspective on the performance category, I'd like to introduce you to someone who knows a lot of this. Dean Karnazes. Men's Fitness most fit person.
12:09PM:All of this comes together in our web portal which stores your performance data, using Wi-Fi, it will automatically sync with MOTOACTV.com, uploading all your performance stats without any user action. Customize your plans and goals online, detailed workout analysis, challenge your friends, and more.
12:08PM:Capacitive touch for the MOTOACTV, display for indoors and out, built for tough use, sweat proof, scratch proof. FM Radio, up to 4000 songs while playing, also audio tips.
12:07PM:Innovation here is an build-it heart rate monitor and it's built into new Motorola SF700 & SF500 headsets. No wires and need for additional heart rate strap. Also give you crystal clear audio, every note and every beat and every word of your song. Best sounding headsets on the market.
12:07PM:We have created the ultimate fitness device, smart music player in one. Building blocks of Android, 600MHz CPU, 46x46mm device. It's like having a personal trainer and DJ by your side. Outside and inside it can track all of your progress, stats like distance, calories burned, GPS tracks your workout routes. Smart music player learns which songs motivate you and tracks your performance stats against your music. Plays those power songs to you when you need the motivation most.
12:05PM:Sorry, it's MOTOACTV. I should have known better.
12:05PM:But it's not. It's running Android obviously, but it's a watch that displays all your important workout info, music, and more.
12:04PM:Video is playing now, it looks like an iPod nano!
12:04PM:We have the technology to simplify your workout, hardware and software, music-centric fitness experience… introducing MOTOACTIVE.
12:03PM:How do people work out today? Carry an MP3 player, fitness monitoring device, heart rate monitor, GPS enabled watch, wires hanging around.
12:03PM:Nothing more personal than improving our fitness and well-being
12:03PM:Smartphones have forever changed the way we live our lives. Smartphones hold such personal information about ourselves that they would rather share their toothbrush with a friend than their smartphone.
12:02PM:Shows how important smartphones have become, how we stay connected with our world.
12:02PM:It has transformed how we live our lives. How many of you look at your smartphone the last before you sleep? And how many look at your smartphone first when you get up?
12:02PM:Thank you for joining us today. Motorola Mobility has had an exciting year from innovative new products to a small business deal you might have heard about. Most exciting for me is how we're transforming people's lives.
12:01PM:Applause.
12:01PM:Lights are going down, and there's a blazingly bright Motorola logo on screen. Please welcome CEO Sanjay Jha!
12:00PM:We're about to get going!
12:00PM:All of this aggressiveness and red colors aren't exactly calming. I'm sure the triple shot espresso didn't help, either.
11:59AM:Ersher is playing. Not live, on the speakers. With David Guetta.
11:55AM:"Please take your seats."
11:54AM:Should be getting started in around 5 minutes, folks.
11:51AM:We're seated and waiting for the event to start. There's an ominous red haze (literally, there's red lights and fog in the atmosphere), but it's countered by some hip music.