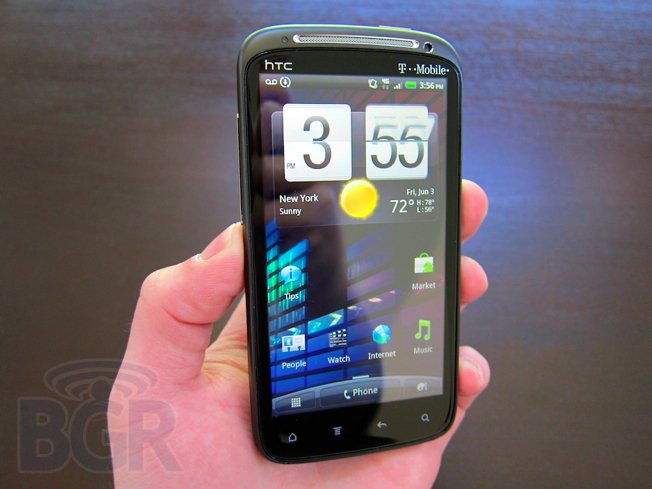 The HTC Sensation 4G for T-Mobile is arguably one of the carrier's best smartphones ever. It's packed to the brim with features and impressive specs, it's lightning quick, incredibly well-built, and it runs HTC's latest and greatest Sense user interface. Can it compete with other Android devices like the T-Mobile G2x, though? How does a dual-core Snapdragon CPU compare to a dual-core NVIDIA Tegra 2 in real world usage? Is this the best smartphone to ever hit T-Mobile? Answers to those questions and more can be found after the break!












Hardware / Display
If you're going to use the word "superphone" to describe any smartphone, there's a good chance you're going to use it to describe the HTC Sensation 4G. Powered by a 1.2 GHz dual-core processor, the HTC Sensation 4G is one of the fastest phones on the market. It runs Android 2.3, features a sharp and vivid 4.3 inch qHD display, an 8-megapixel camera with two LED flashes and 1080p full HD video capture and a front-facing camera, and it is all packed within a unique unibody construction.
The front of the phone features slightly curved glass that is overlaid on the display, sort of like the Google Nexus S, though it is more subtle. Surrounding the display is an aluminum case split up by soft touch rubberized plastic on the top and bottom. On the left side, you will find a volume up and down rocker, and a micro-USB port. On the top, you 'll see a 3.5 mm headset jack, power on and off button, and switching to the back, you'll see the 8-megapixel camera with dual flashes, a speaker, and an extra mic for noise cancellation. There's also an LED built in under the earpiece speaker for notifications.
Interestingly enough, when you take the battery cover off the back of the phone, you are not taking the battery cover off so much as you are taking the entire case off the back of the device. The phone fits perfectly in my hand and even though it's a 4.3 inch display, the fact that it is a qHD display means that it isn't as wide as other 4.3 inch devices. Plus, the feel of the phone in your hand really exudes quality — it is solid, a little heavy, but it feels like you are holding and using a quality product.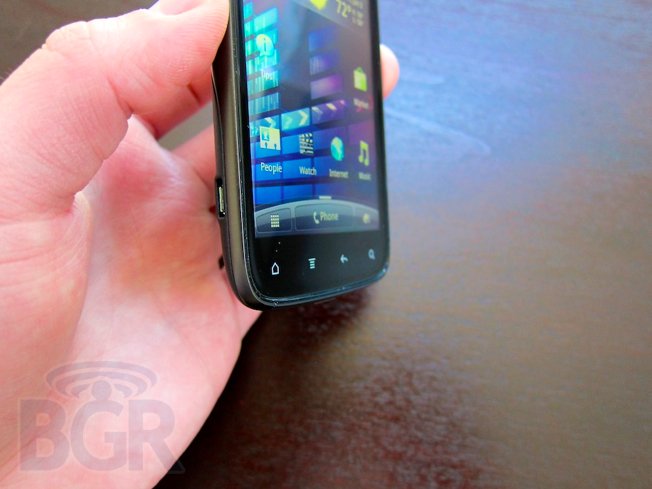 The screen on the HTC Sensation 4G is one of the best I have seen on any Android device. It is crystal clear, bright, vivid, colors pop, and the concave glass on the device really kicks it up a notch because not only does it protect the display if you put it on a flat surface face down, but it contours very nicely to your face when you talk on the phone (it sort of hugs your cheek).
Software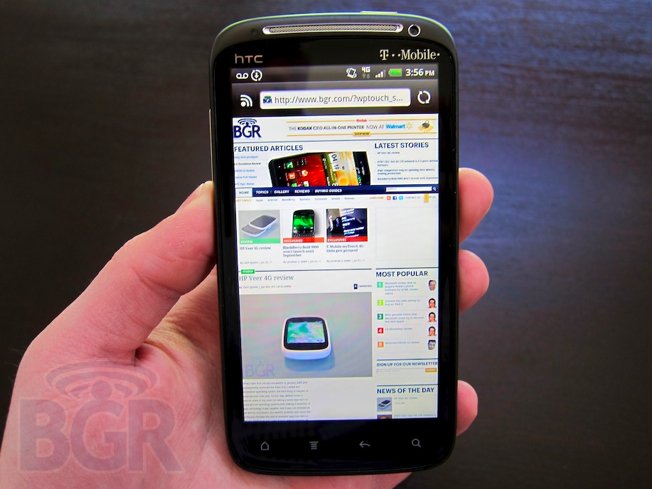 The HTC Sensation 4G runs HTC's brand new Sense 3.0 user interface on top of Android. It is incredibly familiar, yet HTC has made some unique and interesting changes. For starters, there is this carousel effect on the home screen that appears when you swipe quickly through your different home screens. When you look closely or slowly turn them, you see this great 3D effect. For instance, on the clock, which looks like an analog alarm clock, when you turn it slowly you can see parts of the wallpaper that sit behind the clock's display. The same applies to the address folder, mailbox, and calendar icons.
HTC has also made some changes to the applications drawer. It scrolls by pages now when you swipe up and down, there is a frequents tab, a downloaded tab, you can choose how you want to sort your apps, and more. As far as notifications go, when you pull down the notification drawer, you will see the last five apps that were used, notifications, and you will also see a tab at the bottom called quick settings that will give you access to disable/enable Wi-Fi, Wi-Fi Hotspot, cellular network, Bluetooth and GPS. You can also quickly jump into your settings from there, and view your device's used and free memory.
HTC has also updated the email app, which I really like. It is cleaner, it shows more information, you can quickly flag and un-flag messages, and you can also get more contextual items when you tap and hold on an individual message. The calendar app looks refreshed as well. The agenda view is very useful and clean, and I love how on day views, HTC includes the weather forecast on top of the calendar. While I am not a huge fan of HTC's skinned browser, the new updates — such as the ability to view/open windows and carousel/thumbnail view, the improved text selection, and other enhancements — make the browser faster and easier to use.
Unfortunately, HTC's phone app doesn't appear to have been updated. I haven't ever liked the way HTC's phone app looks or works, and I prefer something a little more straightforward. I don't like how the keypad overlays onto your list of recently called people and your address book.
Phone / Speakerphone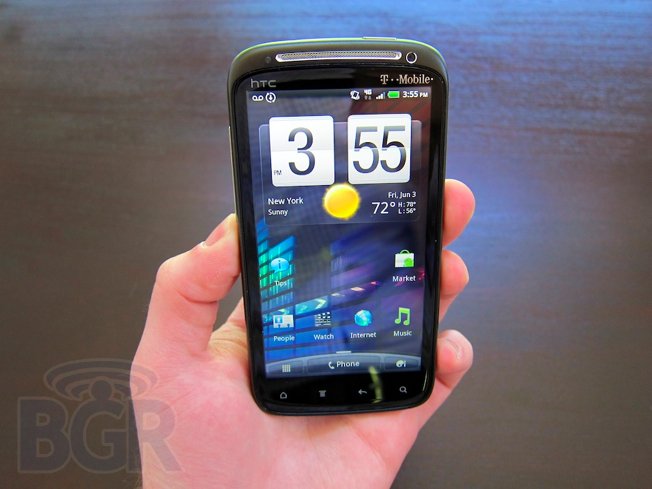 Using the phone for voice calling was a relatively good experience. When talking on the HTC Sensation 4G, calls sounded reasonably loud and clear, though the ear speaker lacked a little low-end and calls did sound a tiny bit tinny at times. The speakerphone isn't great, but it is certainly better than most phones I have used recently. In terms of reception, the Sensation performed incredibly well in this department and latched on to more T-Mobile bars than I have typically seen in the same locations from competitive offerings.
Music playback on the HTC Sensation, just like the earpiece speaker, lacked a lot of low-end and while decently loud, the high and mid-range frequencies overpowered any music I played on the device. It was to the point of distorting. Music sounded hollow, dry and dull.
Battery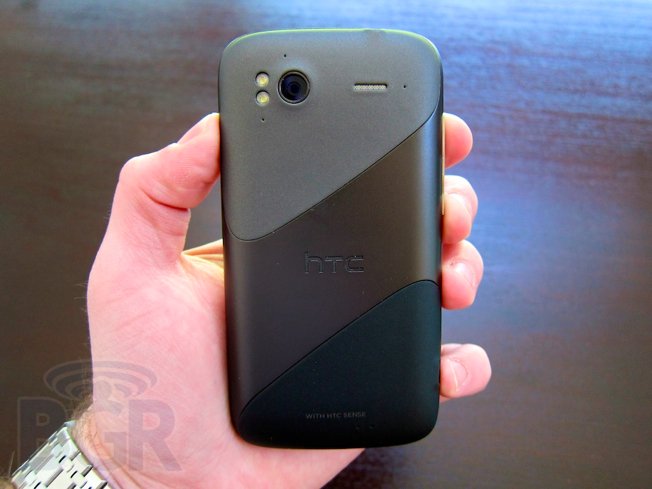 I have used the HTC Sensation on and off for a week and I can confidently say that the battery life is very good. It's powered by a 1,520 mAh battery and it performs better than most other current HTC smartphones. With heavy usage you can probably power through an entire day without needing a charge, and moderate users should be able to make it until the next morning before needing a recharge. I didn't do much talking on the phone, but after hours of heavy emailing, web browsing, downloading apps, and playing back streaming music from Google Music, the phone was only at about 50% battery life.
Conclusion
The HTC Sensation 4G for T-Mobile is an incredible Android device. It features some of the latest specs coupled with HTC's latest and best Sense user interface, all in a solid unibody construction complete with a super sharp qHD display and more. It fits perfectly in your hand, and it really feels like the ultimate quality product. It's fast, it's quick, it's powerful, and it really shows off some of the best from HTC. Hands down, this is my absolute favorite Android device on T-Mobile.
There are a couple hiccups — the Qualcomm Snapdragon processor is fast, but it's not as fast as a 1GHz dual-core Tegra 2, and I would have loved it if the phone was a bit lighter. All in all, however, this is the phone to beat on T-Mobile. It offers fast data speeds on T-Mobile's 4G network, and it really pushes the boundary of engineering in my opinion. The HTC Sensation 4G is available for $199.99 with a two-year agreement starting on June 15th.
Pooja Jaitly contributed to this review.