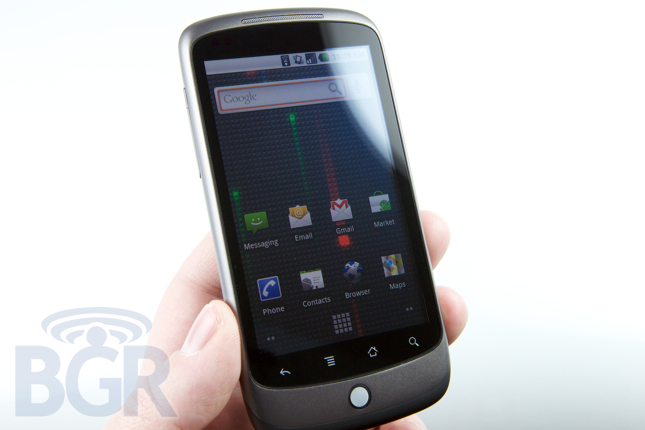 This is an add-on to the Google Nexus One review…
I have issues with Android and Google's approach to it. I think it's an amazing concept — people holding hands, skipping down sugar-encrusted roads with pink ponies and colorful rainbows — but the execution falls flat in many ways if you're a hardcore phone user, and Google has constantly missed the mark in almost every area.
Part of my main issue with Android, and this applies slightly less to HTC Sense UI handsets, is that there's practically no human emotion with Google when it comes to technology. Everything is statistical and analytical. While you could argue that being this way is way superior to "feeling" and "emotion"– it might be 95% of the time — you still will almost always lose that charm and that amazing feeling of connecting to something. People would die for their iPhones, people would die for their BlackBerrys – and they feel like their lives are in there. People feel connected to their BlackBerrys. Some sleep with them next to their pillow. No one gives a crap about their Android phone, there's zero emotional attachment. The closest example would be Palm's webOS. A great concept, besides Apple's iPhone OS, it's the most polished, the most friendly, and the most human. Do you see that?
Hello. Fucking. Humans. If you're going to use that line, at least have the sense to actually make it make sense. Plus, isn't the point of all this technology to make everything feel more natural and more human? I mean, that's why we have robotic dogs that learn (shout out to Just Blaze and I for having Sony AIBOs), that's why our car remembers our personal settings when we enter the cockpit, that's why our TiVos know exactly what program we want to watch. And yet, with everything moving forward in the technology space, Android continues to feel systematic and clinical.
Andy Rubin is brilliant. To this day, I still compare things to the Sidekick OS because it was so ahead of its time in every way, and it made sense. But Android still feels half baked even after two years. And you can't prance around smiling without raising the bar. You can take your non-multi-touch device and shove it — it's inexcusable.
There are so many fundamental issues with Android's OS that still haven't been addressed and it really makes my head spin. Uniformity is not a word you'll find in Android's dictionary. How about the fact that the application icons aren't the same size. Uh, why? Since there's no transparent padding around the icons — you know, something that might be smart — there's no uniformity in the touch areas when you go to tap on an icon. The fact that the Clock and Camera icons have different touch areas than the Facebook and Email icons is mind blowing. It's not like you'll always end up not triggering a touch event if you go to hit the Camera icon instead of the Maps icon real fast, but more than once I've had touch events not register due to icons not being uniform in size or at least in touch. It's a small, but very important point that really reflects how poorly Android is designed in some areas. I stand corrected. While application icons aren't the same size, transparent padding seems to be the same for all icons, regardless of icon size.
Other issues that I can't live with day to day? How do I copy text from non-editable field like an email, webpage, or SMS, or even a 3rd party application? Oh, I can't. Say what you want about the iPhone not having copy and paste for two years — a joke — it's the single best implementation on the planet for a smartphone and Google's approach is almost as bad as RIM's with the Storm-series.
Android doesn't make sense as a whole. It's fragmented, poorly executed, the Android Market for apps is a mess, and developers still don't care about it. There's not one single good IM program that I could rely on day to day (I don't use Google Talk), the browser is decent at best. It's faster now, sure, there's a 1GHz CPU under its ass, but it's not intuitive, and there's always erroneous touch events; when I want to hit something I hit another link, button or app by accident.
For a company that's so smart, and makes so much sense, it's unbelievable how little sense Android makes in most places. I just can't see why you'd want to run Android over the iPhone OS? Multitasking? Ok, we'll have that with iPhone 4.0. What else? App Store limitations? Come on. Plus there's a chance iPhone 4.0 will be announced in literally weeks away (Apple will up their screen resolution on the iPhone to probably double, and have a new resolution for their "slate") — you can be sure Apple is going to come out swinging. Android isn't a game changer. It's a decent OS, dreamed up by an incredibly smart man, with unlimited resources and unlimited access. That's why even in Android 2.1, it's so disheartening to see an operating system that I can't use daily.
I apologize for comparing this to the iPhone so much, I really didn't set out to. But I've used an iPhone every day of my life since it first came out in addition to every BlackBerry ever available simultaneously, and I actually had an open mind about the Nexus One possibly replacing my iPhone. I felt like maybe I wanted more "freedom" and "flexibility" and not have to deal with Apple's ridiculous train of thought sometimes. I wasn't too plugged into the Apple ecosystem. I already paid out the ass to upgrade my entire library to non-DRM status, I use Exchange and Gmail, both are supported on the Nexus One — nothing was really holding me back.
But in the end, I found that the lack of any meaningful applications for Android really made it a no go from the beginning. I'm talking about quality — re-read the word quality — applications, here. The best VNC and RDP applications on Android are a joke. There's not a single enjoyable Twitter application, and any application that's on Android that is available on the iPhone pales in comparison. If you can find an application on the Android platform that's better than the iPhone counterpart, I'll send you a BGR Ninja hat.
Seriously Google, you take no responsibility for the actual "experience" of this phone, yet you tout it as your tag line. Applications in Android Market don't work for all devices. They have to be updated, they might not work with a new resolution, or all touch screen display — try using one of those NES/SNES emulators on the Nexus One — the comments and "reviews" on apps are worse than Sidekick user's AIM screen names, there's no authority and no accountability in Market, and outside of people that know what they're doing, you're basically leading the rest into a forest with wolves in the dark, while they're bleeding and blindfolded. Why does the VNC application I bought and paid for crash on the Nexus One with a Java.IO error? Because your entire OS is fragmented, poorly driven, poorly policed, and because in typical Google fashion, you're already on to the next thing before making this an absolutely flawless experience for users. What happened to ferociously making sure the absolute core applications in your package were 100% perfect before shipping? BlackBerry's email application is flawless. Apple's web browser is flawless. But there's not a single application on Android that doesn't have carbon spots in it. (Look it up)
Here's another issue on why for the foreseeable future Android won't be anything like what Apple or another company can offer: coders aren't designers. It's really as simple as that and anyone in the business will know exactly what I'm talking about. That's why Apple's entire developer ecosystem is different, because believe it or not, Apple's developers are amazing designers that make beautiful things, and they happen to know how to code. That's entirely different from someone who's the best coder in the world and trying to create something that looks, works, and feels great. And so, this is my issue with Android and why you won't see applications of iPhone-quality on Android aside from any SDK and programming hurdles.
If an app like Tweetie 2 existed on Android, I think the Android Market would literally crash, die, burn, and hang itself by how natural, beautiful, and thoughtful that application is. Now, multiply something like that 5,000 times and you'll have an idea of why all this Android hype amounts to very little. We have the best Android device ever made in the history of the world, finally! Oh wait, Apple's event is in 2 weeks and no one will remember this. Until Android 2.2 launches with a new device. Then I'll write another review.