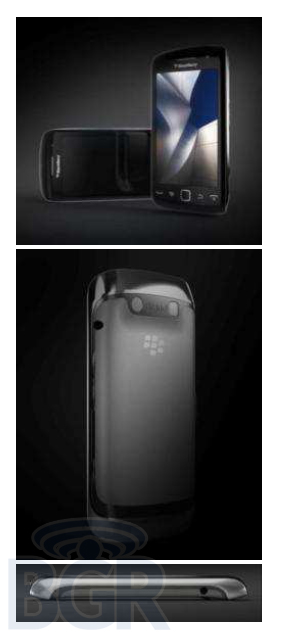 You thought we were done revealing RIM's 2011 BlackBerry lineup? Not quite yet. In addition to the new BlackBerry Bold, BlackBerry Curve, and BlackBerry Torch 2, we have received photos and information about the BlackBerry Storm 3. The specifications on the Storm 3 are pretty impressive and will definitely position this Storm sequel nicely among other top-of-market handsets. It also will feature the highest resolution display to ever ship on a BlackBerry smartphone — a 800 x 480-pixel display and yes, it will have an optical trackpad (though we're not sure why). Here is the thing, it's entirely possible RIM will change the Storm branding on the device — codenames are Monaco and Monza for the global devices — we'll have to wait and see. We have all the specs after the break!
1.2GHz processor
3.7-inch 800 x 480 capacitive display
Quad-band GSM/GPRS/EDGE
Tri-band UMTS/HSPA
5-megapixel camera with 720p video recording
8GB eMMC (storage for apps and data), 512MB of RAM
microSD slot
Magnetometer
Proximity sensor
Accelerometer
Bluetooth 2.1 + EDR
2.4GHz b/g/n and 5GHz a/n Wi-Fi + UMA
3G Mobile hotspot
Optical trackpad
1230 mAh battery
BlackBerry OS 6.1
OpenGL ES 2.0
The BlackBerry Storm 3 looks good for a release around September of this year, and from what we have been told, the Storm 3 will launch in two or possibly three versions globally.