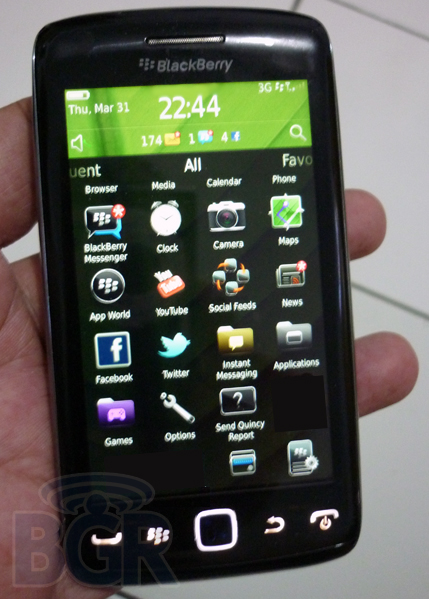 Part of RIM's upcoming 2011 BlackBerry lineup we leaked in January contained the company's latest evolution of a full touchscreen device, the BlackBerry Monaco / Monza. Both names are codenames that signify different carriers the phone will land on, we're told — Verizon Wireless will get the Monaco while the BlackBerry Monza is the global GSM version. In any case, the BlackBerry Storm is a thing of the past and RIM finally realizes that its SurePress innovation wasn't innovative at all. In fact, it was probably one of the biggest complaints users had with the orignal BlackBerry Storm. Hit the break for more details and don't forget to check out our photo gallery!
The new device, most likely not a member of the Storm family — it may launch as the BlackBerry Touch, though that's not confirmed — is a thinner, faster and sexier BlackBerry handset. It will run BlackBerry OS 6.1 and as part of the new OS, users will need a BlackBerry ID to login to the system. This is something we've been throwing around in our heads for a while — the concept is that you have a BlackBerry ID as opposed to a PIN, which might help facilitate a cloud-type service for backing up data and restoring it, sharing contact information, switching devices, and so on — all tied to your BlackBerry ID. In any case, OS 6.1 looks to be pretty similar to OS 6.0, but we'll have to see if RIM has any surprises left for us in the three to four months before the BlackBerry Bold Touch is released.
Finally, we're also hearing that RIM will make all of the devices we exclusively leaked official at BlackBerry World in May — the BlackBerry Bold Touch, BlackBerry Curve Touch, BlackBerry Torch 2 and BlackBerry Touch (BlackBerry Monaco / Monza). Looks like it's shaping up to be quite a show! Make sure to check out all the photos in our gallery!