The rumors and leaks that surround the MCU are just as exciting as the movies and TV shows that Marvel is working on. Sometimes plot rumors are even more interesting than the real thing, but that just goes to show that some people will post fan fiction online for attention. And while I always warn you that big spoilers are about to follow, I usually tell you what project these spoilers are from. This time around, I'll do things differently. A credits scene featuring future Avengers has leaked, and it's quite exciting. But if I tell you what project it's from, you'll be spoiled even if you don't continue with this text.
This is your last warning. I'll talk about upcoming Avengers team members below. And it can be a huge spoiler for MCU fans who want to be surprised.
A credits scene from an upcoming MCU movie has leaked
Since Marvel's Secret Invasion just started streaming on Disney Plus, you might think the credits scene comes from the new TV show. That's not the case. Not to mention that we have not seen any credits scenes from Secret Invasion so far.
But it does come from a Phase 5 adventure that features Nick Fury (Samuel L. Jackson) heavily. That's The Marvels, which will premiere in November. The Marvels is Marvel's next and final MCU movie of the year. It might turn out to be the final MCU project of 2023, assuming Marvel won't release additional content on Disney Plus this Christmas.
The Marvels isn't quite an Avengers film, but it's a crossover that will feature at least three superheroes. Carol Danvers (Brie Larson) is already an Avenger. Monica Rambeau (Teyonah Parris) and Kamala Khan (Iman Vellani) will probably join the Avengers in time to fight Kang.
YouTuber Grace Randolph said on Twitter a few days ago that The Marvels will have two credits scenes. She also said she hoped that leakers would not ruin the second credits scene. It's apparently quite an important one, and we have no idea what it is.
The Young Avengers might be coming soon
About a day later, leaker CanWeGetSomeToast posted the description of one The Marvels credits scenes that provides the amazing Avengers connection I mentioned.
If this information is true, The Marvels will set up the Young Avengers story that keeps appearing in leaks.
In The Marvels Nick Fury has a tablet for keeping tabs on all the heroes currently active. At the end of the film, Kamala takes the tablet and tracks down Kate Bishop. To Kate's surprise, Kamala shows up at the Bishop residence. Kamala tells Kate about the events of The Marvels and how the Young Heroes need to team up. She asks Kate, "Did you know Scott Lang has a daughter?" setting up the Young Avengers.
That Fury would keep track of gifted individuals who might make the Avengers team isn't a surprise. It's what he's been doing for most of his life. Fury does say in Secret Invasion that he got the Avengers for his mid-life crisis in a hilarious exchange with Talos (Ben Mendelsohn).
Considering the events in Secret Invasion, Fury will have even more reasons to keep tabs on superheroes. You wouldn't want any of them to be Skrulls in disguise, especially people who do not have real superpowers.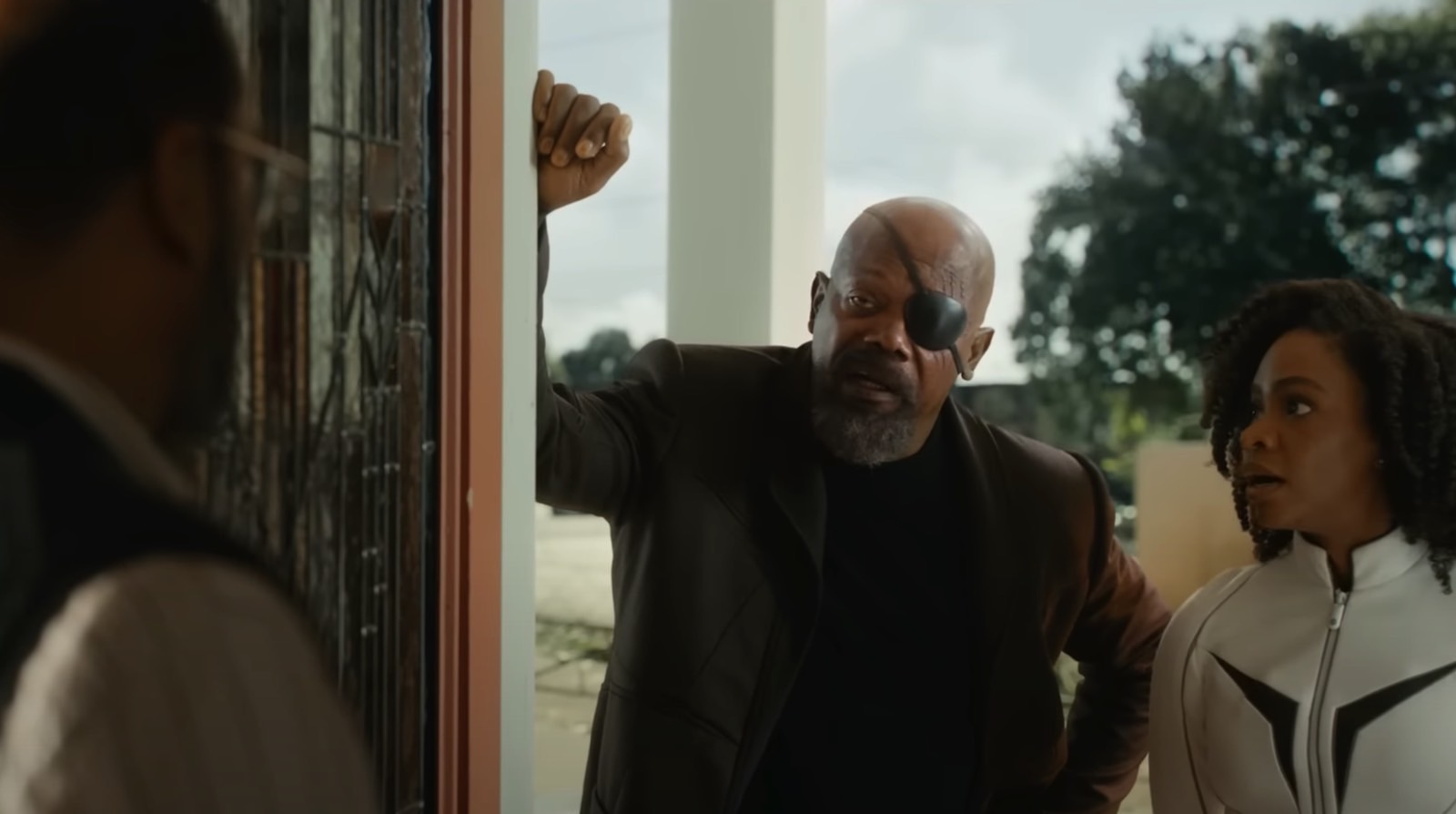 Also, I'd expect nobody else to access that tablet than Kamala. She's young, and she's a huge Avengers fan. In The Marvels first trailer, we saw that she recognized Fury immediately and thought she was being interviewed for an Avengers position.
Since Kamala has been following all the Avengers closely, including Scott Lang (Paul Rudd), she would know that Ant-Man has a daughter. And, as we've seen in Quantumania, Cassie (Kathryn Newton) has potential as an Ant-Man replacement.
Finally, seeing these young superheroes take matters into their own hands makes sense, given that they've had to grow up during the blip in a world with plenty of superheroes and supervillains.
I'd expect to see plenty of young heroes on the team, considering that Marvel has been introducing several of them since Phase 4 started.
There's no guarantee this information is accurate, however. Even if it is, things could still change by November 10th, when The Marvels will hit theaters.