I'd nearly soured on virtual reality altogether before PlayStation VR arrived.
It wasn't that I didn't enjoy VR gaming — I just didn't see a future in it. The amount of money you have to spend on the necessary equipment to use an Oculus Rift or an HTC Vive is ludicrous. And even if you can afford a head-mounted display (HMD), you basically have to dedicate an entire room of your home to the hardware.
Although the PlayStation VR doesn't solve all of these problems, it's a far more viable product, and one that signals a brighter future for the medium.
MUST SEE: Every major video game launching this fall
Unboxing the PlayStation VR is somewhat daunting. Along with a sizable HMD, there are half a dozen additional wires, and what looks like a miniature PlayStation 4. This little box is the processor unit, and a majority of those wires will end up connecting to it. The setup process isn't all that complicated — just connect the PlayStation 4 on one side of the processor, connect the PlayStation VR headset to the other and connect your TV to the box with an HDMI cord.
In addition to everything that comes in the box, you'll also need a PlayStation 4 (obviously) and a PlayStation Camera. To be clear, the camera is an absolute necessity. It tracks your head in real-time as you look around the virtual world, as well whichever controller you happen to be using, whether its a DualShock 4, two PlayStation Move controllers or the PlayStation VR Aim controller.
So the setup, while semi-tedious if your entertainment center is packed with as many consoles and wires as mine, is relatively uncomplicated.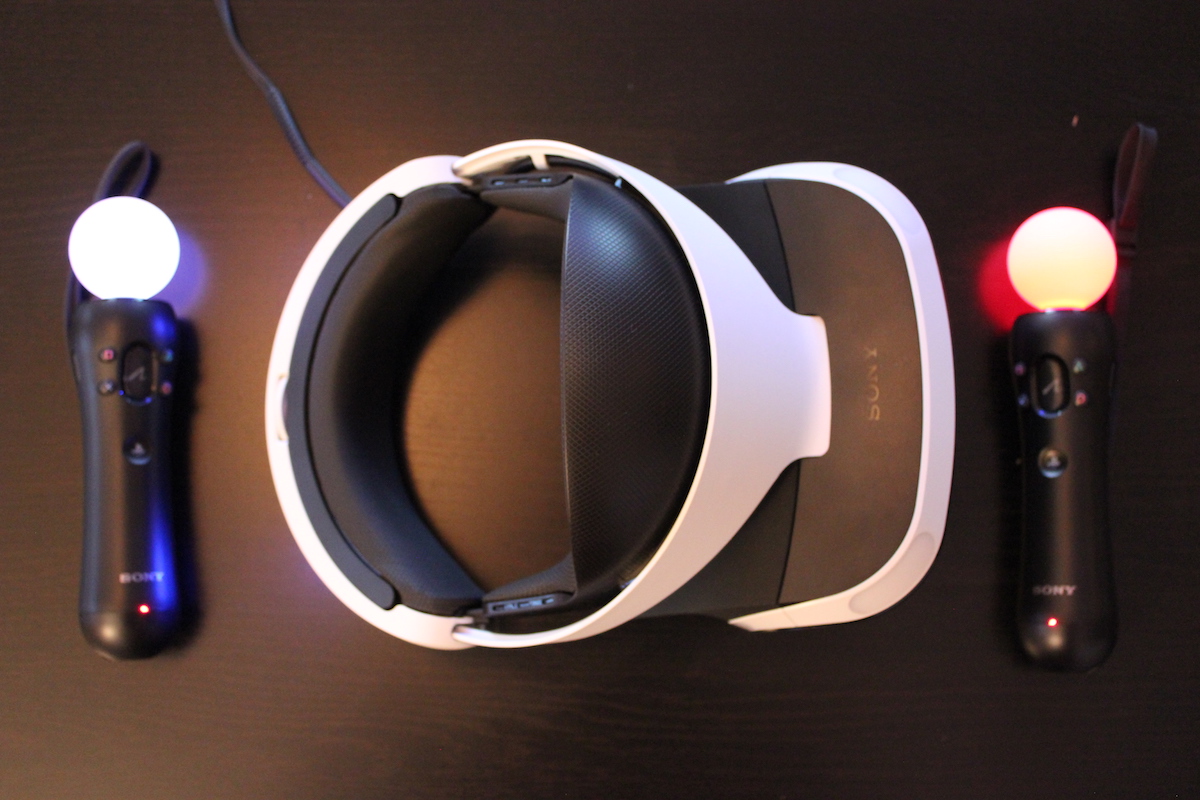 What about the experience of actually using a PS VR headset?
I haven't had extensive experience with every HMD on the market, but I can say without reservation that the PS VR is one of the more comfortable full-featured VR headsets you'll wear in 2016. It doesn't look quite as sleek as the Oculus Rift (or as much like a bug's face as the HTC Vive), but once you get a grasp on where the adjustment buttons are, you'll be sliding it on and off your head with ease.
I can't stress enough how important this is. The instant that VR becomes a hassle is the instant that it begins to fade from view. As much as I enjoyed my time with the Vive, it was a pain to set up, a pain to start up and a pain to put on.
The ergonomics of the PS VR are far more appealing, with a large band wrapping around the head rather than a strap coming over the top. Both my roommate and my girlfriend tried the device on as well, and neither had any complaints. I wasn't sure what to expect from my girlfriend, considering she'd never donned a VR headset before, but her lack of reaction was telling — it's a pretty natural fit.
But all of this hardware would be meaningless if there wasn't anything to do with it.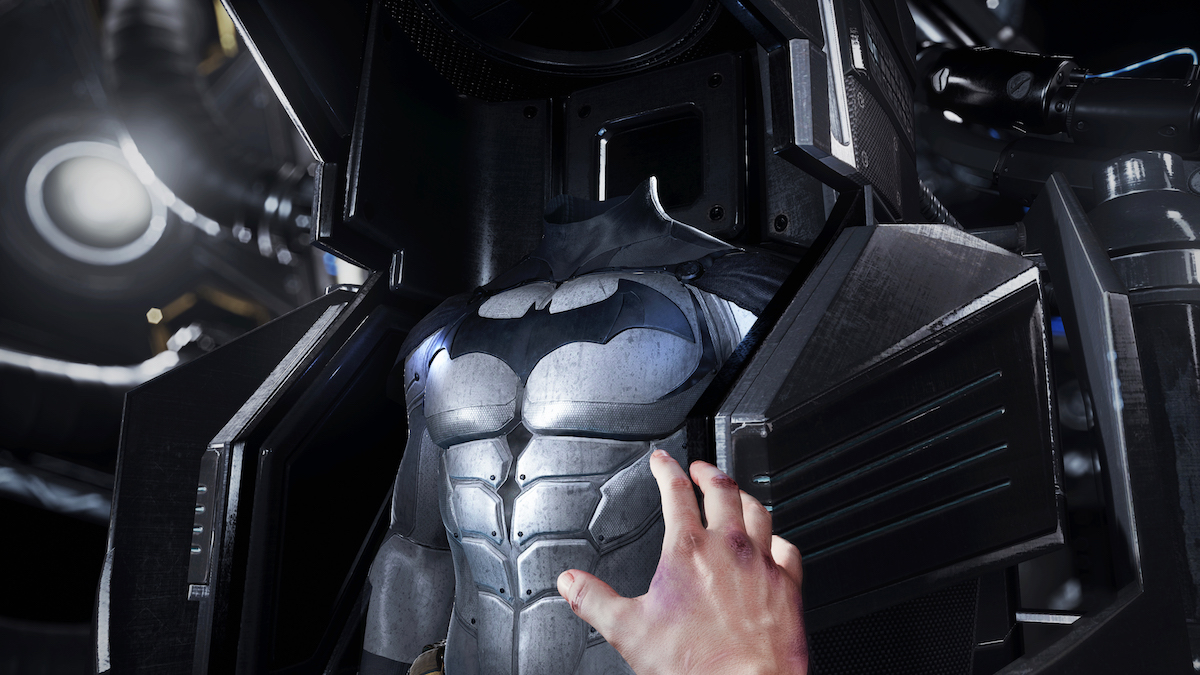 Thankfully, Sony has as impressive a lineup of launch titles for PS VR as could possibly be expected. Sony says in an FAQ on the PlayStation Blog that around 50 titles are slated to launch before the end of the year, with dozens more currently in development. Not to keep harping on the Vive, because it really is a solid headset, but the VR game selection on Steam was uninspiring when I last explored it.
That's not to say that every launch game for PS VR will be a home run. In fact, some of the games I was most excited to play turned out to be duds. On the other hand, some have completely blown me away. I'll go into greater detail about the individual games in my continuing coverage later this week, but the most important piece of the PS VR package is one I failed to mention above: the demo disc.
When you get a new device, whether it's a computer, a TV, a phone or a game console, you want to see everything that it's capable of all at once. This is, of course, impossible, but if you want to have a meaningful experience with your new PlayStation VR the minute you get home from the store or the package arrives on your doorstep, you don't have to go out and buy a game. Instead, you can slide the demo disc into your console and embark on more than a dozen unique adventures.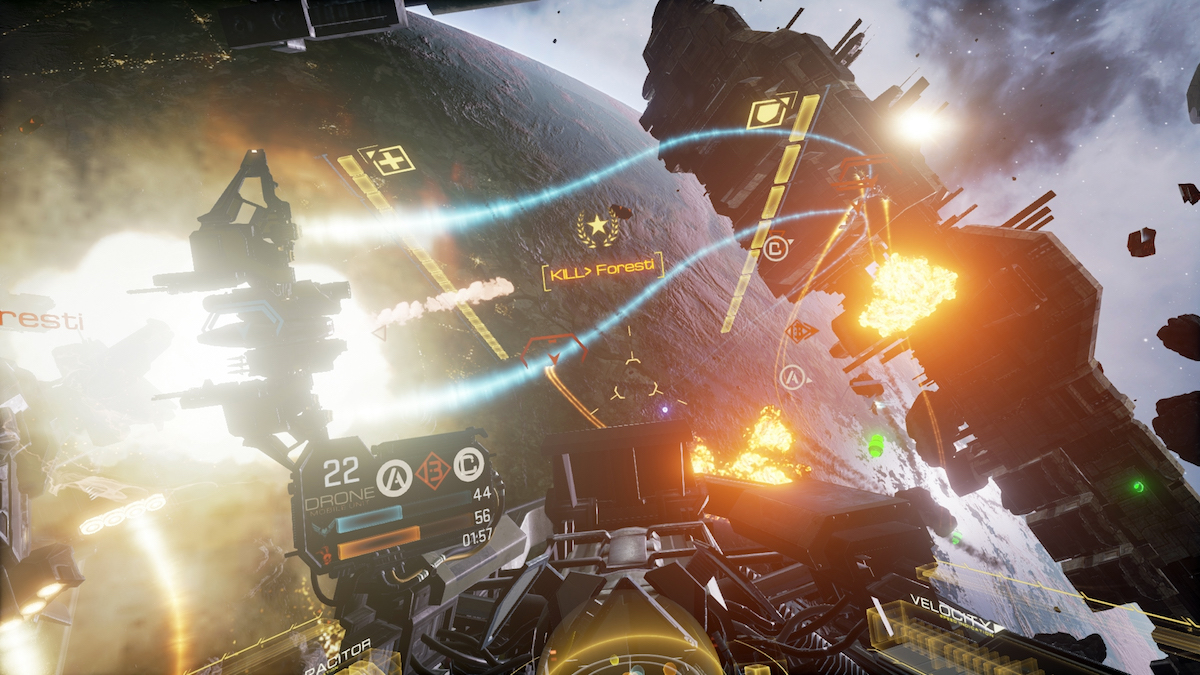 I don't mean to be hyperbolic — these are just demos after all, and some are so fleeting you'll forget you even played them. But immediately showcasing to new owners what PS VR can do is vitally important, and the demo disc does its job admirably. (If you do end up getting a PS VR, start with the RIGS demo.)
To go back to the HTC Vive one final time, there's no question that the PS VR hardware is less sophisticated than that of its computer-based rivals. Unlike the Rift and the Vive, the PS VR headset features a single 1920 x 1080 (whereas the other two headsets contain two screens with a combined resolution of 2160 x 1200). As a result, the image is not as crisp on the PS VR, which has been especially obvious while playing multiplatform games like EVE: Valkyrie or Job Simulator.
That said, PS VR actually has a higher max refresh rate than its rivals (120Hz vs. 90Hz), but when you consider that PS VR is running on a PlayStation 4 while the Rift and Vive are running on $1000+ computers, the lower specs make sense.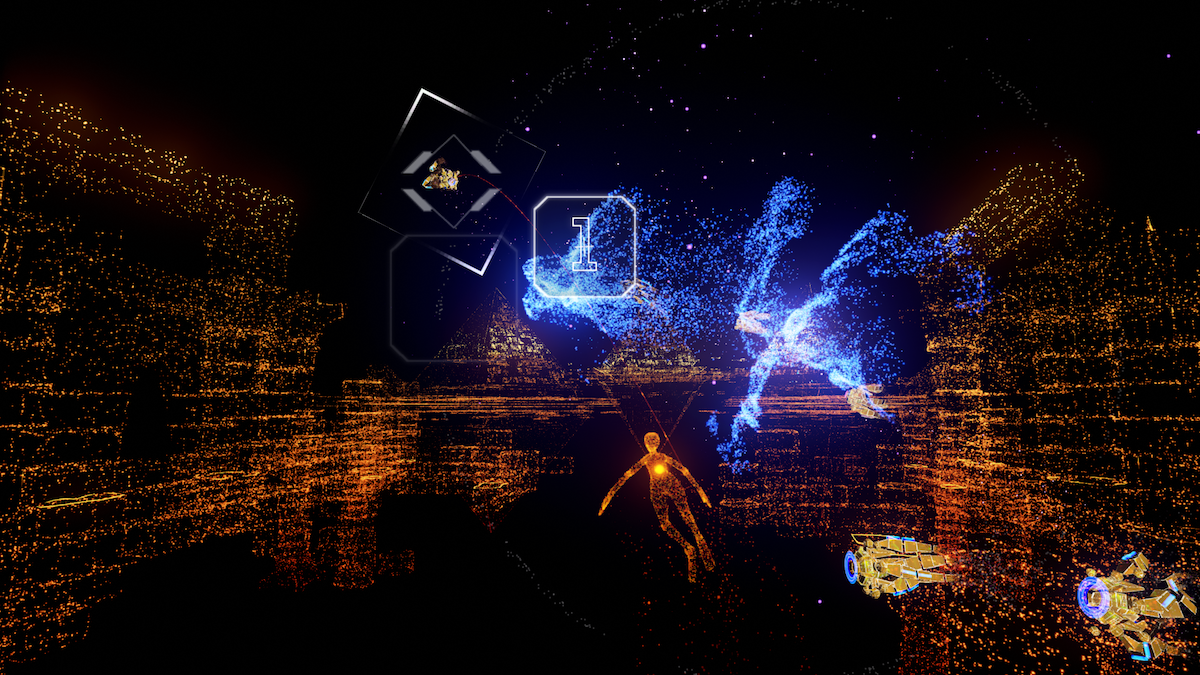 Here's the thing: It doesn't matter how great games look on the PC VR headsets if the game lineup doesn't excite me. Of the eleven games I've played on PlayStation VR so far (that's full retail games, not demos), four have genuinely impressed me. To put that into perspective, Resogun might be the only PS4 launch game I actually enjoyed without any reservations, and it was just a free download.
The only major issue I've run into with the PS VR might be attributable to my individual setup, but it's worth mentioning. Although several of the PS VR games I've played don't require the player to stand up or look around a 360-degree space, others do, and the PlayStation Camera occasionally seemed to lose track of the headset and the controller(s) in these situations.
For example, in Batman: Arkham VR, there's a segment where the player has to examine dead bodies at a morgue. (I know it sounds gruesome, but it's also pretty neat). As I attempted to manipulate the tools on my utility belt, I'd often have to stop in the middle of an action as I watched my "hands" (represented in the real world by the PlayStation Move controllers I was holding) slide away from view and then suddenly click back into place.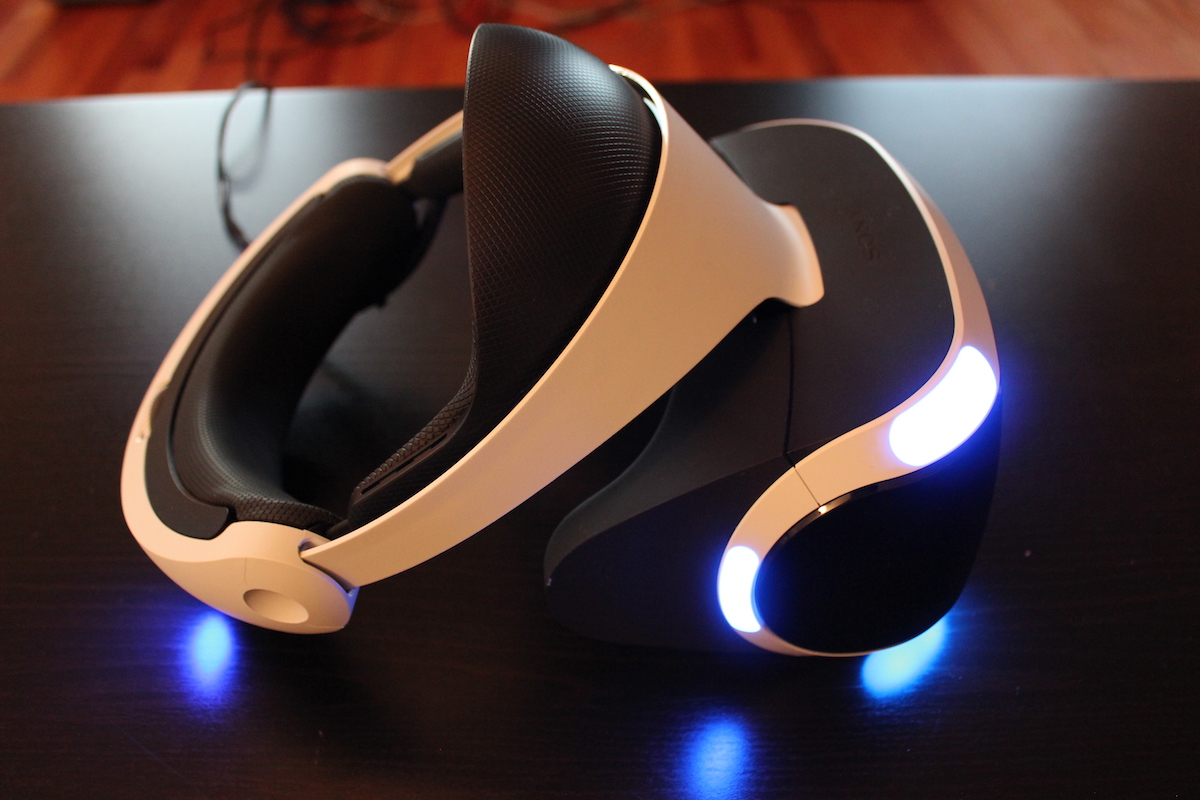 This would also happen with the headset, such as when I was watching the short VR film Allumente on PS VR while standing in front of my television. As I was watching the scenes play out in 360 degrees around me, my point of view would occasionally drift, as if the PS VR headset was floating away while I was standing in place. These weren't constant issues, and they rarely ruined an experience altogether, but I'm hopeful that I simply have a subpar setup at the moment and need to adjust where I stand when I use the PS VR. Once I have some more time to test the hardware in other environments, I'll provide an update.
[UPDATE: After spending dozens of additional hours with the PS VR over the past week, I've run into significantly less tracking problems. I'm not sure if I can attribute this to the software update that rolled out shortly after I published my review, but I haven't adjusted the camera or changed where I sit/stand in front of the TV with the headset on. That's not to say that the center won't occasionally drift (meaning, I'll occasionally take off the headset to find myself staring 8 inches to the left of my TV screen), but it's no longer affecting my gameplay experience in a meaningful way.]
A few months ago, I wrote that the future of virtual reality is dependent on the success of PS VR. I can't tell you whether or not Sony has done enough to convert the skeptics or start a VR revolution that will transform the gaming landscape forever, but what the company has done is release an incredibly solid platform and peripheral that have successfully revived my interest in virtual reality.
PlayStation VR will be available on October 13th for $399.99.