Ladies and gentlemen. Boys and girls. It's here. The Nintendo Switch is officially official, and it all happened while you were in bed sound asleep last night. Why would Nintendo host an event to fully unveil its hot new Nintendo Switch video game console in the middle of the night? The event took place in Japan, of course, where Nintendo has a tremendous amount of work to do in order to convince its home country that the Switch will breathe new life into the company.
Nintendo's previous-generation Wii U video game console was nothing short of a disaster from start to finish. The company tried far too hard to make fetch happen with its tablet-like controller, and a lack of high-quality games coupled with delays completely ruined the experience for people who actually did buy the Wii U.
Will things be different with the new Nintendo Switch? It's far too soon to tell, but we now know everything there is to know about Nintendo's next-generation video game console, and we'll run down all of the details right here in this post.
The Console
First and foremost, what the heck is the Nintendo Switch and why the heck is it called "Nintendo Switch"?
Nintendo's upcoming new console is a portable video game system when you're on the go and a home console when you get back to your house. The body of the device features a large 6.2-inch multitouch display with 720p resolution (1280 x 720 pixels). That resolution seems a bit lackluster compared to the 1080p and 2K screens on smartphones these days, but it'll be fine for Nintendo's unique style of games and it'll help ensure longer battery life. The system will offer anywhere from 2.5 to 6 hours of battery life per charge, depending on how graphics-intensive the games are that you're playing.
Nintendo's two-piece "Joy-Con" controller slides onto either side of the Switch console, and the resulting form factor is perfect for single-player gaming. You can also slide the Joy-Con controller off the body of the Nintendo Switch and they'll connect to the console wirelessly, allowing two people to play at the same time. In fact, up to four players can connect Joy-Con to a console in multiplayer mode.
Another cool feature is a Wi-Fi based multiplayer mode that allows up to eight Switch consoles to connect to each other, enabling multiplayer gaming on as many as eight different screens.
Then, when you get back home, the Nintendo Switch console can be placed into a dock that connects it to your TV and supports 1080p Full HD gaming. Get it now? In an instant, the Switch switches from a portable console to a home console, and then back again. When docked, the Joy-Con controllers slide off either side of the Switch and connect to each other (with a battery pack extender between them) to form a single wireless controller. It's actually a pretty awesome design.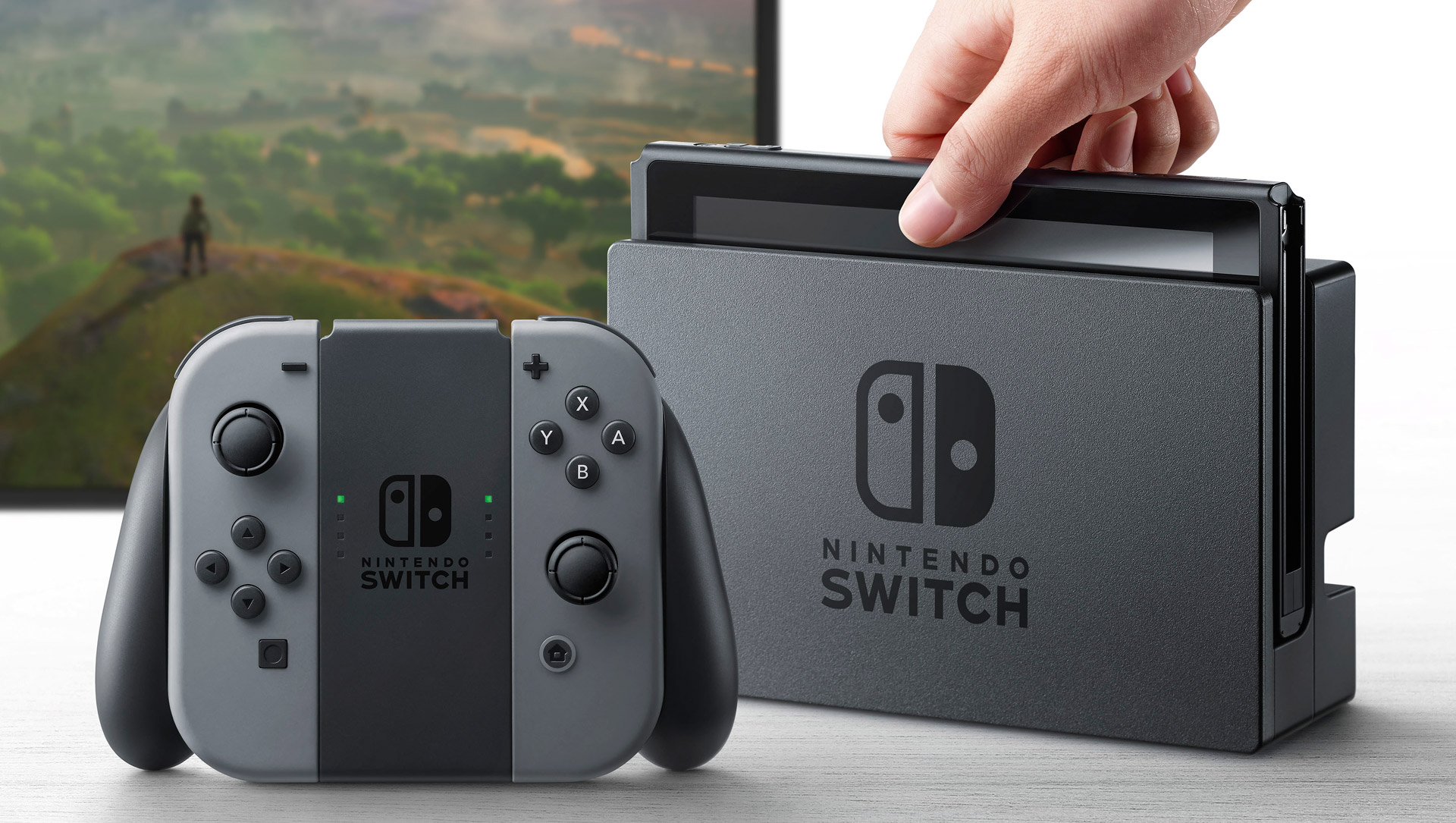 The Specs
6.2-inch capacitive multitouch display with 720p resolution (1280 x 720)
1080p resolution output via HDMI when docked
Custom Nvidia Tegra processor
32GB of internal storage
microSDXC support for up to 2TB of additional storage (up to 256GB right now, since larger cards don't yet exist)
Game card slot (games will come on physical cards)
Battery life of between 2.5 and 6 hours
USB Type-C charging port
802.11ac Wi-Fi
The Games
This was the biggest question going into last night's Nintendo Switch announcement, and the company did its best to instill confidence that its upcoming new console will support plenty of exciting games at launch and down the road. To start things off, Nintendo announced 11 games during the event… and each and every one looks awesome!
The most hotly anticipated titles are definitely Mario Kart 8 Deluxe, The Legend of Zelda: Breath of the Wild, Super Mario Odyssey and Splatoon 2, and each title looked hotter than the last. The bad news is that among those four top titles, only one of them — the Zelda game — will be available at launch. The other three will be released over the course of the year beginning sometime this summer.
You can watch trailers for each of the 11 games Nintendo announced right here in this post, where you'll also find release dates for each title — or release time frames, if exact dates aren't available.
The Launch
Last but certainly not least, when the heck can you get your hands on a Nintendo Switch?!
The good news is that Nintendo won't make the world wait very long at all; the official Nintendo Switch release date is set for March 3rd, 2017. That's just over one month away. The bad news, of course, is that it's not going to be east to find at launch. Pent up demand means you'll definitely want to preorder one if you want to have any prayer of getting your hands on a Switch on launch day.
Preorders are available from Amazon, Best Buy and Walmart, and the console will cost $299.99 with a single two-piece Joy-Con controller. Additional Joy-Con controllers will cost $79.99 each plus another $29.99 for the charging grip that connects them, a Pro controller will be available for $69.99, and a second Nintendo Switch dock will cost $89.99. That means if you want a console, and an extra Joy-Con controller with a charging grip, it'll cost you $410 plus tax. Toss in two Pro controllers so that four people can play when the Switch is docked at home, and you're looking at $550 plus taxes all-in.