At this point, the longevity of Pokemon Go is just as impressive as the fact that no other mobile game has come close to knocking it off of its perch. There may never be another game quite like Pokemon Go, but this week, a new game from the same developer could be the first to give the multi-billion dollar smash hit a run for its money.
On Wednesday, Niantic and Capcom released their new game Monster Hunter Now on the App Store and Google Play. It is just the latest in a long line of potential successors to Pokemon Go, but the first I've played that actually feels like it could have staying power.
Monster Hunter Now — much like Pokemon Go did for Pokemon — brings the Monster Hunter franchise to life by turning our real world into a game map. In Monster Hunter Now, you'll create a character, equip your gear, and start physically walking around in order to encounter monsters and collect resources that appear all around you. If you've ever played Pokemon Go (or Pikmin Bloom or the defunct Harry Potter: Wizards Unite), you'll feel right at home.
In order for a game like this to succeed, the core loop needs to be almost endlessly satisfying. To this day, thousands of people are still catching Pokemon every time they leave the house. Seven years on, catching a virtual Charmander still hasn't lost its appeal.
Of course, you don't catch Pokemon in Monster Hunter Now — you hunt giant monsters, as the name suggests. Also, unlike Pokemon, encounters in Monster Hunter games are often long and arduous, tasking players with chasing a monster around a map as they learn its attack patterns, weaken it, and eventually take it down and harvest it for materials.
Condensing that into a bite-sized mobile game is no easy task, but Capcom and Niantic found a way to distill the core of the Monster Hunter experience into a digestible (and enjoyable) loop. As you explore, monsters large and small will pop up on the map. Tap on a monster to start a battle. Combat is absurdly simple, especially against weak fodder: Tap to attack, swipe to dodge.
But how satisfying can repeatedly tapping on your phone screen really be? That's where the real brilliance of Monster Hunter Now comes into play. While small monsters can be dispatched in an instant, larger foes require your full attention.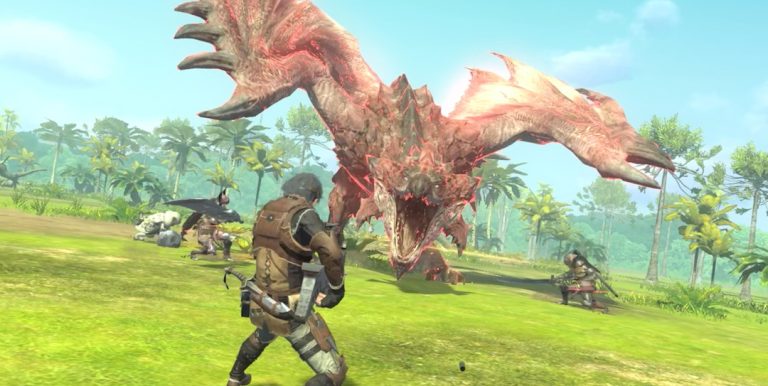 The game eases you into combat with slow-moving, predictable monsters, but as you level up and encounter more powerful monsters, you will need to play smart to survive. For instance, the very first Great Jagras (basically a massive lizard) I fought spent most of the battle roaring at me as I merrily sliced away with a sword. Today, the two-star Great Jagras I fought knocked me on my rear twice and cut my health bar in half before I could take it out.
Monsters glow red before they attack, but as you advance, the time between that indicator and the attack itself begins to shrink. Eventually, you have to start reacting quickly if you don't want to get hit and lose health, which can be restored with potions but also regenerates over time. These battles don't need to be as exhilarating as the fights in Monster Hunter: World or Monster Hunter Rise, but there needs to be some meat on the bone. And there is.
There's also a clever paintball system that allows you to tag monsters and hunt them remotely later if you don't have time to engage right then and there. It's one of a few quality-of-life features that Pokemon Go fans will appreciate if they give the game a try.
Once you topple a monster, you are rewarded with various monster parts, which you can use to upgrade your weapons or craft new ones. So far, I've found this to be surprisingly compelling. I've only unlocked a few weapons (there are six weapon types at launch), but upgrading them and watching the numbers go up when I slash a monster is gratifying. That upgrade loop alone will probably keep me logging in for at least a few months.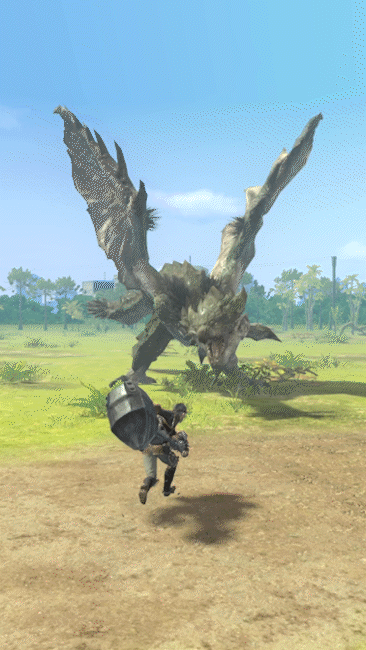 Other than fighting monsters and working on your gear, you can also gather items by tapping them when they show up on the map. You'll need these items in conjunction with the monster parts to upgrade your weapons and armor.
Unsurprisingly, there's also an in-game shop with some real money items that can speed up your progress, but in a short presentation with the press this week, the developers stressed that they did not want to make the game "pay to win." If you're a big fan of the game, you can spend a few bucks for some added convenience, like expanding your item storage or temporarily increasing your access range, but that's about it.
Admittedly, Monster Hunter Now feels like a skeleton of a game compared to Pokemon Go, but that's to be expected from a mobile game at launch. More importantly, the bones appear to be strong, and I see this as a solid foundation for Niantic to build upon in the years to come. In the meantime, I'm going to go hunt some more monsters.
Monster Hunter Now is available now on the App Store and Google Play.