The art of the monster movie makes a rip-roaring return with Kong: Skull Island, a resurrection of everyone's favorite ape in an a completely original tale. No, the Empire State Building is nowhere to be found in this flick, but does Kong still manage to climb to new heights?
If this makes any sense at all, Kong: Skull Island a terrible film done perfectly. Its predictable characters, god-awful dialogue, and virtually straight to camera one-liners are more endearing than cringeworthy — and that's no small feat. After a few short minutes in my theater seat, I began to pick up on the fact that character motivations, sensible logic, and decent screenwriting has been tossed aside like a helicopter in Kong's hands. Once I came to that realization, I was treated to pure, unadulterated, B-movie action; and boy did it work for me.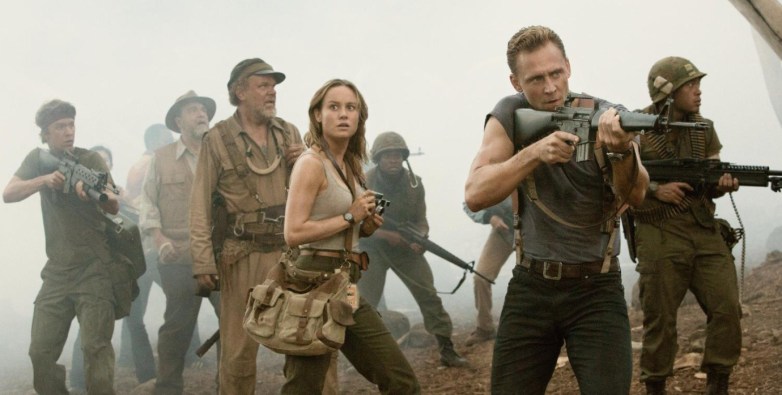 Kong: Skull Island was directed by indie darling Jordan Vogt-Roberts (The Kings of Summer) and is set in 1973 — right at the end of the Vietnam War. Wild-eyed government agent Bill Randa (John Goodman) has his sights set on an uncharted and unexplored island in the south Pacific known in legends as Skull Island. Once he and his assistant, Houston Brooks (Corey Hawkins) are approved for the mission, Randa recruits ex-British SAS Captain James Conrad (Tom Hiddleston) as his hunter-tracker for the expedition. Realizing they need an escort, the team phones in the Sky Devils helicopter squadron, led by the decorated Preston Packard (Samuel L. Jackson.)
Just before departing, the group is joined by an anti-war photographer named Mason Weaver (Brie Larson) who believes that Bill Randa may not be disclosing the entire truth of the mission they're embarking on and wishes to document it. Once they arrive on Skull Island, the group eventually runs into Hank Marlow (John C. Reilly), a bearded shadow of a man who's been stranded on the island since the latter years of World War II. To my surprise, John C. Reilly steals nearly every scene he's in and quickly becomes the most compelling character in the bunch. Although, that really isn't saying much.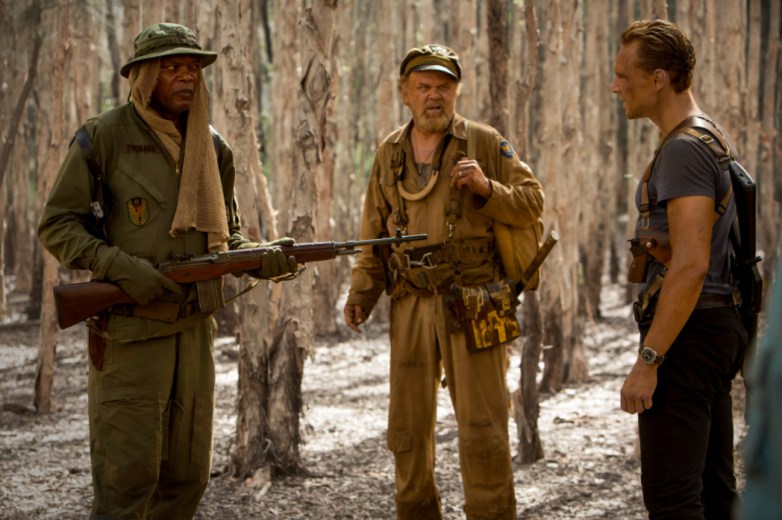 After some sluggish screen time, our entire rag-tag group of under-developed characters find themselves on Skull Island, facing all the wonder and treachery the uncharted land has to offer, including Kong himself. What follows is a 60's/70's music-filled Apocalypse Now homage with some spectacular creatures and visual magic that serve as reasonable distractions from characters we honestly couldn't care less about.
Make no mistake about it — most of the characters here are garbage. Save John C. Reilly's eccentric World War II vet and Samuel L. Jackson's vindictive and battle-worn soldier, the film's characters are entirely forgettable background noise for Kong to step on. A weak script finds A-list actors with immeasurable star power relegated to spectator roles while Kong does all of the heavy lifting. But really, who's complaining?
While it's a shame to see talent like Tom Hiddleston, Brie Larson, and John Goodman so wholly underutilized, the truth is that no one is actually going to Kong: Skull Island for them. They're simply respectable names that fill out the top of the poster and help wrangle unknowing stragglers into the cinema. What the people really want is Kong — and the Kong abides.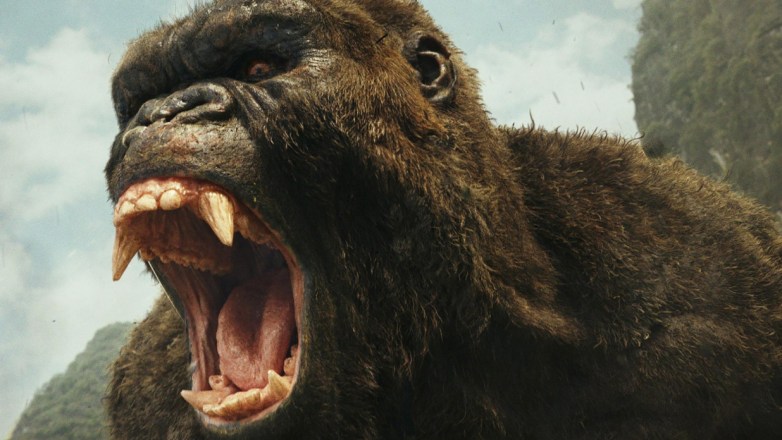 The big ape is simply a wonder to behold on the big screen. Whether he's destroying a fleet of helicopters, bashing unspeakably disgusting creatures, or pondering a fleeting attraction to Brie Larson's Mason Weaver, the monster is simply magnetic. In fact, with some simple gestures and facial cues, Kong exhibits more depth than most of our main cast, thanks in no small part to the visual magicians at Industrial Light and Magic.
The ILM team brought to life a motion captured performance by Toby Kebbell, who also plays Sky Devil Major Jack Chapman in the film, and delivered a sterling finished product that will make you wonder if Kong really walks the Earth.
Kong: Skull Island learned its lesson from its 2014 predecessor, Godzilla (Gareth Edwards), and shows its monster early and often. There's no camera trickery or sudden cuts away from the action; when Kong is unveiled, the camera lingers on his power and magnitude. In fact, director Jordan Vogt-Roberts seems to be at his best when it comes to filming the beast — relying on long, unwavering takes instead of the quick-cut action we've come to expect from action movies.
Similar to Godzilla, the film features an immensely satisfying showdown between Kong and a monster that matches his stature. In Skull Island, it's a modern spin on the classic "Kong vs. T-Rex" battle and pits the ape against a hideous creature known as a Skull Crawler. The end product is a knock-down, drag-out brawl that makes up for the grave sins of its flawed script… almost.
Cut to the chase
Kong: Skull Island is a great time to be had at the cinema — as long as you ignore everyone on screen who isn't Kong. If you've got nothing to do this weekend, grab some buddies and catch it with an audience. You won't be moved, challenged, or really even affected by the film's narrative at all, but you'll get to shove some popcorn in your face and watch the world's greatest monster brawl it out on the big screen. And isn't that worth the price of admission alone?
BGR grade: B