Captain America: Brave New World premieres on July 26th, 2024, a few months later than initially expected. But at least the highly anticipated Captain America 4 movie is still on the calendar for next year. The film has been in the works for several months, seemingly unaffected by the ongoing writers' strike.
Hopefully, we'll see Harrison Ford become Red Hulk in the film, but even if it doesn't happen yet, Ford is an incredible addition to the MCU. Marvel recast the role quickly after William Hurt's passing, indicating that Thaddeus "Thunderbolt" Ross is a very important character moving forward.
Discussing Sam Wilson's new adventures as Captain America, and the character's relationship with Thunderbolt Ross, Anthony Mackie said working with Harrison Ford was quite intimidating. Mind you, some spoilers might follow below.
"The first day was so intimidating," Mackie told Inverse in a wide-ranging interview. "I was so f*cking nervous I couldn't remember my lines. He's Harrison f*cking Ford. There is this aura about him."
Mackie continued, "But he dispels that really quickly because he's such a cool guy. He's everything a movie star should be. He would say, 'Let's shoot this piece of sh*t.' And everybody was like, 'Yeah, let's shoot this sh*t.'"
The actor did not share any Brave New World spoilers, but he did tease that he and Ford had quite a few scenes together. And let's remember that Marvel recently staged a Captain America 4 set photo showing Mackie and Ford in uniform to announce the title change (image above). The film was originally called New World Order until a few weeks ago.
Interestingly, that image might have been hiding two big reveals in plain sight.
First, Mackie wore a new Captain America suit, featuring mostly blue colors rather than the white costume from The Falcon and the Winter Soldier. More importantly, Ford seemed to wear shredded pants as if he had filmed scenes showing him returning from Red Hulk form to a more human appearance.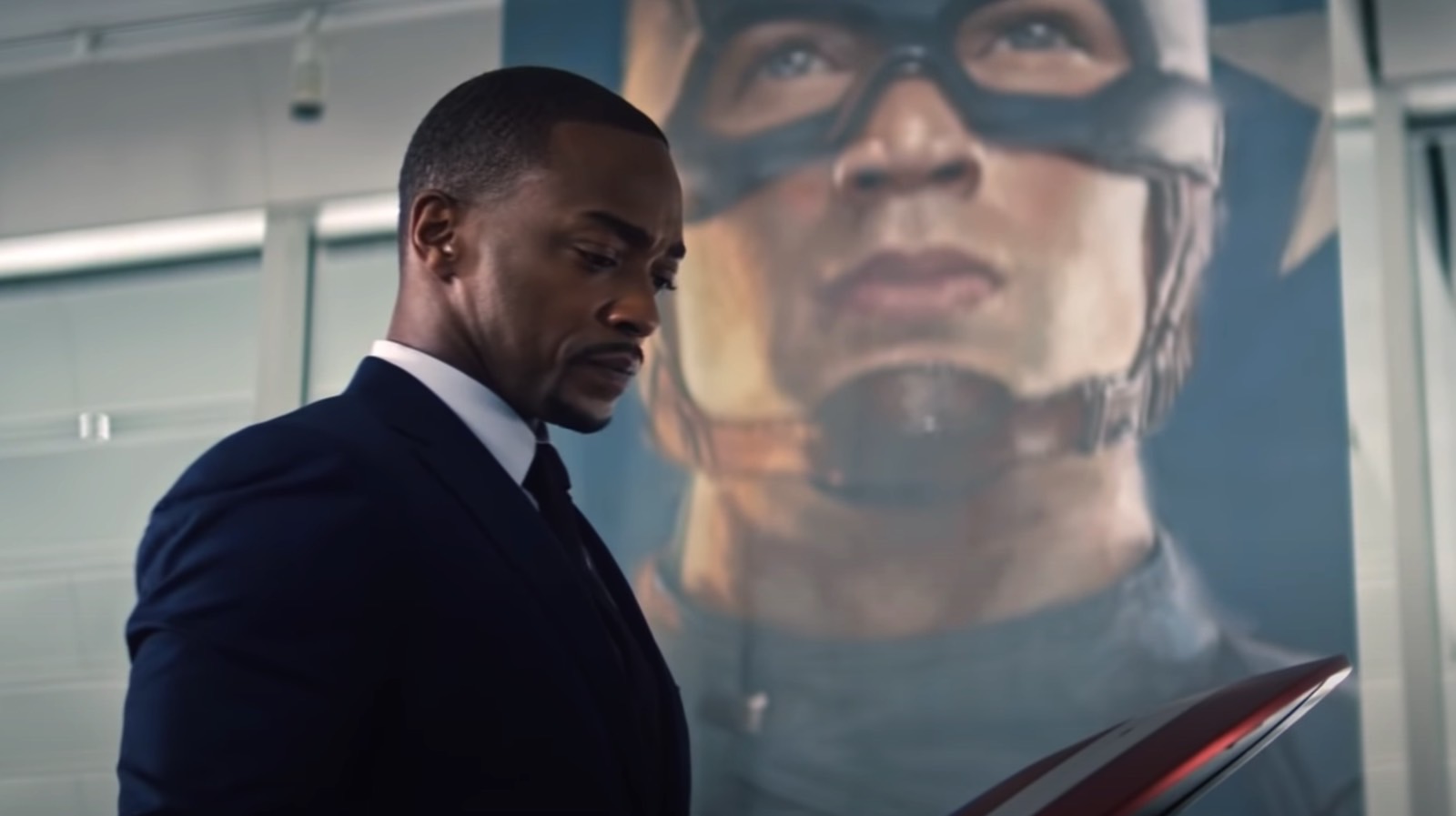 Anthony Mackie's new Captain America
Mackie did tell Inverse that he and Ford "spent a good bit of time together. Ross and Cap have always had that relationship where they were friends and they respected each other, but they always bumped heads. That's their relationship in the storyline."
As for Brave New World, Mackie said the movie "picks up pretty much right after" The Falcon and the Winter Soldier. "Sam [is] back in the fold of, How do I fit into this superhero world?"
That's a good question, especially if you consider that Sam's Captain America will have to fight Ross's Red Hulk eventually. And unlike Steve Rogers (Chris Evans), Sam doesn't have Super Soldier serum coursing through his veins.
Mackie did tease in the same interview that his character can resort to fighting like Rogers would in most cases.
"[Sam] realized that his ability is not to change the world with force; it's about giving people the wherewithal and the recognition that they deserve so that they can make a change," Mackie said. "I can go around and beat up people all day; it won't matter. Those people are going to come right back and do the same sh*t."
"He definitely has the ability to not manipulate, but understand someone's shortcomings," Mackie said of his character, pointing out Sam Wilson's defining trait. Wilson is an ex-Air Force pilot helping other veterans. "Give them words of encouragement so that they're not forced to act. The physical aspect of it is the last resort."
But I don't expect Wilson and Ross to solve their differences with words. While Mackie did not confirm a Captain America vs. Red Hulk fight in Brave New World, he did tease plenty of superhero action. "All the flying, CGI, and all that sh*t. That's going to happen."
I didn't say anything about Sam Wilson creating a new Avengers team because Mackie didn't address this big Captain America 4 plot point. But we know that will happen in Brave New World. Serum or not, Captain America will have help in his fights against Thunderbolt Ross and the other villains who might come his way.