If you purchase an independently reviewed product or service through a link on our website, we may receive an affiliate commission.
Mashed potatoes are such a terrific side dish to many meals. A lot of people may only eat them during Thanksgiving but they are great to have all year round. Making them with either regular potatoes or sweet potatoes can add to the versatility of the dish. If a potato recipe has been passed down for generations through your family, then you are probably aware of how good they can be. Adding gravy on top can make them better or you can just enjoy them without any toppings. But in order to get the potatoes the right way, you may want to try a potato ricer. This is different from a masher, as this will provide you with a fluffier texture for a creamier mashed potato dish. You can also use this in a number of other ways in the kitchen and with other vegetables to help during preparation. We've highlighted five of the best potato ricers to give you mashed potatoes to your liking any time.
Get rid of the lumps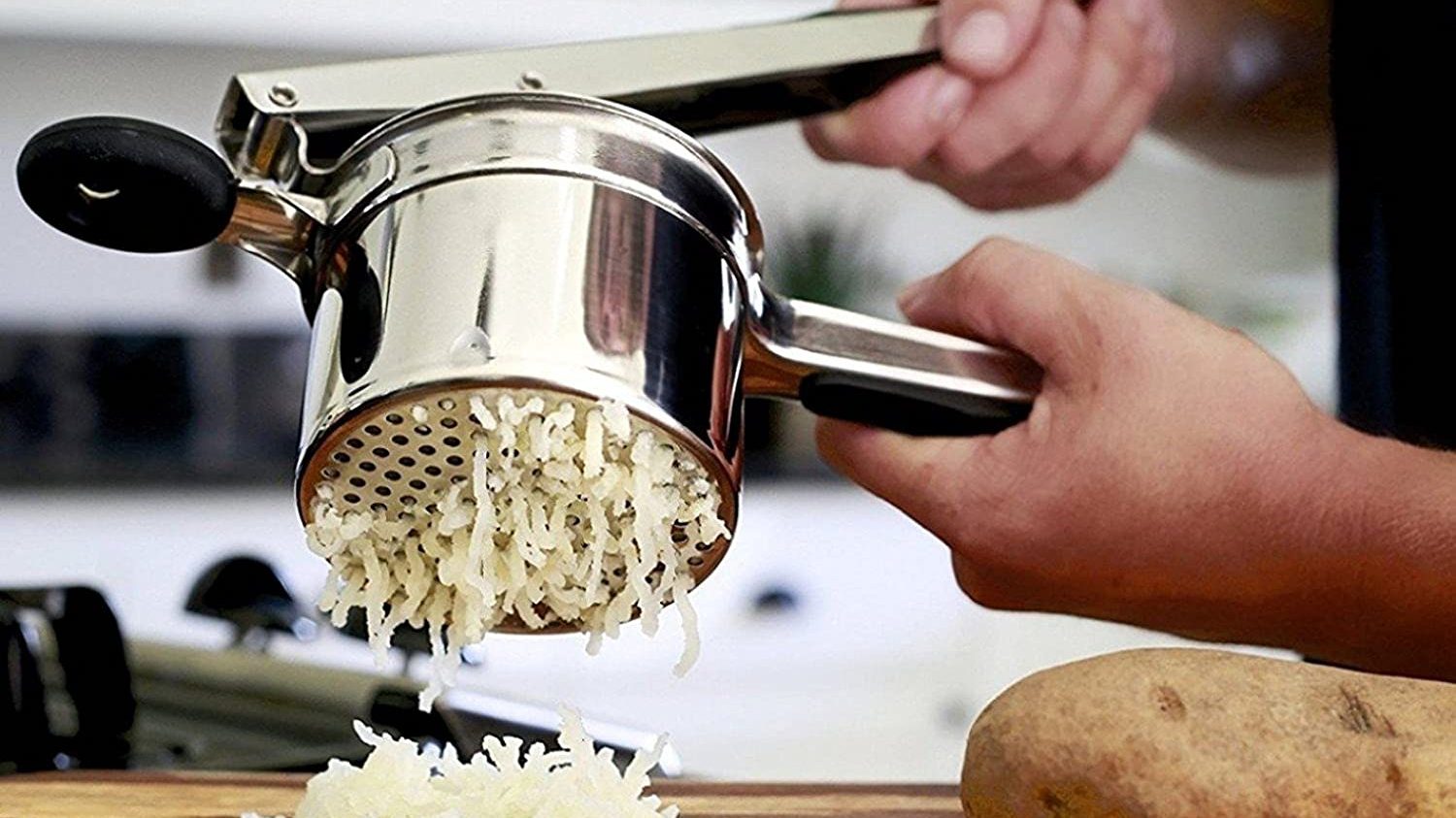 Don't struggle working your way through a potato when you're using the Priority Chef Potato Ricer and Masher. Ergonomically designed so your hands won't hurt as you squeeze the potato through, the handles are long and anti-slip for comfort. It is made from non-stick material, so the potatoes will slide right off and not stay caked on the inside. This is 100% rust-proof and made from stainless steel. Any residue is easy to wash off with a quick rinse and you won't have to worry about it staining. You can use this with carrots, turnips, or to squeeze fresh fruit to make juice.
Key Features:
Made from non-stick material
Ergonomic handles that are long
Easy to wash off any residue
PriorityChef Large 15oz Potato Ricer, Heavy Duty Stainless Steel Potato Masher and Ricer Kitche…
Price:
$22.95
Available from Amazon, BGR may receive a commission
Choose what thickness you want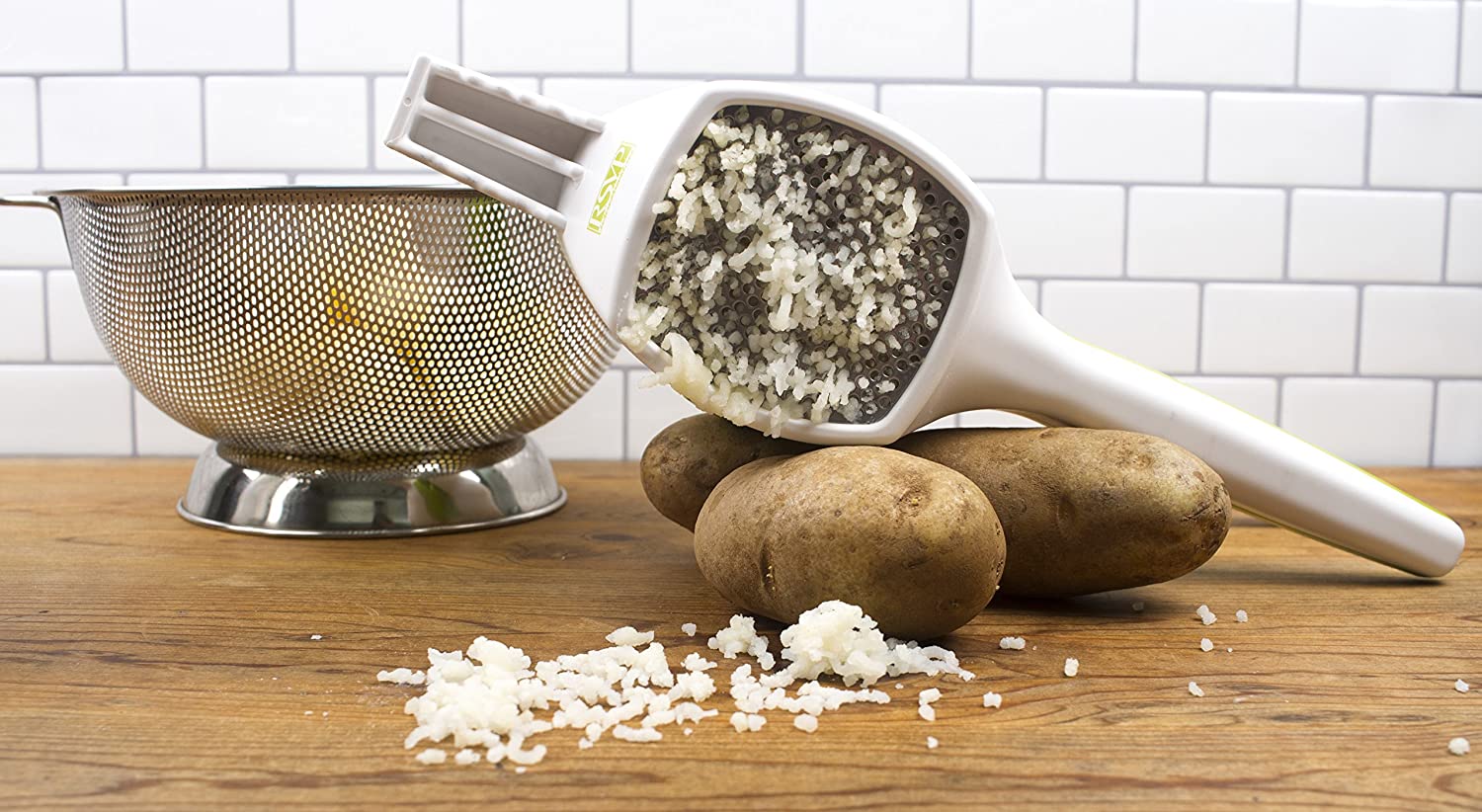 By using the RSVP International SPUD Potato Ricer, you'll churn out consistent pieces in the sizes that you want them. It measures 13.5″ x 3.75″ x 4.5″ and is made from durable plastic. You can choose between a white and green stripe one that is plastic or a stainless steel one. The contoured handles are comfortable to hold, so you won't struggle as you're using it. This setup comes with two interchangeable plates, one that is medium and one that is coarse, allowing you to choose what thickness you want your potatoes to be. The entire device is safe to put in the dishwasher.
Key Features:
Choose between durable plastic and stainless steel
Two interchangeable plates for coarse or medium
Safe to put in dishwasher
RSVP International (SPUD) Potato Ricer, White/Green | Mash Potatoes, Fruits, Vegetables & More…
Price:
$21.95
Available from Amazon, BGR may receive a commission
Make it easier to collect the pieces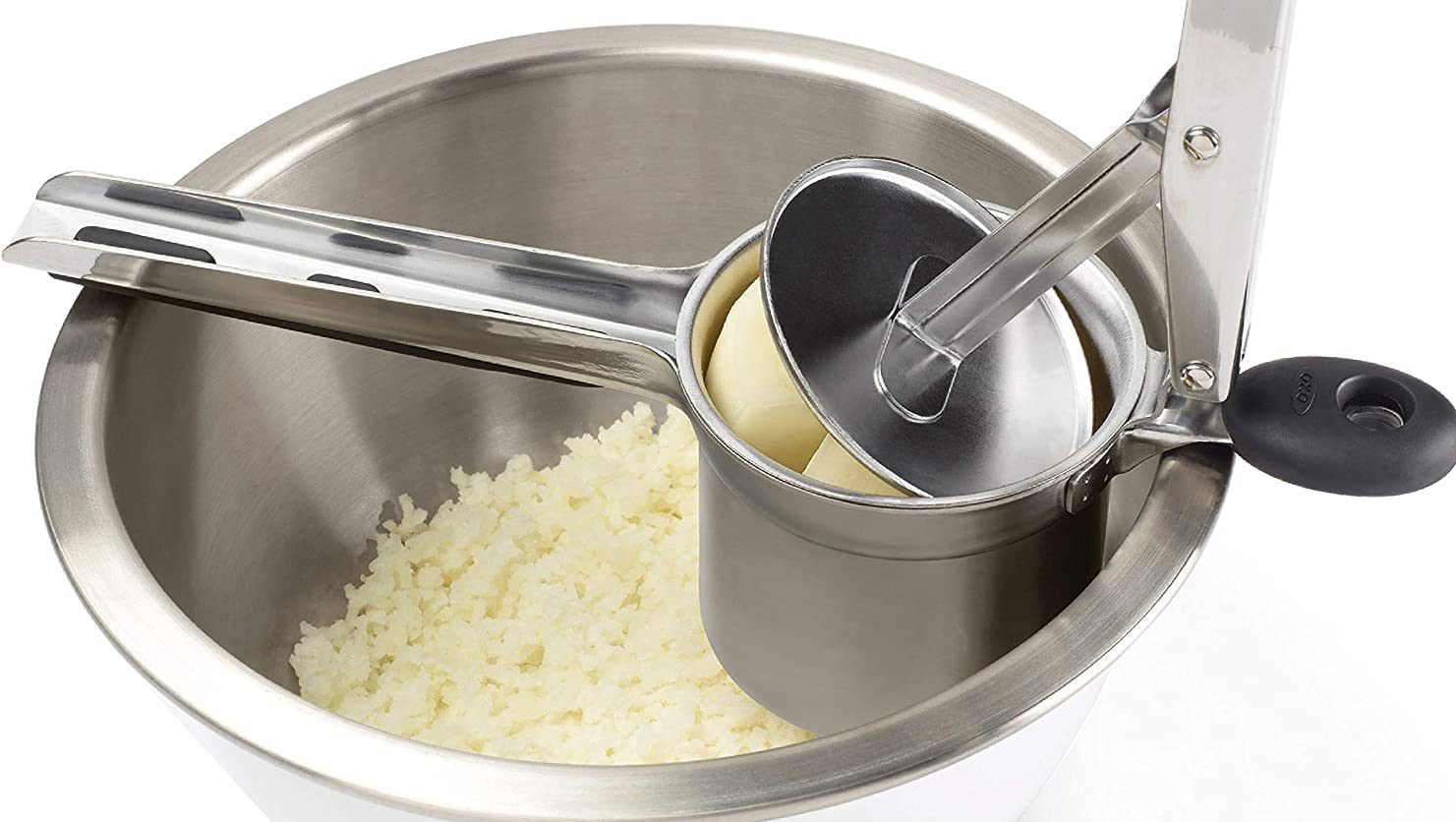 Thanks to the design of the OXO Good Grips Stainless Steel Potato Ricer, you won't have to worry about scooping up the pieces of your potato from the counter. That's because there is a non-slip knob that holds the ricer over a pot or a bowl in order to have it remain in place. This has a durable, stainless steel body that has soft handles for an easier time holding it. You can throw this in the dishwasher to clean it and use it with carrots, yams, cauliflower, turnips, and even baby food.
Key Features:
Knob that holds the ricer over a pot or bowl
Durable stainless steel body
Soft handles
OXO Good Grips Stainless Steel Potato Ricer
Price:
$26.95
Available from Amazon, BGR may receive a commission
Potato ricer with a twist
Unlike the previous options, the Joseph Joseph 20100 Helix Potato Ricer Masher has a unique design. This has a twist action setup that makes ricing the potato very simple. The handles are easy to grip and you can twist them away from each other in order to mash and rice the potato. The milling action is really simple. You'll create mashed potatoes and vegetable purees right in the ricer. It has a stainless steel and nylon construction that is built to last. It is a two-piece design that is easy to clean and you can even toss it in the dishwasher. It's safe to use with food and BPA-free.
Key Features:
Unique design with a twist action setup
Stainless steel and nylon construction
BPA-free
Joseph Joseph Helix Potato Ricer Masher Ergonomic Twist-Action Hand Manual Stainless Steel For…
Price:
$19.99
Available from Amazon, BGR may receive a commission
Increase your ricing power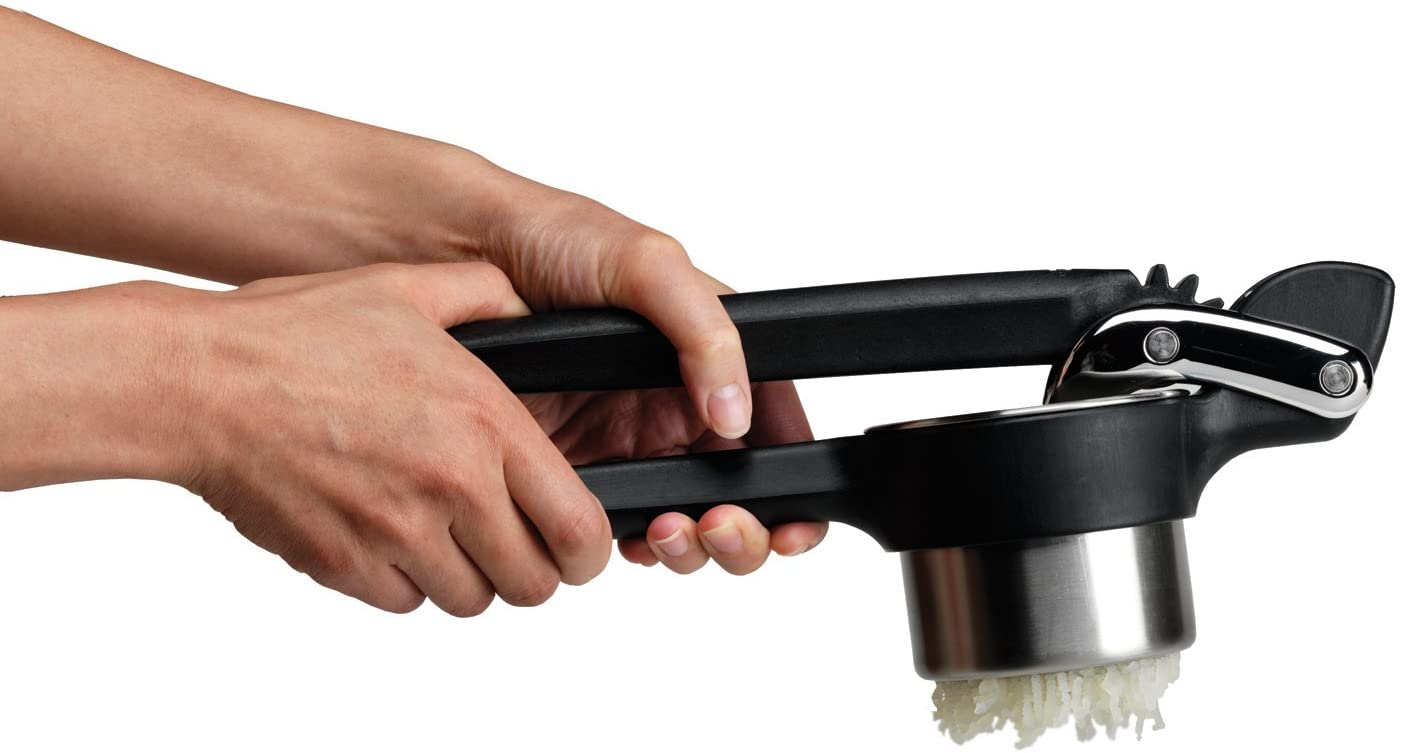 Turn all of the bits of your potato into edible pieces with the Chef'n FreshForce Potato Ricer Press. It is 12.75″ in length and the handles are easy to squeeze. You'll be able to prepare mashed potatoes for shepherd's pie, pierogies, croquettes, and colcannon quickly and efficiently. The extra gear mechanism increases ricing power and minimizes hand strain. You can remove the perforated stainless steel basket in order to clean it. Throw it in the top rack of the dishwasher to wash it.
Key Features:
Long handles
Extra gear mechanism increases ricing power
Remove the perforated basket to clean it
Chef'n FreshForce Potato Ricer Press, 12.75 long - 102-157-001,Black
List Price:
$34.99
Price:
$27.05
You Save:
$7.94 (23%)
Available from Amazon, BGR may receive a commission