If you purchase an independently reviewed product or service through a link on our website, we may receive an affiliate commission.
So you're all ready to start, restart, or enhance your exercise career. You already bought the gym membership, Tupperware for your meal prep, and a protein powder that doesn't taste like you're eating ground up cardboard. Of course, you can't really start hitting the gym hard until you have the proper attire. One thing that should be a staple of nearly everybody's exercise wardrobe is a simple pair of jogger sweatpants. Unlike regular sweatpants, which can be a bit baggy and ultimately disrupt your workout, joggers are designed with elastic legs around the ankles so that they won't hinder you from doing any sort of physical activity to the best of your ability. Plus, you don't lose any of the comfortability of normal sweatpants, allowing you to wear them in the gym, on a run, or even just to lounge around on a Sunday. And from a style perspective, you can get away with wearing them when you're out and about (although, we necessarily wouldn't suggest wearing them out to a fancy restaurant or club, but you ultimately get the point.). Here, we'll stick to activewear, however, and take a look at some of the best jogger sweatpants for exercising. Because once you make the switch, you'll never go back to working out in normal sweatpants again. Well, unless you like stepping on your pant legs all day.
Best Men's Jogger Sweatpants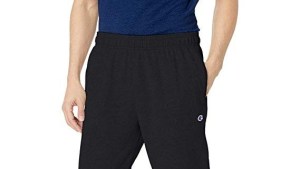 From a style, durability, and all-around comfortability standpoint, the Champion Men's Jersey Jogger is a can't-miss acquisition. They're made of 60% cotton and 40% polyester, combining for one comfortable and ultra-durable pair of pants for almost any occasion. Unlike some joggers, these come with deep pockets for storage, as well as a drawstring to adjust the fit of the pants around your waist. These joggers also feature the Champion name running down the left of the leg, adding a bit of style and flair to your wardrobe. They also are made with an athletic fit for a combination of comfort and function, and they're completely machine washable, which allows for easy maintenance and cleaning. They come in a variety of different sizes, too — small, medium, large, extra large and 2XL, so make sure you purchase the right pair based on your personal dimensions, as the drawstring can only help you adjust them so much. Or so little.
Champion Men's Classic Jersey Joggers, Black-Y07234, Medium
Price:
Available from Amazon, BGR may receive a commission
Best Women's Jogger Sweatpants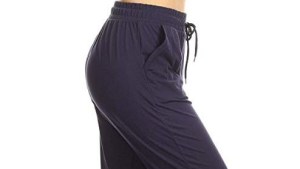 For a relaxed, comfortable, and stylish pair of women's joggers, these Leggings Depot Women's Printed Solid Activewear Jogger Track Cuff Sweatpants are a fantastic choice. These jogger sweatpants are made with a blend of brushed polyester and high-quality spandex, making them incredibly soft to the touch but durable enough to wear at the gym or on your daily run. Additionally, the high-quality fabric is flexible enough to stretch in any direction, allowing you to move freely with virtually no restrictions. In other words, they're just as good for lounging around the house as they are to wear to a workout. Additionally, despite their stretchiness, they're still thick enough so that you can't see through them — a must for any public gym session. They're also designed with a high waistband to keep them from sagging or falling down. The best part is — they're available in 40 — yes, like 4-0 — different colors, so you'll never have a problem matching your pre-existing wardrobe.
Leggings Depot Women's Relaxed fit Jogger Track Cuff Sweatpants with Pockets-JGA-Navy-L
List Price:
$23.99
Price:
$14.99
You Save:
$9.00 (38%)
Available from Amazon, BGR may receive a commission
Best Value Jogger Sweatpants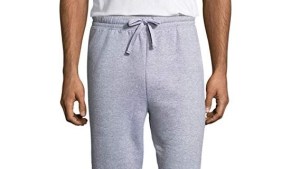 If you're not looking to spend premium dollars on a pair of sweatpants that you're only interested in wearing to the gym or while exercising in general, these Hanes Men's Jogger Sweatpant with Pockets are a great alternative. They're a bit more simplistic from a style standpoint — they're available in shades of Light Steel, Charcoal Heather, Black, and Navy, and don't feature any special design or logo — but they certainly get the job done from an exercise standpoint. These joggers are made of 50% cotton and 50% polyester, so they're soft, yet durable. They also feature a pull-on closure that's a bit more rudimentary in nature, but easy to tie, nonetheless. As long as you can tie a shoe, you'll be able to wear these pants. These Hanes joggers also manage to keep you warm without being too heavy, so you won't feel too stiff during your workout. They also feature 2.75″ cuffs at bottom leg opening which keeps the pants from sagging, yet they're not tight enough to the point that they feel intrusive. When you combine both price and their overall fit, you likely won't find anything much better on the market.
Hanes Men's Jogger Sweatpant with Pockets, Light Steel, Large
List Price:
$22.00
Price:
$11.99
You Save:
$10.01 (46%)
Available from Amazon, BGR may receive a commission