If you purchase an independently reviewed product or service through a link on our website, we may receive an affiliate commission. Learn more.
With less than two weeks to go until Samsung's Galaxy S8 and Galaxy S8+ are finally released, it's time to prepare yourself for the hottest new Android phones of 2017. That means making plans for your old smartphone, whether you're selling it or being nice and giving it to a friend or family member to use as an upgrade. Of course, it also means finding the perfect case to protect your new Galaxy S8 or Galaxy S8+. Since both phones are made mostly out of glass, you're in for some serious trouble if you don't protect them with a high-quality case.
As always, Spigen is ready for the release of the most hotly anticipated new smartphones of the year. The company has a huge lineup of cases that are already shipping from Amazon, so you can be sure that your Galaxy S8 or S8+ won't go unprotected for even a minute when it arrives next week. You can take a look at Spigen's complete Galaxy S8 and Galaxy S8+ collections using the links below, and we've also selected our favorites that we'll detail in this post.
Samsung Galaxy S8 collection: spigen.co/SpigenS8
Samsung Galaxy S8+ collection: spigen.co/SpigenS8Plus
Protective cases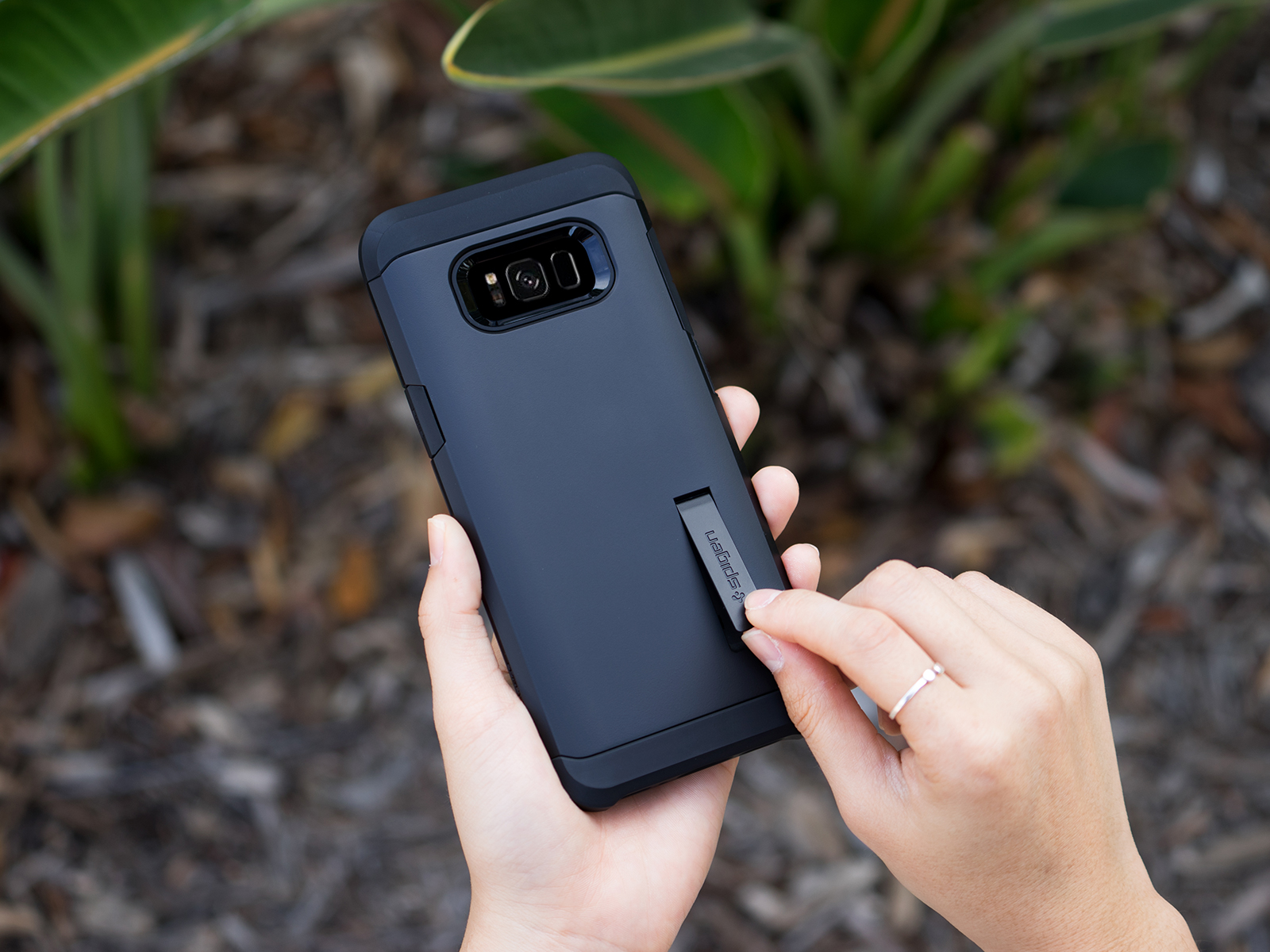 Tough Armor (Galaxy S8 | Galaxy S8+)
Spigen's Tough Armor cases strike the perfect balance between sleek styling and cutting-edge protection. By combining a TPU body with a polycarbonate back, Spigen is able to achieve a level of drop protection typically reserved for huge, bulky cases. With the Tough Armor case, however, you'll protect your phone from even the nastiest drops without adding too much bulk.
The best part is the reinforced kickstand that sports a new and improved design to prop up your phone. It's perfect for watching videos on that big, beautiful new Galaxy S8 display.
Neo Hybrid (Galaxy S8 | Galaxy S8+)
The Neo Hybrid case has been one of Spigen's most popular cases for quite some time, and it's no mystery why. The slim design adds the least possible amount of thickness while still providing military-grade protection thanks to the dual-layer structure, which consists of a TPU body coupled with a polycarbonate bumper frame.
For the Galaxy S8 and Galaxy S8+, Spigen updated its Neo Hybrid design with a very cool herringbone pattern. It adds some subtle style to your phone without detracting from Samsung's sleek design.
Slim Armor CS (Galaxy S8 | Galaxy S8+)
The Slim Armor CS case really is the best of both worlds. First, it offers military-grade dual-later protection that consists of Spigen's popular combination of a TPU cover and polycarbonate back. But it also has a compartment on the back that slides open and holds two credit cards in a special compartment that guards them from open security issues.
Spigen also has a more conventional wallet case called the Wallet S, and you can check it out here: Galaxy S8 | Galaxy S8+
Clear and Glitter Cases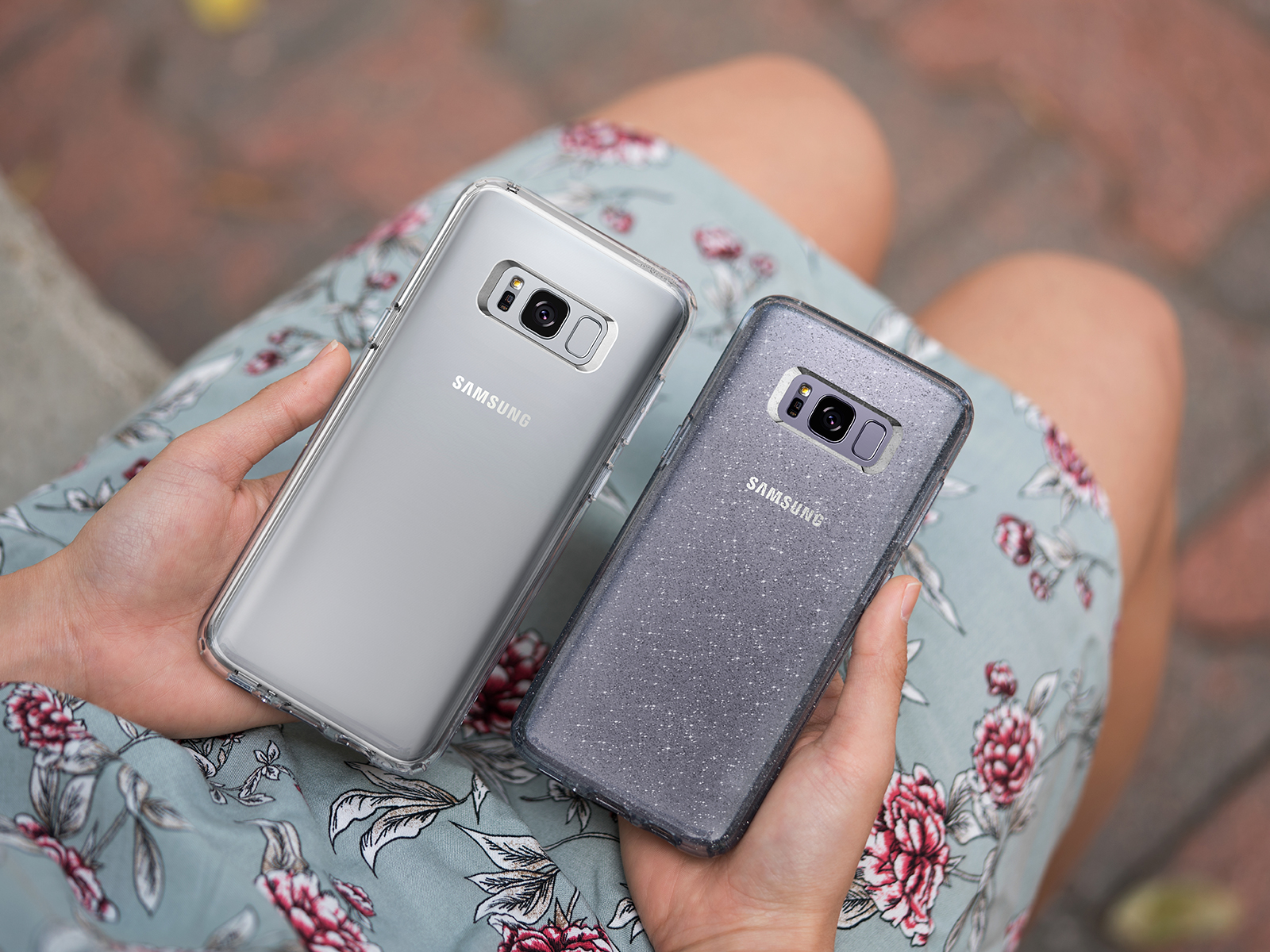 Ultra Hybrid (Galaxy S8 | Galaxy S8+)
The Ultra Hybrid case from Spigen is perfect for Galaxy S8 and Galaxy S8+ owners who want the high-quality protection that Spigen cases provide, but also want to show off Samsung's beautiful new design. This case still has a TPU bumper and a durable polycarbonate back, but it's clear so that the Galaxy S8 or S8+ can be seen right through the case. There are also a few different color options for the bumper part of the case, if you want a little extra flair.
For a similar design that also includes a kickstand for hands-free viewing, definitely check out the Ultra Hybrid S case: Galaxy S8 | Galaxy S8+
Liquid Crystal Glitter (Galaxy S8 | Galaxy S8+)
If you're looking to add a little extra sparkle to Samsung's design — literally — then the Liquid Crystal Glitter case is perfect for you. Available in a crystal clear color (Crystal Quartz) or with either a pink tint (Rose Quartz) or black tint (Space Quartz), these cases have glitter inside the TPU for a cool look that glistens in the light.
You can also of course get the same case in either a clear or matte black finish without the glitter by getting the Liquid Crystal case: Galaxy S8 | Galaxy S8+
Neo Hybrid Crystal Glitter (Galaxy S8 | Galaxy S8+)
Another great option for anyone looking to spice up Samsung's Galaxy S8 and Galaxy S8+ design with some glitter is the Neo Hybrid Crystal Glitter case. This case is a bit thicker than the Liquid Crystal Glitter case because it adds an extra layer of military-grade protection with the polycarbonate frame. This case will help you set yourself apart from all the other Galaxy S8 owners out there, but it'll still give you the best possible protection from drops.
Non-bulky Cases
Rugged Armor (Galaxy S8 | Galaxy S8+)
If you're looking for rugged protection but you also like the feel of a flexible TPU case, Spigen's Rugged Armor case is just what the doctor ordered. This flexible case is only 0.4 inches thick so it fits perfectly in your hand. It still offers terrific drop protection thanks to Spigen's Air Cushion technology, which absorbs impact so that your Galaxy S8 or Galaxy S8+ can survive an accidental fall without a scratch.
If you're looking for a popular alternative that offers a similar feel and comparable protection but has different styling, definitely check out the Liquid Air Armor case: Galaxy S8 | Galaxy S8+
Thin Fit (Galaxy S8 | Galaxy S8+)
Spigen has two extra-slim options for the Galaxy S8 and Galaxy S8+, and the first is the Thin Fit case. This case is made of rigid polycarbonate that protects your phone from drops, and it also has a handy hidden slot that can accommodate a magnet. This way, the case will work with any magnetic car mount without the need to use the ugly magnet stickers that those mounts ship with.
AirSkin (Galaxy S8 | Galaxy S8+)
Next up is the AirSkin case and if you want slim, barely-there protection from scuffs and scratches, this is the perfect case for you. The polypropylene shell is just 0.36mm thick, hugging the Galaxy S8 or Galaxy S8+ housing so that it doesn't add any bulk at all. The frost finish also offers much-needed grip, but the special coating resists fingerprints to keep your phone looking pristine.
Flexible Screen Protectors
Spigen NeoFlex Screen Protector (Galaxy S8 | Galaxy S8+)
Last but not least, you're definitely going to want a screen protector to guard the gorgeous Super AMOLED screen on your new Galaxy S8 or Galaxy S8+. Spigen's NeoFlex screen protectors are made of flexible TPU that is both fingerprint-resistant and self-healing. This means fine little scratches from normal wear and tear will actually heal themselves, which is a feature you won't find on most of the screen protectors out there.
To learn more about our sponsored deals and sponsored posts opportunities, please email sponsored@bgr.com.