Dozens or even hundreds of paid iPhone and iPad apps go on sale for free every day, and we always try to select the best of the bunch to share with our readers. Today's list might be the best one we've had in quite some time though. It's packed full of well-made and well-reviewed iOS apps that are on sale for free for a limited time, so be sure to check them all out before these sales are over. Of note, one of the apps we listed is a killer Instagram tool that normally sells for $28!
MUST READ: The difference between iPhone users and Android users
These are paid iPhone and iPad apps that have been made available for free for a limited time by their developers. There is no way to tell how long they will be free. These sales could end an hour from now or a week from now — obviously, the only thing we can guarantee is that they were free at the time this post was written. If you click on a link and see a price listed next to an app instead of the word "get," it is no longer free. The sale has ended. If you download the app, you will be charged.
Network Utility Pro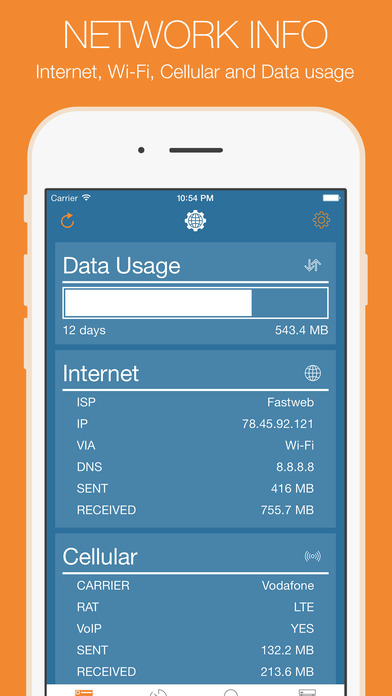 Normally $0.99.
********
App and Widget were updated for iOS 10!
Add to your notification center every available Network Info and Data Usage*.
********

With Network Utility you can quickly find all informations about your network. Information such as internal and external IP, network name, MAC address, gateway address, subnet mask and DNS addresses.
In addition, with a single tap you can PING a domain, query a Whois server or use NSLookup function to discover every info about it.

You can copy any information of the network that you are connected, simply tap on it!
You can also copy result of Whois or NSLookup and paste it everywhere on your iOS device.

An amazing real time graph help you to visualize PING response times, and Network Utility v4 has also real time stats.

Network Utility 4.1 brings to you an advanced Data Usage monitor tool! Configure it, and see how much space you have left.

The Geo IP tool allows you to to quickly geolocate a domain or IP in a matter of seconds.

——————————————————————————–

DATA USAGE PLANS
Daily
Weekly
Monthly
30 days
28 days (**NEW**)

AVAILABLE NETWORK INFO
Internet
– ISP
– IP
– REACHABILITY STATUS
– DNS
– TOTAL SENT DATA
– TOTAL RECEIVED DATA

Wi-Fi
– SSID
– BSSID
– IP
– GATEWAY
– MASK
– MAC ADDRESS
– SENT DATA
– RECEIVED DATA

Cellular
– CARRIER
– RADIO ACCESS TECHNOLOGY
– VoIP SUPPORT
– SENT DATA
– RECEIVED DATA

——————————————————————————–

PING OPTIONS
– COUNT
– WAIT
– TIMEOUT
– PACKET SIZE
PostBot 2 for Instagram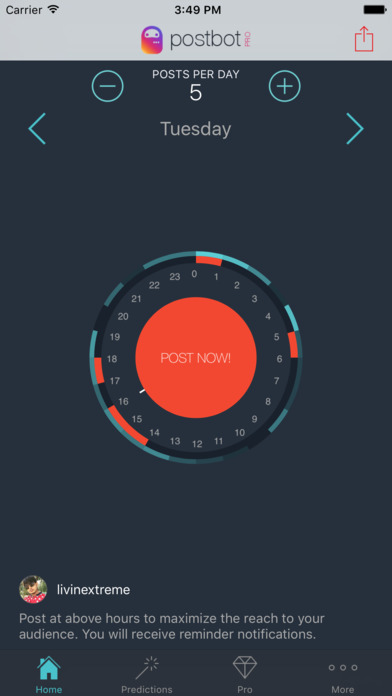 Normally $27.99.
The Bot that tells you when to post to Instagram. Best hours of the day determined with intelligence, specifically for your audience.

INTRODUCING most awaited, app that will completely revolutionize the way you post to Instagram!

Do you want to build a great Instagram account?
Do you often plan to make few posts per day but forget?
Do you wonder when is the best times to post on instagram?
Then this is the perfect solution for you!

PostBot will remind you when to make a new post.

The app will analyze your Instagram and determine the best hours to post.

It will detect the best time to upload on instagram for each day of week.

If you are a business owner or social media manager who wants to schedule your posts on Instagram, this is the best tool for you.

When we travel we all take a lot of pictures and we like to share them all on our IG profile, but if you post all of them at once, less people will see it. also your fans will easily get tired of you taking over their whole feed. Wise way is to spread the uploads to few days, Make few new posts per day on peak hours, when most of your audience are present online. PostBot helps you to do exactly that.

FEATURES:

+ Reminder notifications
+ Upto 8 posts per day
+ Likes and comments count predictor
+ For unlimited amount of instagram accounts
+ Separate analyzing for each day of week.
+ Analyses your account and gives personalized best post times.
+ Better engagement from your audience is Guaranteed
+ See and understand your posting habits
+ See best hours for all the days of the week
+ No ads
+ Developer support

Requirements:

At least 50 media in your Instagram.
Post bot determines the best hours depending on existing posts, so more media is better for statistics.
Download PostBot 2 for Instagram
Hide Photo Calculator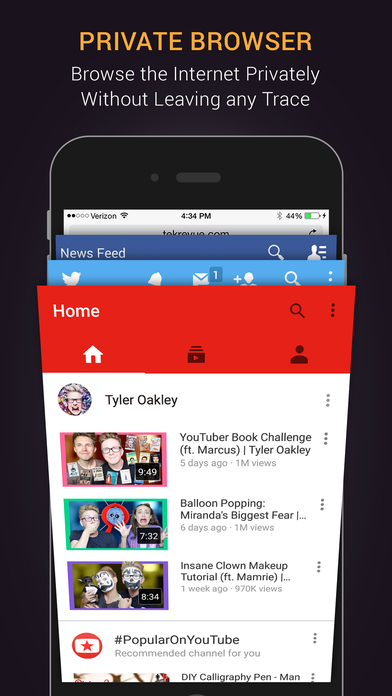 Normally $0.99.
Secret Photo & Video Calculator can hide your photos and videos behind a calculator.
What everyone can see is just an ordinary calculator.
Until you type in your secret passcode it became a private storage app in which you can hide your most secret photos, videos, and more.
There is also a private web browser included that does not save any history on your phone.

Some of the features:
– Save your secret photos and videos
– Write and store private notes
– Import and view top-secret files (.doc,.ptp,.xls,etc.) from your computer
– Store contacts you don't want in your regular address book
– Save all your passwords in one place
– Browse the internet without leaving any traces
– And, of course, a great calculator app! :-)
Download Hide Photo Calculator
Momento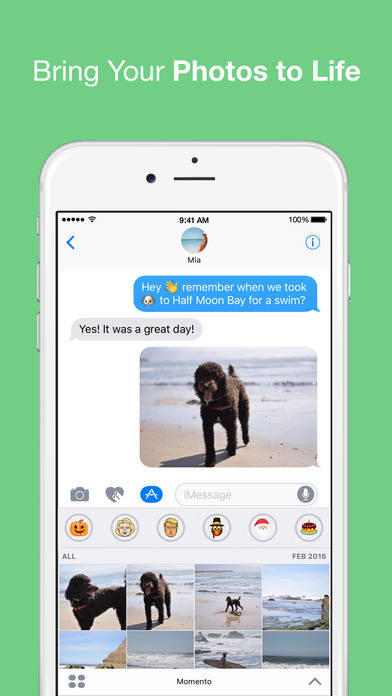 Normally $1.99.
Momento automatically creates GIFs of your best moments right inside iMessage for you to easily share with family and friends.

Using a smart detection algorithm Momento automatically creates beautiful ready to share moments using your already on the device photos.
All you need to do is open iMessage, tap on the desired moment and share it with your family or friends.

You can supercharge your moments with Momento Animated Filters:
– Halloween Filter
– Hillary Filter
– Trump Filter
– Thanksgiving Filter
– Christmas Filter
– Birthday Filter

Built by an amateur photographer with a love for photography and building apps that are simple to use and anyone can easily enjoy.

Get ready to have some fun!
Website Translation for Safari
Normally $2.99.
Translate websites directly inside Safari on iPhone and iPad. Download the app, set your output language, follow quick tutorial to enable extension and you are ready to go.

Translation service is provided by Google Translate.
List of 104 supported languages:
Afrikaans, Albanian, Amharic, Arabic, Armenian, Azerbaijani, Basque, Belarusian, Bengali, Bosnian, Bulgarian, Catalan, Cebuano, Chichewa, Chinese (Simplified), Chinese (Traditional), Corsican, Croatian, Czech, Dutch, English, Esperanto, Estonian, Filipino, Finnish, French, Frisian, Galician, Georgian, German, Greek, Gujarati, Haitian Creole, Hausa, Hawaiian, Hebrew, Hindi, Hmong, Hungarian, Icelandic, Igbo, Indonesian, Irish, Italian, Japanese, Javanese, Kannada, Kazakh, Khmer, Korean, Kurdish (Kurmanji), Kyrgyz, Lao, Latin, Latvian, Lithuanian, Luxembourgish, Macedonian, Malagasy, Malay, Malayalam, Maltese, Maori, Marathi, Mongolian, Myanmar (Burmese), Nepali, Norwegian, Pashto, Persian, Polish, Portuguese, Punjabi, Romanian, Russian, Samoan, Scots Gaelic, Serbian, Sesotho, Shona, Sindhi, Sinhala, Slovak, Slovenian, Somali, Spanish, Sundanese, Swahili, Swedish, Tajik, Tamil, Telugu, Thai, Turkish, Ukrainian, Urdu, Uzbek, Vietnamese, Welsh, Xhosa, Yiddish, Zulu
Download Website Translation for Safari
wakerapper
Normally $0.99.
The world's smartest alarm that checks real-time traffic and factors in your morning routine to calculate your optimum bed & wake up time.

Includes an intelligent nap timer with preset recommended nap lengths so you don't over sleep or get a sleep hangover.
DropSnap
Normally $0.99.
DropSnap automatically compresses and (optionally) resizes photos before uploading directly to Dropbox. Enjoy the merits of effortlessly skipping local saving (to iPhone photo album) in preference of saving to the cloud. Eliminates the need to synchronize your iPhone's photo files with your home PC. Rest assured that even if you lose your iPhone, your photo data will always be safe in the cloud.

Photos taken offline begin transferring to the cloud as soon as a connection is detected. Multiple photos are sent to the Dropbox in parallel as they are shot. Local saving (Device Camera Roll) can be set ON or OFF in the settings.

Benefits of using DropSnap
+ Save space on your device by skipping Camera Roll
+ Save network data while transferring pictures to the cloud
+ Convenient access to your pictures from all your devices for use with Craigslist, eBay, etc
+ Select a name for each picture before storing in your Dropbox account

Requirements:
Valid Dropbox account is required to use this app.
Squares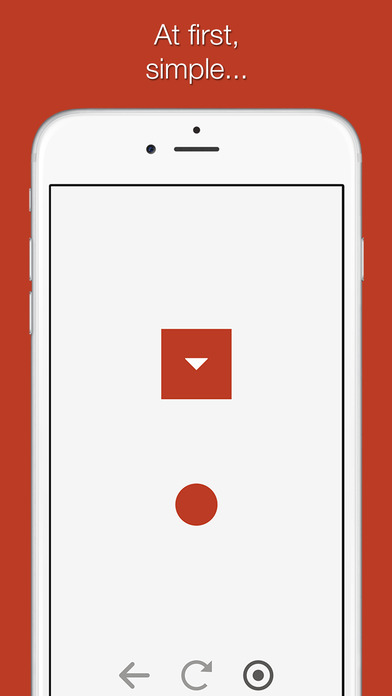 Normally $1.99.
A puzzle game about squares and circles. Tap on the square to make it move!

You start with one square to move above one circle. Level after level things become less and less easier.

Will you master the squares and become one of the ones who beat all the levels?

Can you defeat the next level?

A tribute Andrey Shevchuk
CalcFast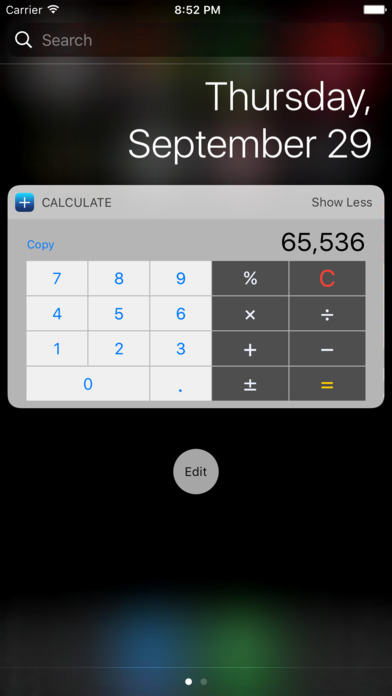 Normally $1.99.
Fast calculator for iPad, iPhone and Apple Watch that shows the calculation History, includes a Today Extension that allows for fast calculation by swiping down and 3D Touch for quick interactions. Numbers are formatted for your country, i.e. period in the US and comma in Europe.

Ever lost your train of thought half way through a calculation and thought how handy it would be to review your calculations. The aim of this Calculator is to be fast, elegant and simple.

Features:
– Smart Apple Watch Calculator included.
– Light weight Today Extension included.
– Calculations shown when input and on tape.
– Key click confirms pressing of buttons, which may be turned off.
– Previous calculation is repeated when the equal sign is pressed.
– Numbers are shown in local format, depending on your Region Formats, i.e. comma used in Europe. The number of decimal digits may be set in the Settings.
– VoiceOver is supported.
– Calculations Tape may be deleted by Tapping on it.

NOTE:
– To use the Calculator in Extensions, swipe down the screen to reveal Notifications and click on Today, then Edit and select the calculator. The Key Clicks may be turned off in the CalcFast Settings.
– When installing the Apple Watch App, wait while it installs, if it doesn't try again and allow it more time.
Skully Emoji Stickers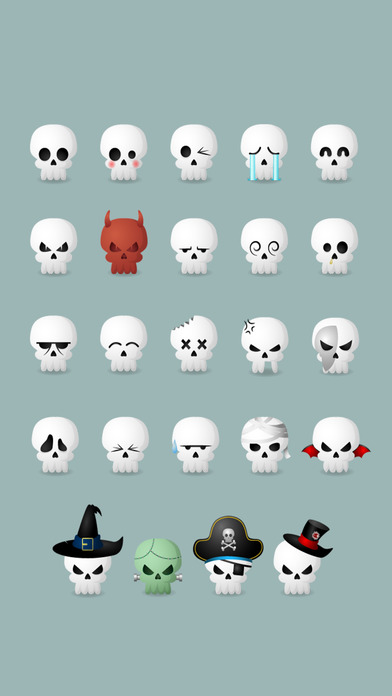 Normally $0.99.
*Instructions on how to use Sticker apps below*

Spice up your texting with Skully Emoticon Stickers. Skully has 24 premium designed stickers, for your everyday emotion. Enjoy!

Instructions –

1) Open the Messages app
2) Tap on the the right facing arrow (If there is one) next to the text field
3) Tap on the Appstore icon